The Hut Group share price is up 1.86% as the stock looks to end a horrid run of form in recent days. However, there are feelings that the rally may produce a new opportunity to sell off the 86.30 resistance following the completion of the rising wedge pattern.
The big slide of 21 March took out the wedge's bottom boundary and led to a move to the south, which the bulls initially rejected at the 86.30 support. However, this pivot succumbed to selling pressure last week, with three days of downward motion forcing the bulls into retreat mode. The uptick seen in the Hut Group share price action appears set to retest this support-turned-resistance mark. However, a resumption of selling could follow if the bulls fail to uncap the 86.30 barrier.
The Hut Group's recent poor performance reflects how the valuations of some of the UK's retailers have been battered post-COVID. However, several institutional analysts' 12-month Hut Group share price forecasts remain upbeat. Royal Bank of Canada and Liberium Capital, respectively, rate the stock as "Outperform" and "Buy", with an upside potential between 482.75% and 682.56%. But for the moment, the sentiment around the Hut Group share price is negative.
The Hut Group Share Price Outlook
The breakdown of the rising wedge pattern identified last week on the 4-hour chart is now complete. The Hut Group share price is now headed for a measured move at 78.30. Below this level, the 7 March 2022 low at 70.50 comes into the picture as a potential new target to the south, before the Fibonacci extension levels at 55.25 and 40.80 provide new southbound targets that the bears could pursue.
On the flip side, the bulls need to force a bounce move that breaks the 86.30 resistance to restore some upside potential. This will probably open the door toward the 100.00 psychological price mark (2 March 2022 high). 106.90 and 113.70 are additional targets to the north.
THG: 4-Hour Chart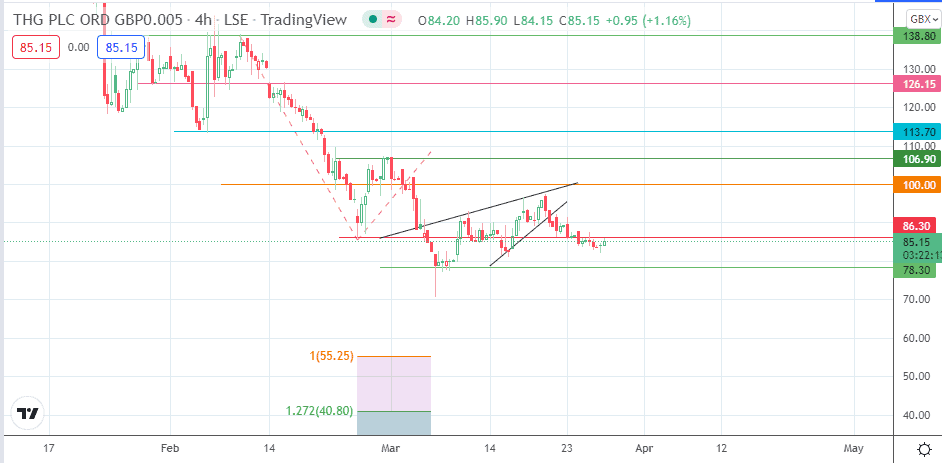 Follow Eno on Twitter.