This Tuesday, the Hut Group share price has opened sharply lower as the markets resume following the Easter holidays. Sellers have seized control after the stock opened on a positive note, driving a selling spree that has sent the stock 6.85% lower as of writing.
The selloff comes on the back of the exit of the founder of one of THG's brands. The co-founder of The Hut Group's Cult Beauty brand, Alexia Inge, has left the company after an emotional e-mail to staff. The Hut Group had purchased the Cult Beauty brand for £275 million in 2021. Cult Beauty sells skincare and haircare products from its e-commerce website. However, things have not been going smoothly since the acquisition, with several brands complaining of late payments.
The market's attention will also be on the company's 2021 full-year earnings report, due for release on 21 April. This is the first earnings report since the appointment of former ITV boss Charles Allen as Chairman of the company. Investors would be hoping the report shows some good news for the company's stock, which is trading well below its 837.80p high seen on 12 January 2021.
The Hut Group share price's 90% drop from the 2021 highs is a story of how corporate governance issues have turned the company's fortunes around in reverse. Charles Allen was brought in to address the corporate governance challenges, and the earnings report could be an early report card on Allen's efforts so far.
The Hut Group Share Price Outlook
The 4-hour chart reveals that the day's slump has put the evolving bearish flag on the verge of a breakdown. Any breakdown will have to contend with the 86.28 support before the measured move towards the 7 March 2022 low at 70.50. This measured move also has to contend with another pivot at 78.28 (8 March 2022 low).
On the flip side, a bounce on the flag's lower border will have to contend with the ascending trendline that forms the neckline of the previous double top at 100.00 (30 March/5 April highs). If this is overcome, the double top comes into view before 106.83 becomes an additional barrier to the bulls and the channel's return line. 113.70 (3/18 February highs) will only become viable if the price advance continues. This alternative outlook invalidates the evolving bearish flag pattern.
THG: 4-Hour Chart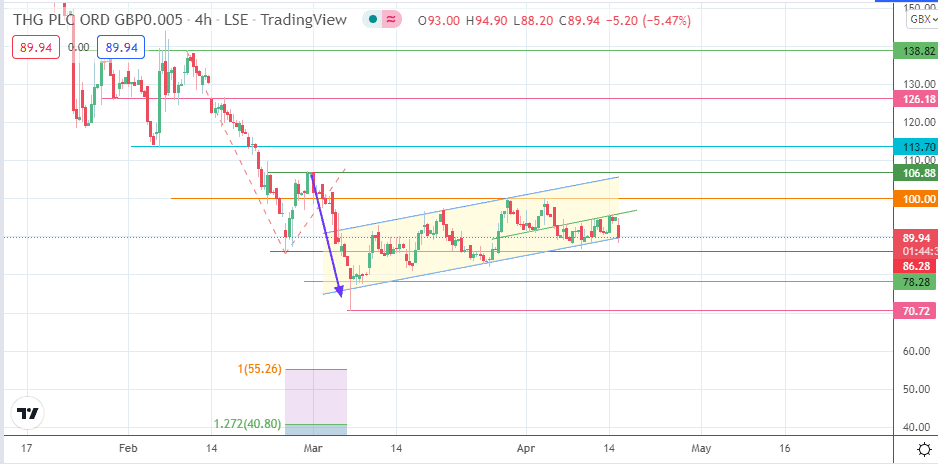 Follow Eno on Twitter.