The Dogecoin price is firmly back in bear mode and down almost 40% in the last two weeks, dragging DOGE close to a do-or-die level. Dogecoin (DOGE) is trading at $0.2207 (-2.25%), a 7-day drop of 15.7% and a 70% discount from the May all-time high.
The recent weakness has forced Dogecoin out of the cryptocurrency top-ten. DOGE's current market cap of $2.4 billion ranks it the 11th most valuable crypto asset behind Avalanche (AVAX). However, despite losing ground in November, DOGE is faring better than rival meme-coin Shiba Inu (SHIB), which ranks as the 12th-biggest crypto with a market cap of $24 billion. However, the recent price action suggests Dogecoin will continue to experience downside pressure and soon test the support below $0.2000.
DOGE Price Analysis
The daily chart shows that the Dogecoin price is in a short-term downtrend playing out in a longer-term horizontal channel. Above the descending trend resistance at $0.2430, the 50, 100 and 200-Day Moving averages, between $0.2518 – $0.2757, reinforce the bearish momentum. Negative sentiment should dominate the price as long as DOGE remains below the significant 200-DMA at $0.2757 and force a test of trend support at $0.1990.
The trend support, in place since May, has offered an attractive entry point for speculative longs over the last six months. However, resulting rallies have reversed from $0.3550, which is the biggest obstacle for the bulls to overcome. On that basis, it's likely buyers will emerge if DOGE trades towards $0.2000. The most significant risk for longs is if the price falls below support at $0.1990, and a close below the trend would mark a sharp deterioration in the technical outlook. In that event, long liquidation could drive the price down towards the 23rd of April low of $0.1357.
Until the Dogecoin price climbs above the 200-DMA, the path least resistance is lower in my option. On that basis, a close above $0.2757 invalidates the bearish view.
Dogecoin Price Chart (Daily)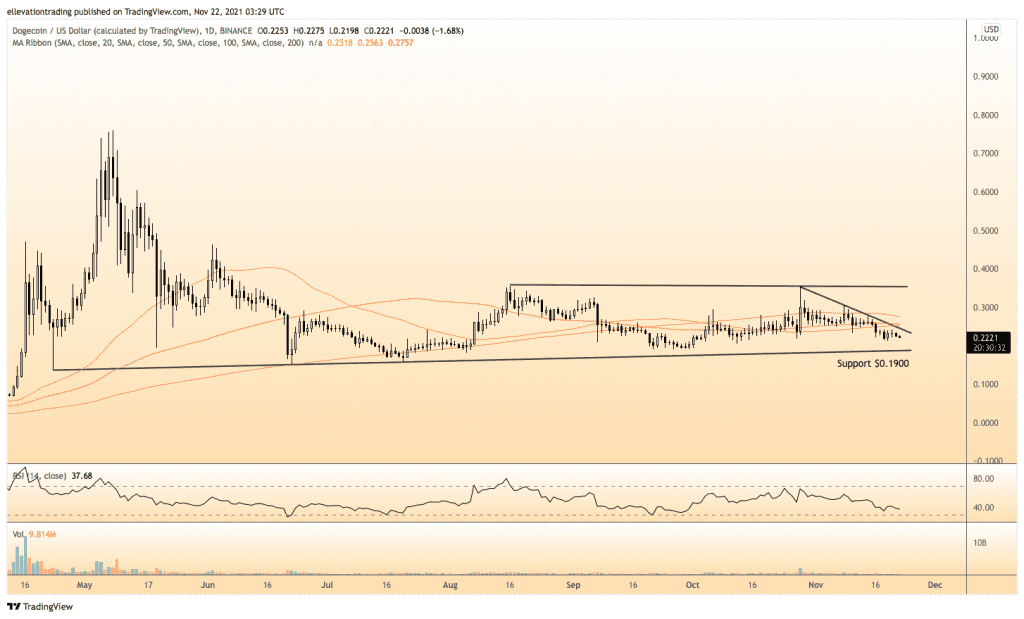 For more market insights, follow Elliott on Twitter.