The Tezos price staged a strong recovery after buyers stepped in at the lower numbers, flipping the outlook from bearish to bullish. Tezos (XTZ) gained almost $1.00 on Monday as momentum carried the price back above the 200-DMA and out of its recent downtrend. As a result, the token has averted the threat of collapse and appears on course to move higher in the immediate future.
Smart contract network Tezos has struggled of late. Even as Bitcoin, Ethereum and many other cryptos reached record prices at the start of November, XTC continued to retreat from the October highs. As a result, the project had lost almost $4 billion in market cap and traded below the 200-Day Moving Average by Sunday. However, the sudden shift higher has added $1 billion to XTC's value, ranking Tezos the 41st-largest cryptocurrency behind Fantom.
Encouragingly, yesterday's price action has pulled XTX clear of the 200-Day Moving Average at $4.66 and above a descending trend line from the October highs. Subsequently, the immediate outlook has improved. However, it's still unclear if this is the start of a sustained move higher or merely a technical reaction.
XTZ Price Forecast
The daily chart shows the buying accelerated once the Tezos price advanced above the trend at $5.20. However, the rally fell short of passing the 50 and 100-DMA's between $6.04 and $6.09. On that basis, $6.09 remains a significant obstacle.
If the price fails to push past the 100-DMA, we can't rule out a return to trend support. However, as long as Tezos remains above $5.20, the breakout is intact. Therefore, the short-term outlook is constructive, targeting $6.09.
As mentioned, a close below trend muddies the water, invalidating the bullish view.
Tezos Price Chart (Daily)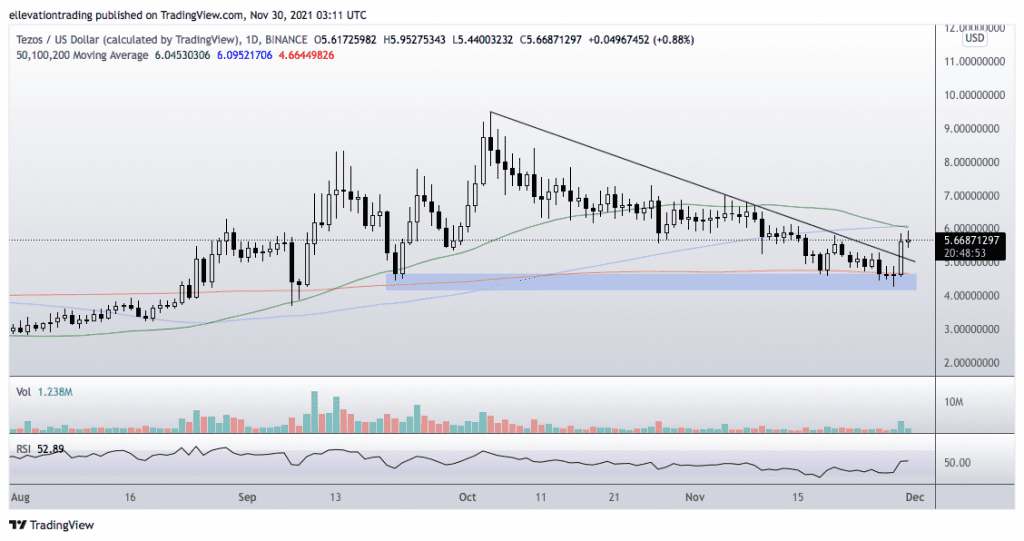 For more market insights, follow Elliott on Twitter.