On the day of the Q3 earnings release, Tesla stock (NASDAQ: TSLA) stock price is showing a very negative price action. The price plummeted 2.77% in the first couple of hours of trading. This price action is fuelled by the prevailing bearish sentiment in the markets.
The benchmark indices, the S&P 500 index and the Nasdaq 100 index, tumbled on Wednesday. At press time, both indices were down 0.67% and 0.66%, respectively. This points towards a market wide sell-off in the US stocks.
According to the latest data, EV sales in the US have hit their record highs. In Q3 2023, more than 300,0000 electric vehicles were sold in the United States. However, the market share of Tesla fell from 62% in Q1 to 50% in Q3. This sharp drop in market share comes despite constant price cuts by the biggest EV maker in the last 10 months.
Analysts are expecting the Q3 profit margin of Tesla to be impacted by the recent price cuts. The effect was already quite evident in the Q2 earnings report of the EV giant. Tesla Q3 earnings report will be released after the market closes today. The negative price action on the big day suggests that the market participants are not optimistic about the third quarter financial results.
NASDAQ: TSLA Chart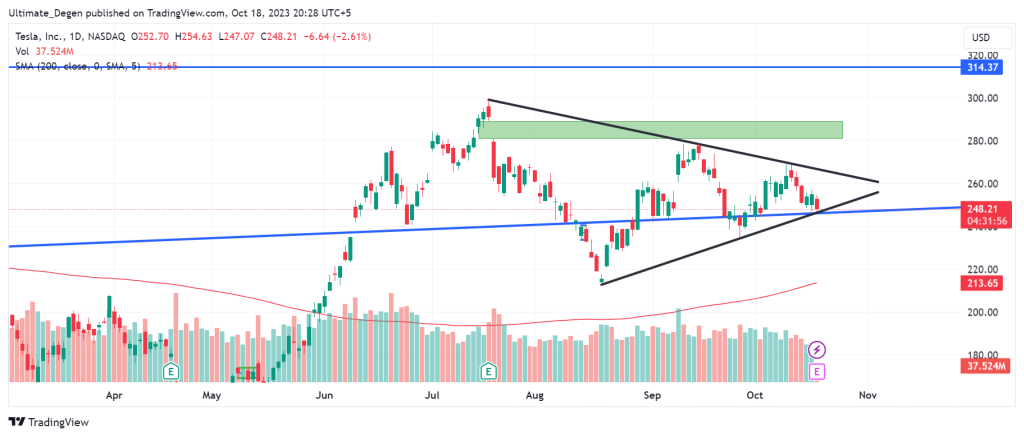 Tesla Stock Price Analysis
The chart above shows a clear formation of the symmetrical triangle pattern on the NASDAQ: TSLA chart. This pattern shows indecisiveness but proceeds major price moves. In a bull trend, this pattern usually results in an upward breakout. However, the lower low on the daily chart lowers the likelihood of another bullish leg.
Tesla stock price forecast will gain a bearish outlook if it breaks to the downside from the technical pattern. However, in case of an upward breakout, bulls may try to fill the $281-$288 price gap, which lies 13% above the current price level.