Tesla stock price is having a meltdown as the company moves out of favor. It slumped by more than 11% on Tuesday and was trading at $109. At its peak, Tesla was trading at $415, making it one of the worst-performing companies in the Nasdaq 100 index. The stock has dropped as competition and concerns about Elon Musk's Twitter buyout rose. Still, these other EV stocks are doing much worse.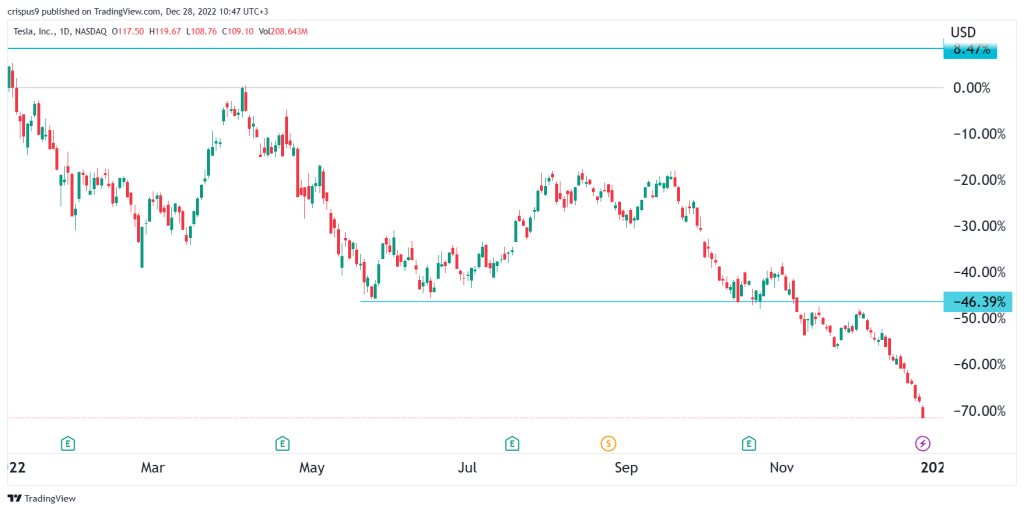 Mullen Automotive (MULN)
MULN stock price plunged by more than 95% in 2022 making it one of the worst-performing EV stocks. The company underperformed as investors reacted to a major short-seller report that accused the company of misleading investors. The report by Hindenberg Research is the one that introduced most investors to the company.
Mullen shares then plunged as investors reacted to a series of acquisitions. The company bought Electric Mile Last Mile Solutions (ELMS) in a bid to get scale. It also spent millions of dollars acquiring Bollinger Motors, a company that recently filed for bankruptcy.
Therefore, I believe that it will take a miracle for the stock to recover and for the firm to avoid bankruptcy in 2023. While it has announced a big order, the reality is that scaling and producing all those orders will be significantly difficult.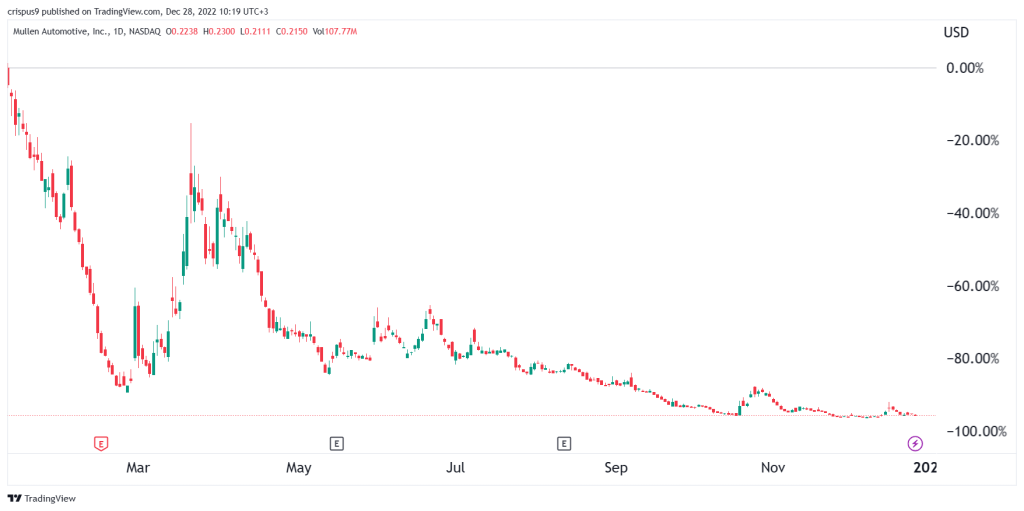 Canoo (GOEV)
Canoo stock price plunged by more than 86% in 2022 as bankruptcy risks jumped. For starters, Canoo is a British EV company that is building small vehicles mostly for companies. The company has a growing order book of more than $2 billion. $750 million of these orders are binding.
The main concern for Canoo is that its cash burn has been in a strong upward trend. Its cash has been dropping from more than $224 million to just $7 million. Total assets also plunged from $523 million in Q3'21 to Q3'22. The company has also warned that it could run out of cash. Therefore, Canoo will likely continue struggling in 2023.
QuantumScape (QS)
QuantumScape is a company in the EV industry that manufactures solid-state batteries. These batteries, which don't have an anode, have a higher energy density and can last longer than the current batteries. It has 24 layers, each that has a solid-state separator, a cathode, and a lithium-metal anode. The firm recently delivered its batteries for testing by companies.
Still, the company has a long way to before it delivers its batteries to companies. Before that, the company will increase the cash burn and even raise more capital, which will drag the stock prices.In addition to Canoo, QuantumScape, and Mullen Automotive, other EV stocks that crashed in 2022 were Rivian, Lucid Motors, and Xpeng.