EV stocks have been in a strong freefall in 2022 as their previous momentum wanes. Lucid stock price has plunged by over 86% from its all-time high while Rivian shares have collapsed by almost 90% from their highest level on record. Other EV shares like Mullen Automotive, Tesla, and Nio have also nosedived. In this Lucid vs Rivian comparison, I will assess the better buy between the two.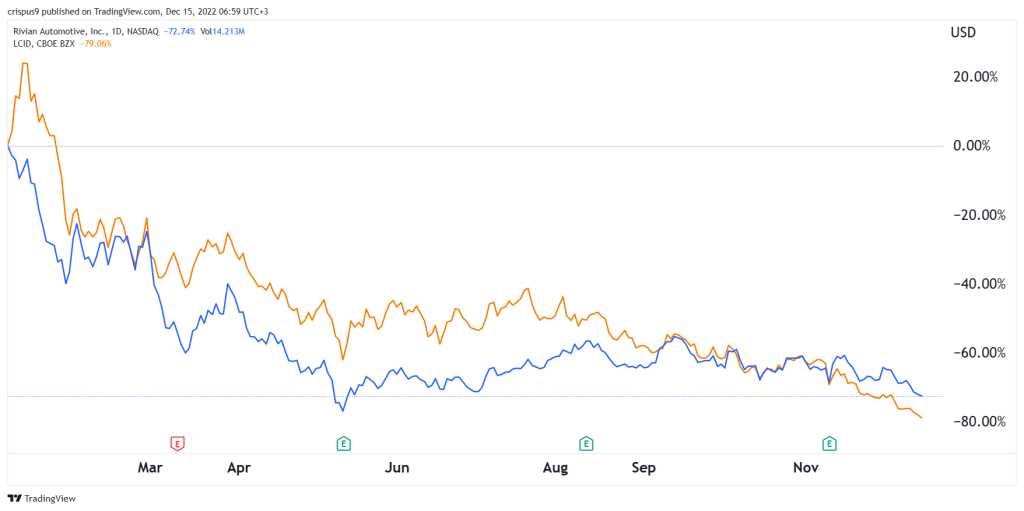 Lucid and Rivian compared
Rivian and Lucid are upstart EV stocks that operate in different strategies. On the one hand, Rivian focuses on SUVs and pickup trucks while Lucid focuses on luxury sedans. In this regard, since the two focus on the American market, it seems like Rivian is the winner since Americans prefer SUVs and large trucks.
Rivian has seen its market cap collapse to $22.9 billion while Lucid is valued at $13 billion. Lucid has an enterprise value of $12 billion while Rivian has over $11 billion. Rivian has over $13 billion in cash and a total debt of over $1.76 billion. Lucid has $3.34 billion in cash and $2.3 billion in debt. Most of these funds came from what they raised in 2021 when they went public.
Rivian has been ramping up production in 2022. In the most recent quarter, the company produced 7,300 vehicles and delivered 6,600 of them It expects to make 25k vehicles this year.. A key issue the firm faced was that it was forced to recall all its cars, which will cost it substantial resources. Its revenue was $536 million.
Lucid, on the other hand, has over 37,000 reservations and another 100k from the government of Saudi Arabia. Saudi is a big investor in the company. With its vehicles starting at $87,000, it means that the total cars in reservations are worth over $11 billion, which is a remarkable figure.
Best EV stock: Rivian vs Lucid
Rivian and Lucid are great companies that are offering strong competition to Tesla. They all make innovative cars that are disrupting the industry. However, in my view, I believe that Rivian is the better investment.
First, it focuses on vehicles that are popular in the US. SUV and pickup trucks sales have led sedans for years. Second, it has a solid balance sheet with over $13 billion, meaning that it won't need to raise cash to fund its expansion.
Third, it has a lot of pre-orders and has seen minimal cancellations despite the recall. It had over 114k pre-orders as of November, a 16% increase from June. Further, it is managing its costs well, including with its recent end of its deal with Mercedes. In a statement, the CFO said:
"We're reaffirming our 2022 adjusted EBITDA guidance of negative $5.45 billion. We're lowering our capital expenditure guidance to $1.75 billion due to our streamlined product roadmap."
This view is in line with my recent Rivian stock price prediction.