The Tesco share price is trading lower this Tuesday after Tesco and several other UK supermarket chains issued recall notices for 16 products due to suspected salmonella contamination. Several pastry and dough products made by Bake Away, which Tesco, Morrisons and Sainsbury's stock have been recalled, along with other brands which the supermarkets in question own. 
Customers have been assured of a full refund if they return the items. However, these incidents appear to have provided a basis for Tesco investors to take profits off the table after last week's surge following Tesco's upbeat Christmas holiday sales data. The stock failed to hang on to the day's early gains and is now off by 0.78% as of writing.
Tesco Share Price Outlook
The Tesco share price candle has violated the 293.35 support to the downside and is now heading towards 287.50. The progressively lower tops could be a pointer towards more selling, which puts 287.50 under pressure. If the bulls fail to defend that level, we could see a price dip towards 283.80 and 276.80, respectively.
On the flip side, a bounce on the ascending trendline that connects the lows of recent price action allows for a retest of 293.35, this time as resistance. If this price level is taken out, the bulls would still need to beat the 5 January 2022 high at 297.40 to actualize a move to 301.50. 
Tesco: Daily Chart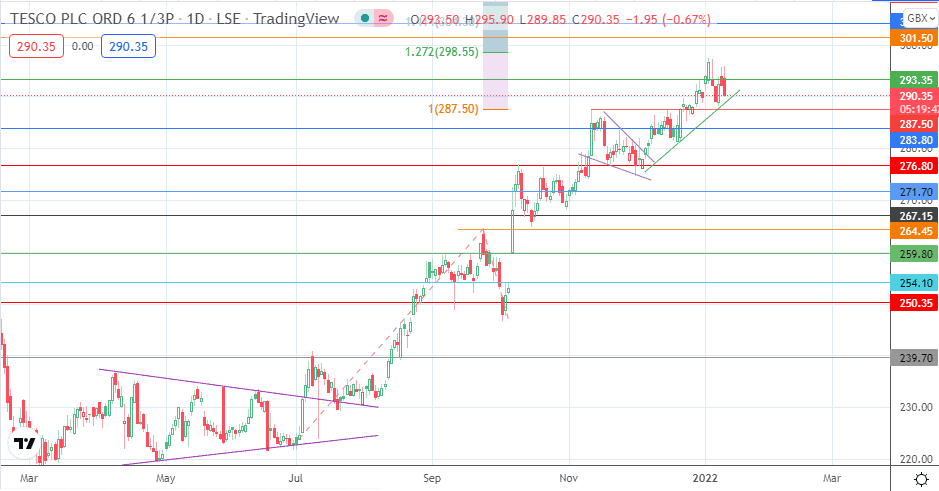 Follow Eno on Twitter.