Tesco Share Price is Trading at a 58.2% Discount. Is it a Buy?
Tesco share price remained in a consolidation mode as investors reacted to the soaring UK inflation data and the challenging political environment. It was trading at 205p on Thursday, which was slightly above this month's low of 195p. The stock has crashed by more than 32% from its highest level this year.
Is Tesco a good stock to buy?
Tesco Group, like other UK retailers, has come under intense pressure this year as investors focus on the slowing industry and soaring inflation. Data published on Wednesday showed that the headline consumer price index (CPI) rose to a multi-decade high of 10.1% in September. Core inflation also continued rising.
Therefore, a soaring inflation figure is usually a sign that people will cut their spending. Besides, the purchasing power of one pound has crashed by 10% in the past 12 months. As a result, Tesco is seeing less demand, as was evidenced by the recent results. They showed that the company's total sales rose by just 3.1% in the first half of the year to 28.17 billion. Tesco Retail's revenue crashed by about 10%.
Therefore, the recent performance of the shares has left it relatively cheap. For example, Tesco has a PE ratio of 13.92, which is lower than that of other leading retailers. Walmart has a PE ratio of 21 while Target has a multiple of 16. This discount is partly because of the challenges that the UK is facing, including political uncertainty.
Meanwhile, a DCF valuation shows that Tesco share price is also trading at a discount. The calculation shows that the company is trading at a 58% discount, as shown below.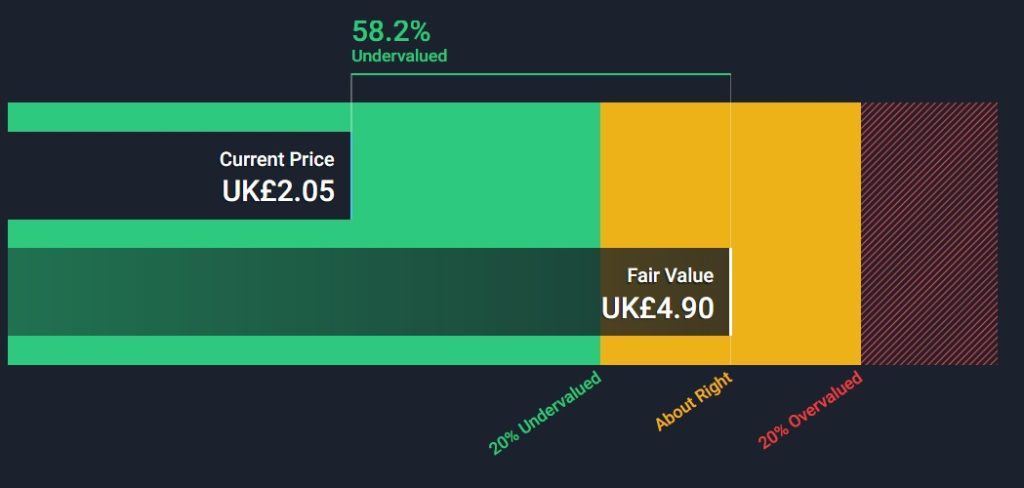 Still, while Tesco shares are cheap, it does not make them an outright buy. For one, its trend is overall bearish while its revenue concerns will remain. In the long term, the stock will likely bounce back as investors buy the dip.
Tesco share price forecast
The daily chart shows that the TSCO share price has been in a strong sell-off in the past few months. It dropped below 242p in September, which was the lowest level on June 13. The stock then moved below the important support at 218p, which was the lowest point in April 21st of this year. It has crashed below all moving averages.
Therefore, Tesco's share price will likely remain in a bearish trend until it manages to move above the important resistance at 218p. If this happens, the stock will likely drop to the year-to-date low of 195p.