The Tesco share price surged to new 2021 highs this morning, bucking the general trend of the UK stock market. This upside move comes after the supermarket chain was the only one among its peers to see positive sales growth in the last 12 weeks. This is according to data from Kantar, which compiles sales figures over 12-week periods for UK supermarkets. Tesco's sales grew 0.3% in the period under review.
The rise in inflation across the world has led to an increase in grocery prices. The data shows that the average UK shopper is now visiting three store brands a month to get the best prices. The situation is putting pressure on UK shoppers. Inflation data for October show a rise to 2.1%, the highest level since August 2020. Also adding to the tension is the stoppage of the £20 universal credit payment, also known as the "uplift".
Tesco Share Price Outlook
The latest surge has met resistance at the 283.80 price mark after touching off intraday highs at 287.50. Any further advance has to take out these resistance levels, which would clear the skies for the bulls to aim for 293.35 and 298.45 (127.2% Fibonacci extension from the swing of 1 July, 23 September and 5 October.
On the flip side, a decline from the current resistance drives down the price towards the 277.80 support. If the bulls fail to defend this support level, 271.70 and 267.15 become additional targets to the south. The 264.45 and 259.80 price marks may also enter the picture if the correction is extensive.
Tesco: 4-Hour Chart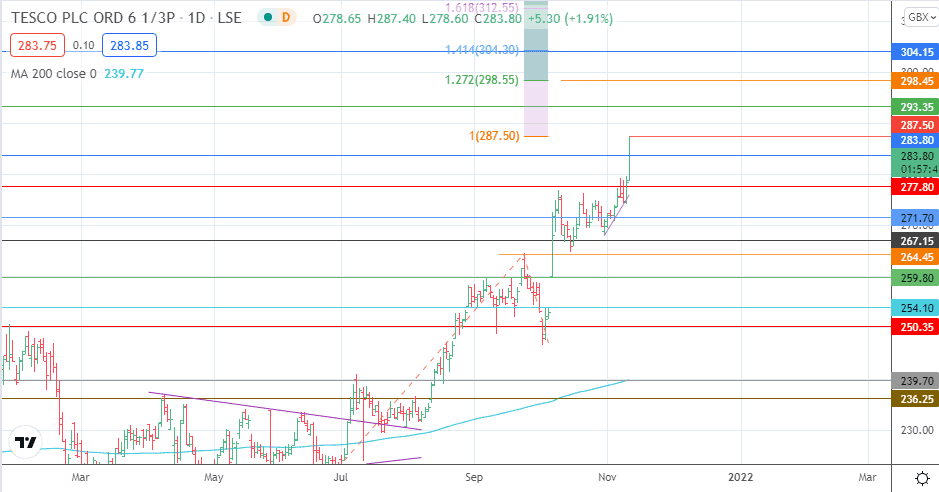 Follow Eno on Twitter.