The Stacks price is rolling over this morning as the crypto market digests Bitcoin's latest failed attempt to reclaim $50k.
Like most of the market, Stacks (STX) tracked Bitcoin higher in the previous two days as the market leader honed in on the psychological $50k resistance. BTC rallied 8.5% from a low of $45,550 on Dec 20th to a high of $49,570 on Dec 22nd, helping STX to gain 15.5% in the same time. However, selling emerged towards the top of the recent range, knocking $1,700 from the Bitcoin price and denting hopes of a strong run into the festive season. Subsequently, STX shows signs of weakness, which could evolve into a sharp drawdown if Bitcoin continues lower.
STX Price Forecast
The 4-hour chart shows that the Stacks price continues to see scale-down buying between $1.80 and $2.00. As a result, STX has bounced several times after dipping below $2.00 this month. However, overhead supply above $2.150 has stifled attempts to break higher.
Unless Stacks absorbs the selling between $2.15 and $2.30, a return to the Dec 20th low of $1.95 is likely. In contrast, if BTC slides towards the bottom of the recent range at $45,500, STX could extend to the Dec 14th low of $1.78.
On the other hand, if BTC hurdles $50k, STX should punch above $2.30 and extend into the $2.50-$2.70 range.
Stacks Price Chart (4-Hour)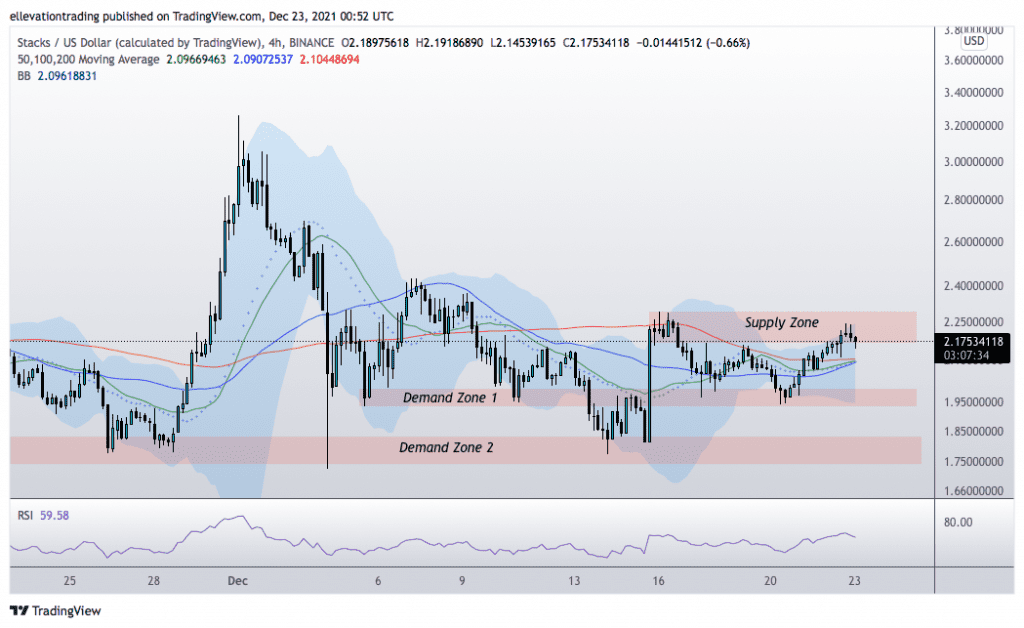 For more market insights, follow Elliott on Twitter.