Squid Game crypto price is trading close to zero, with no volume.
Project website and social accounts go offline in what is turning out to be a "rug pull" project.
SQUID token went from zero to $2850 in 10 minutes, then fell to zero.
Fifteen minutes was all it took to pull off one of the most significant crypto scams of 2021. The Squid Game crypto price unravelled in fifteen minutes, surging from zero to a high of 5.828 WBNB (about $2850) before crashing back to zero. Furthermore, hapless investors found themselves unable to sell and could only watch as their money disappeared into thin air.
The promoters of the SQUID token had gone to great lengths to convince people about the supposed genuineness of their project, claiming to be linked to the popular Netflix series Squid Games. They had also claimed to have an anti-dumping algorithm and said they were to be listed in CoinGecko.
CoinGecko's co-founder Bobby Ong has denied these claims, saying SQUID did not meet its listing criteria. With the social accounts and the SQUID website now offline, it appears that it is game over for those who put money into this charade.
The Squid Game crypto price is now trading just above zero, with almost no trading volume. 
Squid Game Crypto Price Outlook
The 5-minute chart above showcases the real price action throughout 1 November. After a gradual increase from 0730 UTC to 0915 UTC, the price spiked to its high of 5.828 WBNB.
Following the conversion of a heavy amount of the invested funds into other cryptos by the founders, prices plummeted between 0925 and 0930 UTC on the same day and have remained at 0.0000013229 since. There is no hope of recovery as the project has been deemed a scam.
SQUID/WBNB: 5-Minute Chart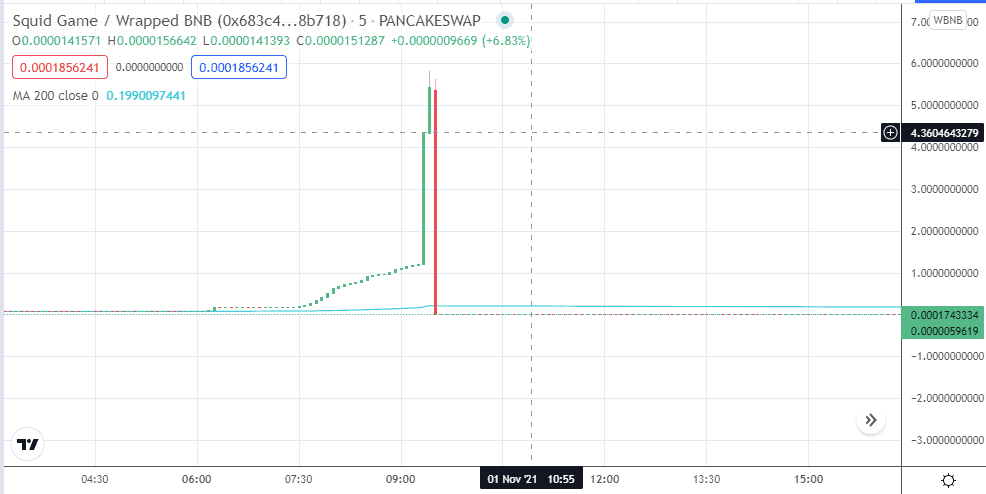 Follow Eno on Twitter.