The Spell Token price has been in a strong bearish trend in the past few days and is currently hovering slightly above a key support level. It is trading at $0.0039, slightly above the year-to-date low of $0.0035. The coin is about 90% below its all-time high, bringing its total market cap to about $327 million.
Spell Token has become a relatively popular cryptocurrency in the past few days. It is the native token for the Abracadabra network, which is a leading player in the decentralized finance (DeFi) industry. However, the trend for both Abracadabra and SPELL has been weak recently. For one, the total value locked (TVL) of the Abracadabra network has dropped to about $2.59 billion, which is significantly lower than its all-time high of over $6.3 billion.
There are several reasons why this trend has happened. First, Abracadabra is not the only DeFi platform that has seen a sharp decline in its TVL. In the past few months, the total TVL of all DeFi platforms has crashed by more than $50 billion to the current $200 billion. Second, the weakness of the Spell Token price is in line with the performance of other DeFi tokens. Recently, most DeFi tokens like Uniswap and Curve Finance have all fallen.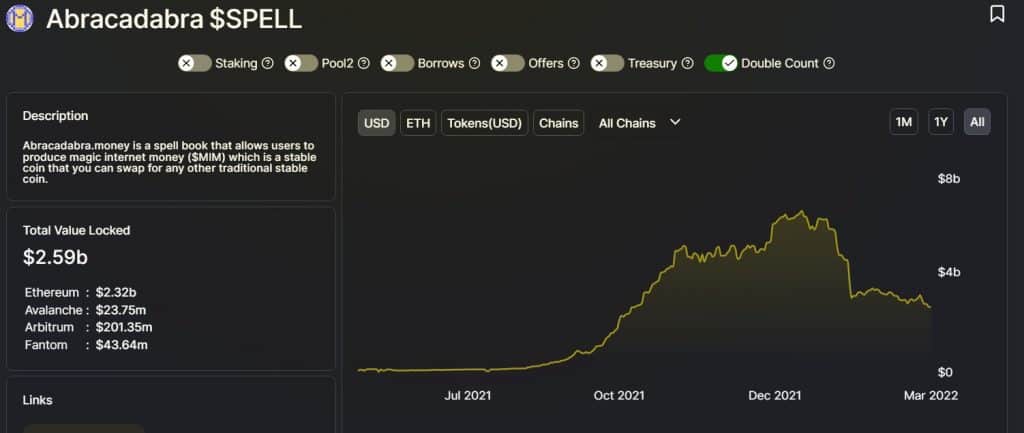 Third, the performance is mostly because of the Federal Reserve, which has hinted that it will embrace a more hawkish tone in the coming days. The bank is expected to start hiking interest rates later this month, and there is a likelihood that it will implement as many as 7 rate hikes. Finally, the SPELL price has dropped because of the rising tensions because of Ukraine. These tensions have dragged most financial assets like stocks.
Spell Token price prediction
The four-hour chart shows that the SPELL price has been in a strong bearish trend in the past few days. Along the way, the coin has formed a descending channel pattern and moved slightly below the 25-day and 50-day exponential moving averages (EMA). The Relative Strength Index (RSI) has moved slightly above the oversold level.
Therefore, there is a likelihood that the Spell Token price will continue falling as bears target the next key support at $0.0030. This view will be invalidated if it moves above $0.0042.