The Solana Price has slipped below $200 and showing signs of rolling over. However, the bears are not in control yet. Solana shrugged off Tuesday's crash like a champ. Not only did the SOL token absorb the selling that gripped the market, but it also went on to set a new record high the next day.
Solana (SOL/USD) has, without a doubt, been the star of the show recently. Solana is up more than 400% in the last month alone, which brings its 2021 gains to almost 1,3000%. But most impressive of all is that the price is 200% higher than the peak during the May 'blow-off' top.
Bitcoin (BTC/USD) and Ethereum's (ETH/USD) dominance led the cryptocurrency market to a peak valuation of 2.48 trillion in May. However, despite BTC and ETH both more than 20% below their respective May highs, the combined crypto market value was $2.38 trillion on Wednesday.
Although legacy cryptocurrencies have seen a strong return to form, investors have flocked to Solana more recently, which may offer a credible threat to ETH's crown as the number one choice for DeFi developers. However, there are concerns that the exaggerated rally has done too much, too soon. I totally agree and see a spiteful correction brewing. Although, in saying that, at the moment, the Solana price shows no signs of stress.
SOL Price Forecast
The 2-hour chart shows the SOL token has enjoyed a fairly orderly ascent over the last two weeks. This has formed a trend line below the price, currently seen at $162. Aside from a brief dip below during Tuesday's selloff, the trend has been respected since the 26th of August. Therefore, in my opinion, as long as the price remains above the trend, we must view the outlook as positive.
However, we have to take into account the recent price performance. Because of the magnitude of the rally, the Solana price is vulnerable to a violent correction. The almost vertical nature of the rise suggests indiscriminate retail buying. Therefore, it's safe to assume that should the price start to pull back, it could trigger stop-loss selling, exaggerating the decline.
An on that basis, the positive outlook remains in place as long as SOL remains in an uptrend. A breach of $162 on the downside would not only invalidate the bullish view but lead to a short-term bearish outlook.
Solana Price Forecast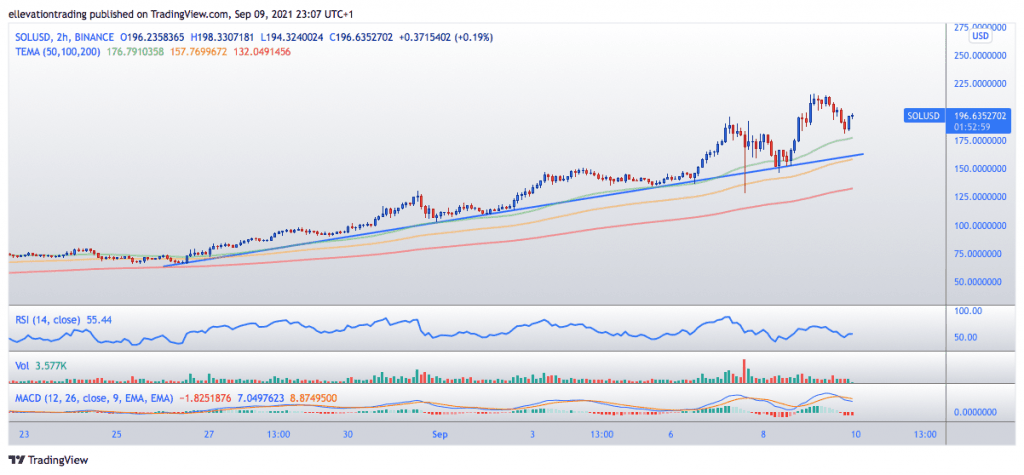 For more market insights, follow Elliott on Twitter.