Cannabis stocks have had a rough time in 2021 as investors remain worried about the industry and valuations. The SNDL stock price has dropped by about 2% in 2022 and outperformed other companies like Tilray, Canopy Growth, and Curaleaf, which have crashed by over 20%. This report will look at the Sundial Growers stock performance and whether it is a good investment going forward.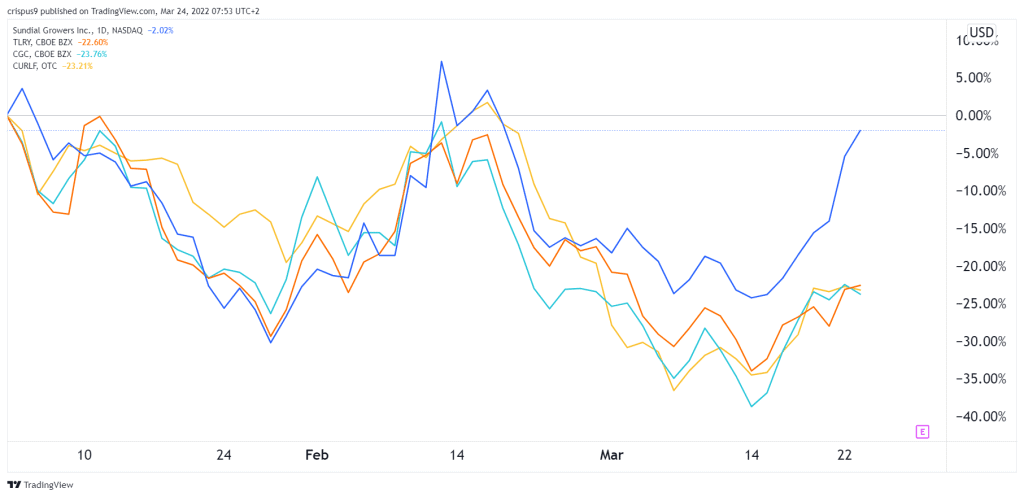 Cannabis stocks made headlines in the past few years as the number of states legalizing medical marijuana rose. In addition, the industry was buoyed by extremely positive reports on the total addressable market (TAM). For example, a report by Market Data Forecast estimated that the industry will have a compounded annual growth rate (CAGR) of 27% to over $46 billion. That will be a substantial performance since the industry was estimated to bring over $16 billion in 2022.
Sundial Growers is one of the leading firms in the industry, with a valuation of over $1 billion. The SNDL stock has dropped mostly because of the headwinds facing the cannabis industry. But the decline has been less severe than other cannabis stocks because the firm is no longer in the share dilution business.
Indeed, due to its share repurchase program, outstanding shares have dropped from 2.10 billion to 2.06 billion. Also, Sundial's insiders have been buying the shares. They bought shares worth $25 million in the fourth quarter while selling just $4.2 million. This is a positive sign for the stock.
So, what next for the SNDL stock price? A bullish case can be made about the company. Besides, its business is growing while the share price seems cheap. Also, the fact that insiders are buying the stock is encouraging. Most importantly, the technical chart shows that the shares have bottomed by establishing strong support at about $0.4263. Therefore, this makes it a speculative buy.
SNDL stock price forecast
The Sundial stock price found a major bottom at $0.4263. It has attempted to crawl back as investors buy the dip in the past few days. It is also nearing the important resistance level at $0.6670, where it struggled to move above earlier this year.
Therefore, without even adding technical indicators, we can identify the key levels at $0.4263 and $0.6670. A move above this resistance level will signal that bulls have prevailed and bring the next reference level to about $1. On the flip side, a drop below the support will mean that there are still sellers in the market, which will push the stock to all-time lows.