Silver (XAG/USD) price has been in a downtrend since last week. The precious metal slid to its lowest level in two weeks due to the recent bounce in the DXY index. However, it has now started to recover and was up 0.85% till press time.
After closing Thursday at $24.04, Silver price per ounce is now trading above $24.30. The bounce in the Gold and Silver can be attributed to a slight pullback in the DXY index, which is down 0.17% at press time. The weakness in the dollar strength index comes after a strong rebound from yearly lows.
What Is The Outlook On XAG/USD?
Despite a pullback in July, the outlook on Silver is still looking quite bullish. The bearishness in the prices of precious metals can be attributed to the recent bounce in the DXY index. The index plunged to its lowest level since April 2022 on July 14. However, it has shown a remarkable recovery since then.
The US Federal Reserve hikes the interest rates by another 25 bps this week. The recent strength in DXY can be attributed to the rate hike. The high interest rates usually lower the demand for safe-haven assets. However, on a higher timeframe, the Silver price is still looking bullish for the rest of this year.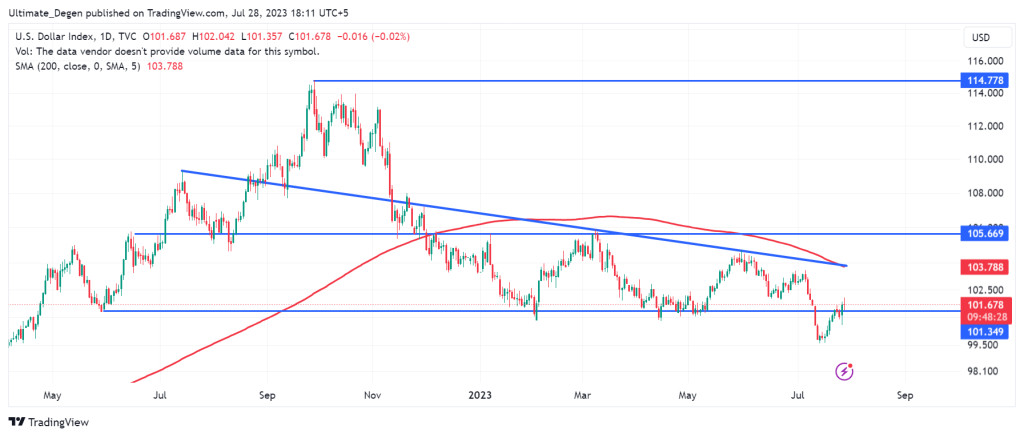 Silver Price Prediction Remains Bullish
As visible on the following XAG/USD chart, the pair has created a higher high on the daily timeframe. It is also trading above the 200 MA, which is another sign of strength. As long as the metal trades above this level, my Silver price prediction will remain bullish.
The price has also confirmed the breakout from the downward trendline at the end of June. The following rebound is looking very bullish, with a $26 level on the cards. The only major concern is the dollar strength index which has an inverse correlation to the bullion prices.
In the meantime, you are also welcome to follow me on Twitter to keep track of my commodities, stock, and crypto trades.