Silver (XAG/USD) price is on the rise once again due to the weakness in US dollar. Silver and Gold prices have got a strong rebound from their June lows and are aiming for more upside. Technical analysis shows that the recent bounce might result in a strong bullish rally.
After sliding 0.45% on Monday, Silver price per ounce was up 0.46% today. The precious metal was changing hands at $24.91 during its London session. Gold was also getting higher bids and was up 0.51% for the day. The latest analysis reveals Silver has at least a 5% upside from here.
XAG/USD Surges As DXY Tanks To 14-Month Lows
The previous metals like Gold and Silver often show a very strong inverse correlation to the dollar strength index. The following chart reveals that the DXY index peaked in September 2022 and has been in a tailspin since then. This downtrend has resulted in strength in Silver price.
The DXY index is currently trading at its lowest level in the last 14 months. The index has also broken below the key psychological level of 100 points. This is very bullish for XAG/USD pair, which now seems to be heading toward a fresh yearly high.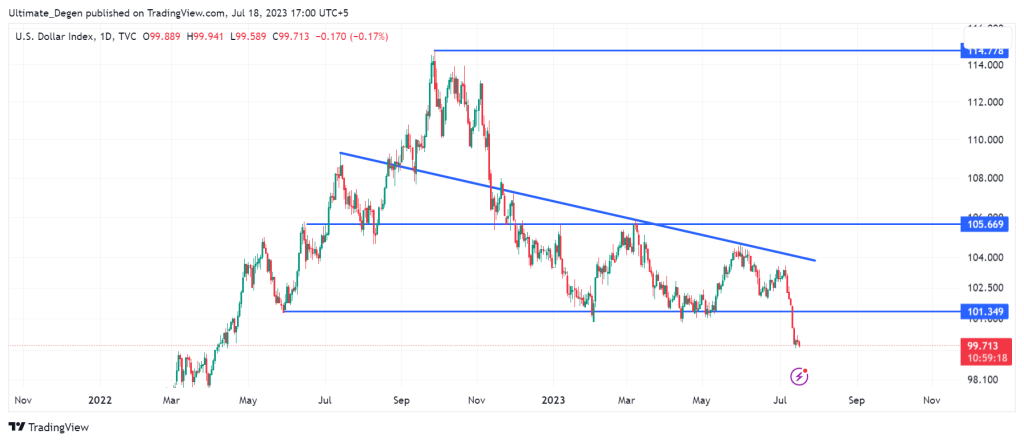 Silver Price Forecast August 2023
As evident from the following XAG/USD chart, the price has gained strength after bouncing off the trendline. While this confirms the breakout from the trendline, it also gives bulls enough momentum to target the yearly high of $26.13. This will be a 5% increase from the current level.
Silver price prediction will remain bullish as long as it holds the $22 level. What sets Silver apart from Gold is its wide industrial use. Therefore, if the US economy enters a recession, then Gold may outperform Silver. However, in case of a soft landing, the precious metals are likely to keep rallying.
In the meantime, you are also welcome to follow me on Twitter to keep track of my commodities, stock, and crypto trades.