Shiba Inu price has dropped by about 12.27% after pulling back from its all-time high at $0.00004481 in Sunday's session. Since the beginning of October, the altcoin has surged by 447.03%.
According to CoinMarketCap, the crypto has had its market cap drop by 1.03% over the past 24 hours. However, during this timeframe, its trading volume has risen by 66.96%. The digital currency, which is ranked 13th in the crypto market, has had its price rise by 55.02% over the past week.
The pullback observed in Shiba Inu price in Monday's session is a reaction to Tesla CEO, Elon Musk's tweet on the meme coin. While responding to a question tweeted by @ShibaInuHodler, Musk indicated that he does not own the altcoin. Interestingly, the CEO's tweets in the recent past have had an impact on the crypto market, especially with altcoins such as Dogecoin.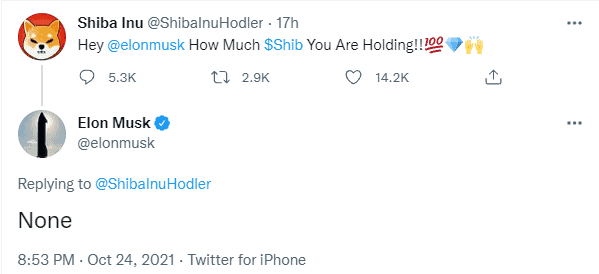 Shiba Inu price outlook
SHIB is finding resistance at 0.00004000 after bouncing back from Sunday's low of 0.00003278. At the time of writing, the altcoin was up by 7.66% at 0.00003880.
On a two-hour chart, Shiba Inu price is above the 25 and 50-day exponential moving averages. While the meme coin will likely be subject to heightened volatility in the ensuing sessions, I expect it to remain above the crucial resistance-turn-support level of 0.00003000 in the short-term.
It will likely find support along the 25-day EMA at 0.00003665 as it gathers enough momentum to retest the weekend's high at 0.00004481.