The present price picture on the 4-hour SHIB/USDT chart supports bullish Shiba Inu price predictions. This is because the bullish pennant formed has already witnessed a break of its upper border, with a slight pullback to the broken resistance.
Shiba Inu price action picked up on Sunday following fresh whale action. Whales reportedly moved 260 billion SHIB tokens, according to data pulled from Etherscan. This massive whale movement was reminiscent of a similar measure that happened two weeks ago and triggered a 300% spike in the token's share price.
Shina Inu tokens are now open for trading on more exchanges, with Turkey's largest exchange BtcTurk and ZebPay, an Indian crypto exchange supporting the SHIB token trading.
Recent comments from Dogecoin-supporter Elon Musk have spurred a renewed focus on Dogecoin and its parody tokens such as Shiba Inu. Current price data shows that Shiba Inu has gained 1.33% in the last 4 hours of trading.
Shiba Inu Price Prediction
The 4-hour chart shows a bullish pennant, which has been confirmed as the price has broken the pattern's upper border with a slight pullback. The price action is currently testing support at the 11 May 2021 price support of 0.00002759. A bounce on this area allows for a push towards the 0.00003008 resistance, with 0.00003176 and 0.00003500 (7 October high) lining up as additional targets to the north. Attainment of the 0.00003806 resistance completes the measured move.
On the other hand, a decline below the 0.00002759 support brings 0.00002501 into the picture, with 0.00002034 serving as an additional support target. This scenario also negates the expectation of a bullish continuation from the bullish pennant pattern, as a downside break invalidates the pattern.
SHIB/USDT: 4-Hour Chart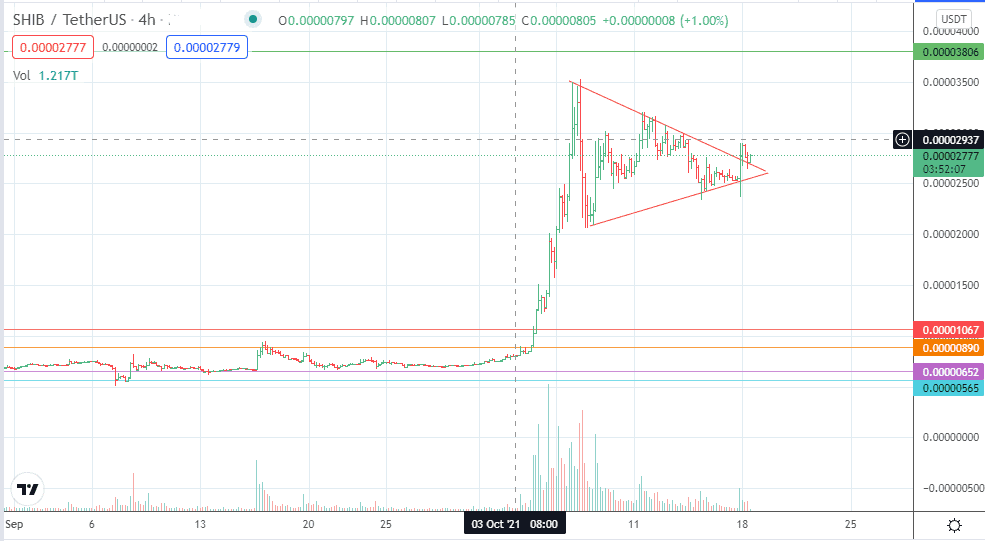 Follow Eno on Twitter.