The Shiba Inu coin was created as a parody of Dogecoin in August 2020. It describes itself as the "Dogecoin Killer". Shiba Inu is named after the Japanese dog breed of the same name, which comes from the Chubu region. Being a parody of Dogecoin, it adopted the name and image of the Shiba Inu dog breed to propagate its satirical status based on the Dogecoin meme.
The initial starting supply was 1 quadrillion. Half of this quantity was sent to Ethereum co-founder Vitalik Buterin, who eventually donated all of this to charity. Hundreds of millions of these coins are burned regularly to maintain their stability. Its liquidity is locked in Uniswap.
Shiba Inu Coin Founders
The Shiba Inu coin was founded by an individual who uses the pseudonym Shytoshi Kusama. Very little else is known about this founder, and the person behind this moniker remains anonymous as of writing. 
Shiba Inu Road Map
The interest that Shiba Inu generated in 2021 has provided an avenue for the coin to shift away from being a meme coin to becoming a more serious blockchain project with utility and value. Presently, no official roadmap exists. However, some projects are in the works and there is a possibility that a few will make it to the public domain in 2022.
Here is a potential roadmap from the Shiba Inu ecosystem. These are as follows:
Implementation of a community governance system known as Doggy DAO. This was given an obscure mention in the Shiba Inu Woofpaper. Holders of the BONE token will form a Decentralized Autonomous Organization (DAO), which will confer voting rights on members.
Shibarium is Shiba Inu's Layer-2 upgrade that will allow users to conduct transactions with much lower gas fees than is currently available on the Ethereum network.
The Shiba Inu Game is a multiplayer collectable card game to be launched as a mobile-based game and an NFT collection that features more than 1000 Shiba-inspired cards. Playside Studios is the development partner.
Other roadmap projects include Shibaswap 2.0 and Shiberse, Shiba Inu's version of the Metaverse.
Shiba Inu has ridden on the back of the popularity of Dogecoin and Elon Musk's tweets. However, the sauce seems to have dried up. Even before the November correction in the crypto markets, it was becoming evident that further bull runs on Shiba Inu had to come from something of substance within the token's ecosystem. The days of riding on the parody nature of the coin appear to be gone.
Realizing this fact, Shiba Inu's developers have now decided to branch out into the metaverse space and also create the project's own blockchain. These two projects are Shiberse and Shibarium and are both planned for 2022.
The Shibarium public testnet is scheduled to go live soon, although the developers of Shiba Inu have provided no date. The private testnet is live and will only be accessible when it becomes public. The Shibarium team has set up a done on xFUND, the oracle provider for ShibaSwap. In-house developers and the Unification team are doing the development.
Shiba Inu's Metaverse is known as Shiberse. Its first project in this dog-themed space is Shiba Lands. This project aims to allow the ownership of virtual pieces of land in the Shiberse. According to a tweet, holders of the LEASH token are expected to be the first to get access to the opportunity of owning Shiba Lands.
With the Metaverse worth nearly $21.91 billion in 2020 and predicted to grow at a CAGR of 41.7% by 2030 as per a 2021 Market Research Future report, a brand new potential use case for Shiba Inu tokens could emerge. This could drive its mainstream adoption and improve its share price.
Latest Shiba Inu News
The latest Shiba Inu news is that there has been a meeting between a local member of Shiba Inu and the Turkish Minister of Economy Mustafa Elitas, aimed at boosting the expansion of the ecosystem of the project in the region. Shiba Inu was recently listed on a Turkish exchange Bitexen, allowing the token to gain exposure and momentum among the local trading community.
The meeting was highlighted in a tweet by Shytoshi Kusama, the pseudonymous head of the Shiba Inu development team. Interest in the Shiba Inu token follows the recent depreciation of the Turkish Lira to new all-time lows against the US Dollar and other major currencies. This development has forced several crypto users in Turkey to trade Lira pairings with USDT and SHIB, boosting volumes of the SHIB-Lira pairings to more than $5.26 billion on Binance.
Shiba Inu Coin Price Prediction 2022
The latest data from WhaleStats indicates that as of 10 March 2022, whales were snapping up large amounts of the Shiba Inu token. There has been a 178.8% rise in the average Shiba Inu wallet balances of the top 100 whale investors. The portfolio value has grown 180.48%, as this category of investors has taken advantage of the price dip to amass their holdings at dirt-low prices.
So, where does this place the Shiba Inu price prediction for 2022 and 2025?
The World Health Organization (WHO) has announced that there has been a global decline in new cases and hospitalizations from COVID-19. This could mean that the world may have turned a corner as far as the pandemic is concerned. Given that the recent dip was induced by the announcement of a new variant (which has proven to be weaker than the previous ones), the removal of this bearish metric may allow for whales to drive prices from the current lows.
The daily chart shows that the price action trades within a symmetrical triangle. If the bulls break the price above 0.00002347, the Shiba Inu price prediction 2022 would be a short-term recovery towards 0.00004054. This move would have to surpass sequential targets at 0.00002715 and 0.00003092.
If the triangle is degraded in a southbound direction, the chances of recovery are reduced. In this case, the Shiba Inu price prediction 2022 would be more bearish, targeting 0.00001810 initially before 0.00001013 enters the picture.
Shiba Inu Coin Price Prediction 2025
Shiba Inu's biggest gains came in October 2021. The monthly chart showcase the potential Shiba Inu coin price prediction 2025 outlook. The chart reveals that Shiba Inu would need a big move such as that which occurred in October 2021 for investors to be in the money by then.
Prices are now at attractive entry points, and the whales are taking notice and taking action. The Shiba Inu holder count is growing, according to data compiled by WhaleStats.
The Shiba Inu coin price prediction 2025 is for the SHIB/USDT pair to trade above 0.00005677 (38.2% Fibonacci retracement level) at the very least, driving 100% returns. In sequence, any additional upside moves on the pair are conditional on the bulls taking out 0.00006885 and 0.00007468. Put all these together, and we could have Shiba buyers at these low prices being in some serious profit by 2025.
Shiba Inu Coin Price Prediction 2030
The Shiba Inu coin price prediction 2030 is guarded. As long as it stays a meme coin, this is probably not a coin with a clear 8-year direction. The Shiba Inu ecosystem needs to deliver more products that provide real value and increase adoption and utility substantially for any accurate Shiba Inu price prediction 2030 outlook to be made.
Will Shiba Inu Coin reach $1
The road to $1 for the Shiba Inu coin from present levels is tough. It would need to offer real value to investors beyond just being a meme coin. It would need to make a very robust entry into the NFT space, and it would also need to up its game in the deployment of Shiberse. There are already several very active projects in this sphere and are far ahead of Shiba Inu in this regard. It is doubtful that Shiba Inu would get to $1; certainly not before 2030.
Is it a Good Investment?
Shiba Inu is a good investment, only if the following conditions are met:
The trader buys at current prices or slightly lower
The coins are held for a minimum of 100% returns
Re-entry whenever a correction takes place.
Shiba Inu is probably not a coin suited for buying and holding. This coin presents an opportunity at current price levels, with a reasonable cashout expectation that should show up on the charts between now and 2025.
How to Buy?
Shiba Inu is not a mineable coin. Therefore, the only way to possess it is to purchase the coin from exchanges where Shiba Inu is listed. Shibu Inu is listed in pairings with stablecoins, major cryptocurrencies and fiat currencies. USDT, BUSD, BTC, ETH and USD are the popular assets that are paired with Shiba Inu on exchanges. If you want to know how to buy Shiba Inu coin, all you need to do is to use any of these assets, head over to the exchange where you have SHIB/USDT, SHIB/BUSD, SHIB/USD and SHIB/BTC, and purchase the coin with the counter assets.
For instance, if you want to buy Shiba Inu using Tether, head over to an exchange where SHIB/USDT is listed. Get hold of some USDT, and locate the SHIB/USDT listing on either the basic or advanced trading portals. You can decide to use the Convert function on the exchange, which allows you to purchase Shiba Inu at market price, or use the trade function in the advanced portal. The advanced trading portals allow the user to purchase Shiba Inu at limit prices, enabling you to place orders at a more beneficial price.
SHIB/USDT: Daily Chart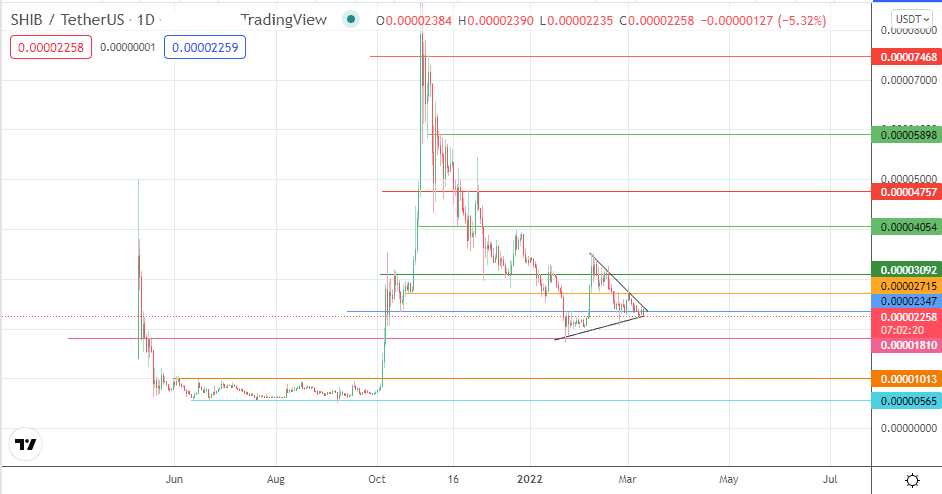 Follow Eno on Twitter.