There are dubious Shiba Inu coin price predictions everywhere on the internet. Most of these predictions lack a proper technical analysis and are nothing more than clickbait articles. In this article, we'll try to take a shot at the tough task of predicting the SHIB price action with a long and short-term perspective.
In 2023, a new batch of memecoins hit the crypto markets. This resulted in another memecoin season as the traders grabbed coins like PEPE and LADYS in anticipation of exponential returns. However, the older dogcoins like DOGE and SHIB failed to catch a bid as the investors solely focused on the new memecoins.
SHIB Latest News
In one of the major developments for the memecoins space, Change Bank has added SHIB support for mortgage payments. The news is a breath of fresh air for the holders of the memecoin, which is trading 91.66% below its all-time high.
In other news, Shibarium blockchain has hit the milestone of producing 1 million blocks. The average block time on the dog-themes blockchain is 5 seconds, which is far less than the Bitcoin block time of 10 minutes. This block time allows Shibarium to process transactions much faster than Bitcoin and Ethereum.
Where Can I Buy Shiba Inu Coin?
Before moving on to our Shiba Inu coin price prediction, the first step is to choose a reliable broker. It is a very significant part of any crypto investment as a shady broker may result in a loss of funds. While there is always some risk while holding funds on a crypto exchange, it is advisable to move your holdings to a hardware wallet for better security.
Considering the global trading volume and its history, Coinbase is the most reliable exchange in the US. Binance is another leading exchange that is facing some regulatory issues these days. If you are searching for 'where to buy Shiba Inu coin', then these two exchanges might be the ideal choice depending on your jurisdiction.
Shiba Inu Coin Price Prediction
A higher timeframe technical analysis reveals the key areas of demand and supply on the SHIB price chart. Although Shiba Inu has been trading on decentralized exchanges since 2020, it got listed on major exchanges like Binacne, Coinbase, and Kucoin in only May 2021. The dogcoin made an all-time high of $0.00008600 in October 2021 and then entered into a multiyear downtrend.
The weekly chart shows the formation of a descending triangle pattern. Currently, the SHIB coin is fondling with the bottom of this pattern. I expect Shiab Inu coin price prediction to flip bullish once the price breaks out of the top trendline of this pattern.
This may result in price targets as high as $0.00001100 and $0.00001800 on the cards for 2024. Such a breakout is quite unlikely to occur in 2023, considering the current liquidity dynamics in the markets.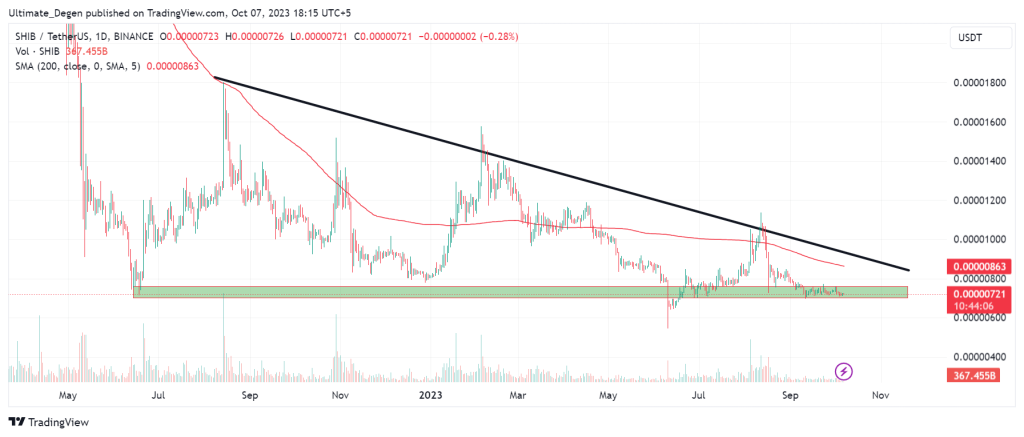 When Will Shiba Inu Reach 1 Cent?
Many pseudo analysts can be seen giving unrealistic price targets of Shiba Inu crypto on X (Twitter) and TikTok. However, a massive circulating supply of SHIB limits the growth potential of the project. Before paying any attention to such predictions, you must know that most memecoins lack any fundamental value and their price action is mostly driven by the hype.
Although the Shiba Inu team community and team are trying to create a whole ecosystem around the popular dogcoin, a price target of 1 cent still seems unrealistic. Such a price tag will put SHIB crypto at a market capitalization of 5.89 trillion, which is more than 5 times the current total market capitalization of the whole crypto market.
A more appropriate bullish price target could be $0.000140, which is the 1.618 fib retracement level. However, this price target will only be on the cards in case of a breakout above the previous ATH.
Shiba Inu Coin Price Prediction 2025
It is a widely held belief in the whole crypto community that the halving in the Bitcoin block reward in 2024 will act as a catalyst for another crypto bull run. This thesis can only be confirmed if the Bitcoin price breaks above its $69,000 all-time high after the major event.
If the bull run plays out exactly like the 2020-2021 rally, memecoins may catch a bid once again. In case of an increased interest from the retail, Shiba Inu coin price may become bullish again at the end of 2024 or early 2025. However, my only concern is that SHIB and DOGE may lose their market share to the new meme coins, which may enter the market in the next 8-12 months.
Shiba Inu Coin Price Prediciton 2030
Most altcoins have hype cycles that only last for a couple of years. Many "good" projects of the 2017 bull run are not relevant anymore. This is due to the dynamic nature of the crypto space and the constant inflow of new projects. Instead of buying oversold coins from the previous cycles, most crypto investors prefer to bet on new projects that have more hype.
Therefore, Shiba Inu coin price prediction 2030 will only be bullish if the coin remains at the forefront of innovation and adopts the upcoming trends in crypto. The Shibarium launch shows that the SHIB community aims to make it much more than just a meme. A breakout above its 2021 peak will put $0.00036 on the cards for 2030.
You can now also follow my personal trades on Twitter, where I'll also keep sharing updated SHIB and DOGE analysis.