This article takes a shot at short-term and long-term Dogecoin price prediction. It covers the DOGE USD forecast for 2023, 2025, and 2030. However, this article should be taken as just useful information instead of investment advice.
In 2021, Dogecoin's popularity exploded as Elon Musk embraced the cryptocurrency and shared a lot of Doge memes. This led to an exponential run in DOGE price, making it one of the top 10 digital assets by market capitalization. The current Dogecoin price puts it at a market cap of $10 billion.
Dogecoin History
DOGE was launched in 2013 as a fork of Bitcoin. Right from its initial days, Dogecoin was meant to be a joke as it was based on a Shiba Inu meme. The coin was an instant hit but its fundamentals always remained questionable. A major reason behind its overnight success was the DOGE meme that went viral.
In 2021, Dogecoin came into public consciousness courtesy of a series of tweets from the world's richest man and CEO of Tesla Motors, Elon Musk. Most people know this token as the Elon Musk cryptocurrency. Dogecoin is also known as DOGE and is listed for trading on several exchanges, usually as a pairing of DOGE and other cryptos such as Tether, Ethereum, Bitcoin, and other fiat currencies such as the US Dollar.
As per the recent Dogecoin news, Elon Musk posted a picture of a dog as Twitter CEO. This led to industry-wide speculation that the next CEO could integrate Dogecoin into Twitter. Most dogcoins like DOGE, Shiba Inu, and Floki pumped massively after the tweet. However, these types of pumps often don't last for long. DOGE to USD price must reclaim $0.10 level soon if bulls want to unlock further upside.
What is Dogecoin and What Does it Try to Solve?
What is Dogecoin? Dogecoin is a token that has its own blockchain. You can view the network stats of Dogecoin on block explorers like Blockchair. It was created initially as a joke crypto. It is a meme coin that uses the symbol of a dog breed (the Shiba Inu dog). Dogecoin was created as a satire to mock the wild crypto market speculation that was going on (2013). When the coin started to receive promotion on Reddit, it became a hit worldwide.
Dogecoin comes with an unlimited supply. Dogecoin is based on the FOSS source model, and it uses the proof-of-work validation process for its trusted timestamping. Its block time is 1 minute, providing block rewards of 10,000 Dogecoins. The current Dogecoin circulating supply is 138 billion coins. This puts the biggest memecoin at a market cap of $12.3 billion.
When Dogecoin was created, it was formed purely as a satirical token without any use case in mind. However, its mainstream success has led the team to develop a use case built around peer-to-peer transactional use devoid of centralized censorship. A few companies accept Dogecoin for payments, the latest being The Lost Leaf which enabled Dogecoin on 27 January 2022.
Dogecoin's Founders
Dogecoin was created by Jackson Palmer and Billy Markus (Shibetoshi Nakamoto) and released publicly in 2013. Markus has been the more publicly visible and vocal of the two co-founders. Markus worked as co-developer of the token, along with Ross Nicoll and Michi Lumin. Palmer has since left the project.
Dogecoin maintained a degree of obscurity until Tesla Founder Elon Musk referred to the token in December 2020 in a tweet. At that time, Elon Musk was on his way to becoming the world's richest man, and Dogecoin rode on this popularity to achieve mainstream success as far as price gains were concerned.
In 2021, the DOGE hype went mainstream as Elon Musk hosted the popular show Saturday Night Live. The episode featured several Dogecoin skits and Elon proclaimed himself as the Dogefather.
Since Elon's acquisition of Twitter, speculation on Dogecoin has increased significantly. Many analysts expect the integration of DOGE into Twitter for payments. However, Elon Musk hasn't confirmed or denied this speculation.
Dogecoin Project Road Map
The first-ever Dogecoin roadmap was released in December 2021, nearly eight years after the project came into existence. The roadmap features eight new projects, which will also feature the release of a new GigaWallet. Here is the updated roadmap for Dogecoin. The so-called "Dogecoin Trail Map" is as follows:
a) August 2021: Dogecoin Manifesto signed, allowing fans to provide feedback on their aspirations from the project. The manifesto also details what Dogecoin is all about.
b) The Dogecoin Foundation is also working on switching from the Proof-of-Work (PoW) to Proof-of-Stake (PoS) validation protocol, allowing equal participation for all and even distribution of rewards for running the network.
c) The Libdogecoin and GigWallet are the two major projects slated for 2022. The Libdogecoin will feature node and transaction logic, communicating with the GigaWallet service, 3rd party wallets and the Dogecoin Keyring App.
The GigaWallet and Keyring app will be available to fintech startups, charity organizations, trading exchanges, streaming platforms and payment gateways, enabling them to accept Dogecoin on their media.
Dogecoin Adoption
How is Dogecoin adoption progressing?
In October 2021, co-founder Bill Markus identified the integration of Dogecoin with Non-fungible token (NFT) marketplaces and a DOGE-ETH bridge as the critical milestones that needed to be achieved to drive the adoption of the token. Markus hinted that the Foundation was working on an Ethereum bridge.
The completion of the Ethereum bridge will enhance integrated operability with NFT marketplaces and platforms, enabling them to offer DOGE as a payment option. Since Dogecoin is an ERC-20 token, users can buy NFT tokens from Ethereum wallets using Doge. The DOGE-ETH bridge would also enhance the token's visibility in the decentralized finance (DeFi) space.
An October 2021 survey of 41,645 people by the Australian publication Finder revealed that adoption of Dogecoin in the US was nearly double that of the rest of the world. Dallas Mavericks' merchandise can now be purchased with Dogecoin.
Dogecoin Price Prediction: 2023
The new batch of meme coins like PEPE, Gensler, and LADYS is giving DOGE a run for its money. While these coins have generated massive returns for their investors, Dogecoin holders have yet to see similar gains. Dogecoin price prediction will remain bearish as long as the price stays below the $0.10 level.
This price level has been acting as a strong resistance since May 2022. A reclaim of this level could send the DOGE price to 0.155 within no time. Therefore, bulls need to flip this resistance into support before targeting more gains in 2023.
Dogecoin Price Prediction for 2025
The Dogecoin price prediction for 2025 must consider the fact that a lot of the road map milestones set out by the Dogecoin Foundation would have been achieved. It is expected that by then, the use case potential of Dogecoin will have been unlocked and the outstanding Ethereum bridge and NFT marketplace integrations will have been completed. The utility would have increased, and so would adoption.
However, it is hard to predict the future of the crypto market three years down the road. In 2017, no one knew anything about decentralized finance or even the Metaverse, but here we are. There is always the potential for new projects to come onstream that increase the utility of Dogecoin and its price activity. The price range of the last six months has been between 0.1588 and 0.056. Therefore, the Dogecoin price prediction 2025 could see the DOGE/USDT close to $1.
DOGE/USDT: Weekly Chart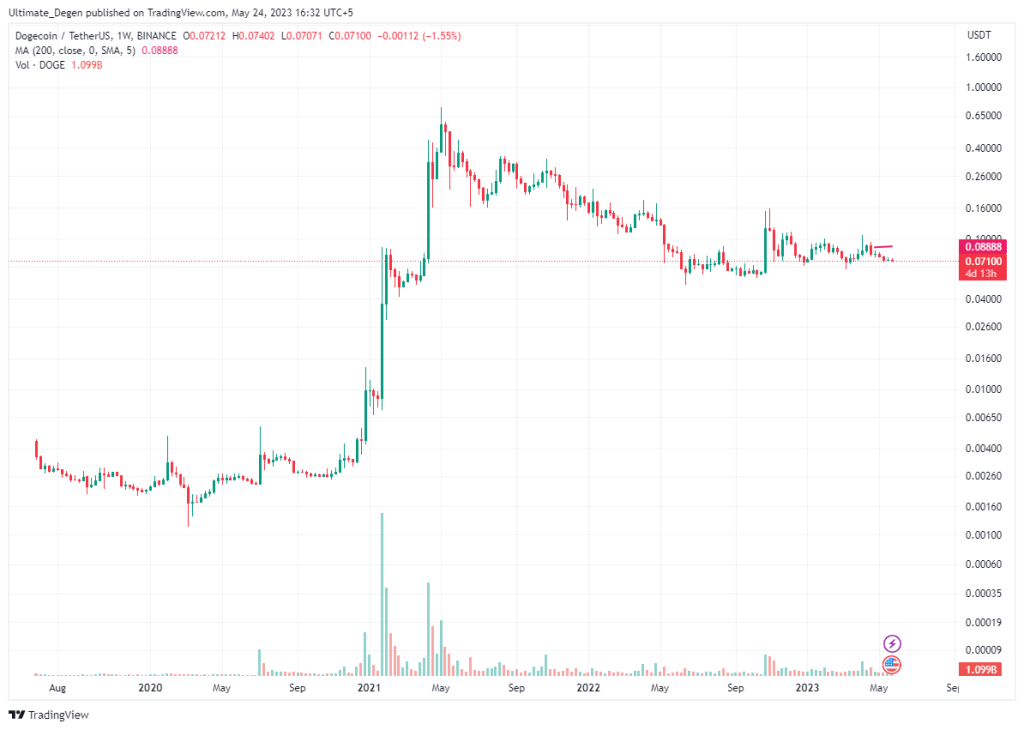 Dogecoin Price Predictions 2030
2030 is eight years away. Many people back in 2009 and 2010 said that by 2020, Bitcoin would have faded away like a candle in the wind. This has not been the case. Eight years is a long time, and there are two possibilities. Either Dogecoin cannot show a sustained increase in value as it did in 2020 and early 2021, or it grows gradually and delivers some great gains.
The Fibonacci extension tool on the DOGE/USDT chart provides some potential price targets which can be used for bullish Dogecoin price prediction 2030 targets. The weekly chart paints the picture as follows:
This shows potential upside price targets for bullish Dogecoin price predictions as follows:
0.8818, 1.0865, 1.1933, 1.3469, 1.6343 and 1.8390
Summary
Bullish Dogecoin price predictions will be seen when sufficient utility and adoption drive demand. However, the unlimited supply of Dogecoin may pose a challenge to attempts at securing corresponding price increases. Perhaps, if the Dogecoin Foundation can work out a solution that restricts supply, then there may be a reason to believe that a substantial price increase over time will work.
Dogecoin is presently at price levels that are just above its 2020 lows. This makes the current prices attractive points for those wishing to add to their Dogecoin holdings. However, there is no guarantee that Dogecoin will trade off present lows immediately and start ticking upwards. It may take some time for prices to pick up. We may also see prices trading in a sideways range. The best approach is to trade what you see on the charts and let your investment goals guide you.
DOGE/BTC Chart
The historical data shows that Dogecoin is one of the only few coins which have outperformed Bitcoin in the last few years. The following chart shows that the Dogecoin price has been a better investment than BTC since January 2021. The pair is currently trading around its 2014 levels while retesting its 200-day moving average.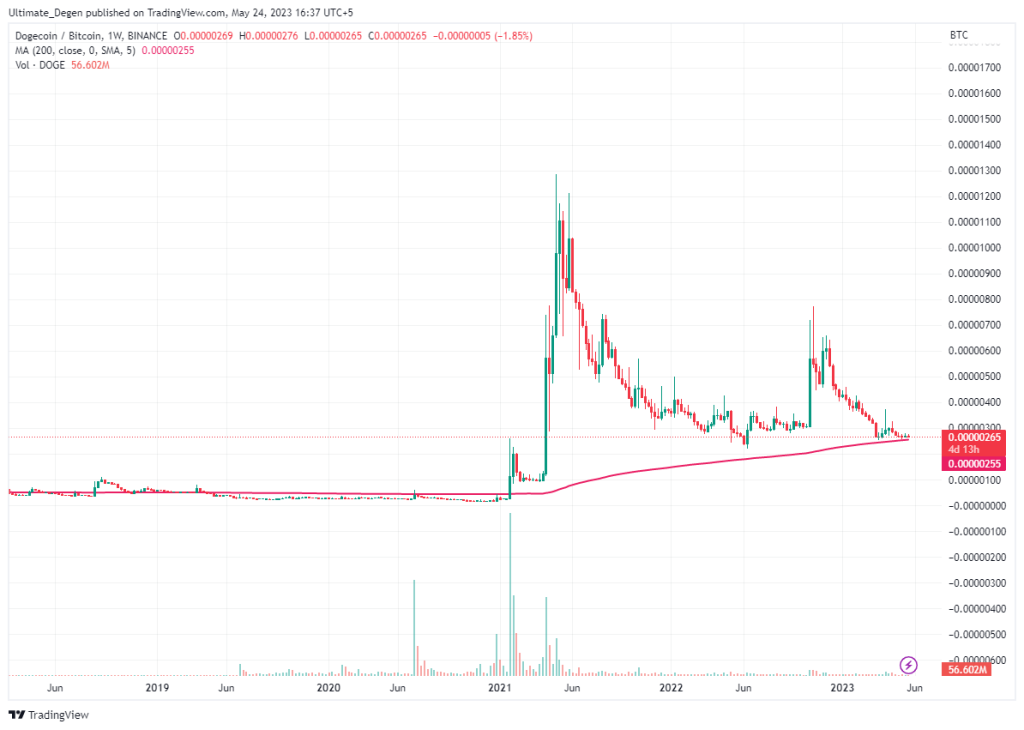 Follow Eno on Twitter.