This article helps readers understand the Dogecoin cryptocurrency and provides Dogecoin Price Predictions for 2022, 2025, and 2030.
Intro
Dogecoin came into public consciousness courtesy of a series of tweets from the world's richest man and CEO of Tesla Motors, Elon Musk. Most people know this token as the Elon Musk cryptocurrency. Dogecoin is also known as DOGE and is listed for trading on several exchanges, usually as a pairing of DOGE and other cryptos such as Tether, Ethereum, Bitcoin, and other fiat currencies such as the US Dollar.
Latest Dogecoin Prices Today

Dogecoin Price
$0.1047
Price Change 24h
-$0.001803
24h Low: / 24h High:
$0.1003 /

$0.1089

Trading Volume 24h
$1,101,592,668.46
Market Dominance
1.61%
Market Rank
#8
Market Cap
$13,893,188,998.49
Fully Diluted Market Cap
$13,893,188,998.49
7d Low: / 7d High:
$0.08076 /

$0.1089

30d Low: / 30d High:
$0.07211 /

$0.1572

All Time High: May 08, 2021 (2 years ago)
$0.7376
All Time Low: May 07, 2015 (8 years ago)
$0.00008547
Last Updated
2022-12-01 04:16
What is Dogecoin and What Does it Try to Solve?
What is Dogecoin? Dogecoin is a token that is built on the Ethereum network. Dogecoin was created initially as a joke crypto. It is a meme coin that uses the symbol of a dog breed (the Shiba Inu dog). Dogecoin was created as a satire to mock the wild crypto market speculation that was going on (2013). When the coin started to receive promotion on Reddit, it became a hit worldwide.
Dogecoin comes with an unlimited supply. Dogecoin is based on the FOSS source model and it uses the proof-of-work validation process for its trusted timestamping. Its block time is 1 minute, providing block rewards of 10,000 Dogecoins.
When Dogecoin was created, it was formed purely as a satirical token without any use case in mind. However, its mainstream success has led the team to develop a use case built around peer-to-peer transactional use devoid of centralized censorship. The much-touted use of Dogecoin as a potential transactional currency for Tesla products continues to be the leading example of this use case scenario. A few companies accept Dogecoin for payments, the latest being The Lost Leaf which enabled Dogecoin on 27 January 2022.
Dogecoin's Founders
Dogecoin was created by Jackson Palmer and Billy Markus (Shibetoshi Nakamoto) and released publicly in 2013. Markus has been the more publicly visible and vocal of the two co-founders. Markus worked as co-developer of the token, along with Ross Nicoll and Michi Lumin. Palmer has since left the project.
Dogecoin maintained a degree of obscurity until Tesla Founder Elon Musk referred to the token in December 2020 in a tweet. At this time, Elon Musk was on his way to becoming the world's richest man, and Dogecoin rode on this popularity to achieve mainstream success as far as price gains were concerned.
Dogecoin Project Road Map
The first-ever Dogecoin roadmap was released in December 2021, nearly eight years after the project came into existence. The roadmap features eight new projects, which will also feature the release of a new GigaWallet. Here is the updated roadmap for Dogecoin. The so-called "Dogecoin Trail Map" is as follows:
a) August 2021: Dogecoin Manifesto signed, allowing fans to provide feedback on their aspirations from the project. The manifesto also details what Dogecoin is all about.
b) The Dogecoin Foundation is also working on switching from the Proof-of-Work (PoW) to Proof-of-Stake (PoS) validation protocol, allowing equal participation for all and even distribution of rewards for running the network.
c) The Libdogecoin and GigWallet are the two major projects slated for 2022. The Libdogecoin will feature node and transaction logic, communicating with the GigaWallet service, 3rd party wallets and the Dogecoin Keyring App.
The GigaWallet and Keyring app will be available to fintech startups, charity organizations, trading exchanges, streaming platforms and payment gateways, enabling them to accept Dogecoin on their media.
Dogecoin Adoption
How is Dogecoin adoption progressing?
In October 2021, co-founder Bill Markus identified the integration of Dogecoin with Non-fungible token (NFT) marketplaces and a DOGE-ETH bridge as the critical milestones that needed to be achieved to drive the adoption of the token. Markus hinted that the Foundation was working on an Ethereum bridge.
The completion of the Ethereum bridge will enhance integrated operability with NFT marketplaces and platforms, enabling them to offer DOGE as a payment option. Since Dogecoin is an ERC-20 token, users can buy NFT tokens from Ethereum wallets using Doge. The DOGE-ETH bridge would also enhance the token's visibility in the decentralized finance (DeFi) space.
Several studies and reports from several crypto websites indicate that Dogecoin remains one of the most adopted cryptocurrencies globally.
An October 2021 survey of 41,645 people by the Australian publication Finder revealed that adoption of Dogecoin in the US was nearly double that of the rest of the world. The same survey showed that 1 in 3 crypto holders in the US-owned Dogecoin. CEO of AMC Entertainment, Adam Aron, had announced in October 2021 that the company would start adopting Dogecoin for payments in the first quarter of 2022. Dallas Mavericks' merchandise can now be purchased with Dogecoin.
These are all pointers that Dogecoin adoption is on the rise, and implementing the roadmap is bound to aid its utility and adoption worldwide.
Dogecoin Price Prediction: 2022
The Dogecoin price prediction 2022 comes from the weekly chart analysis, which showcases the medium-term outlook for DOGE. The chart is that of the DOGE/USDT pair.
After doing nothing throughout 2020, the DOGE/USDT pair surged nearly 1,000% in early 2021, hitting a peak of $0.74 on 21 May 2021. Since then, a relentless price correction has taken place. This correction is typified by the progressively lower highs seen on the chart on 31 May, 16 August, 25 October and 13 December. This correction has sent the pair towards the 29 November low at 0.1314. If this low is breached, then the DOGE/USDT pair is headed for the 8 February 2021 high at 0.0829.
Suppose the pair can bounce from the current levels and use this as the pivot to launch a renewed recovery attempt. In that case, sequential upside barriers exist at 0.1634, 0.1961 (20 September low and 20 December 2021 high) and 0.2195 (13 December 2021 high).
In retrospect, Bitcoin and other tokens have seen similar price patterns in the correction between 2016 and 2020. The price is now at accumulation levels, and we are currently at attractive price levels. A criticism of Dogecoin is that a significant chunk of the token is in the hands of very few whales. However, Dogecoin does not have a limited supply. The Dogecoin price prediction for 2022 will be determined by the level of differentiation of whale activity and how well the Foundation can drive its road map in 2022.
Dogecoin Price Prediction for 2025
The Dogecoin price prediction for 2025 must consider the fact that a lot of the road map milestones set out by the Dogecoin Foundation would have been achieved. It is expected that by then, the use case potential of Dogecoin would have been unlocked and the outstanding Ethereum bridge and NFT marketplace integrations would have been completed. The utility would have increased, and so would adoption.
However, it is hard to predict the future of the crypto market three years down the road. In 2017, no one knew anything about decentralized finance or even the Metaverse, but here we are. There is always the potential for new projects to come on stream that increase the utility of Dogecoin and its price activity. The price range of the last six months has been between 0.3487 and 0.1314. Therefore, the Dogecoin price prediction 2025 could see the DOGE/USDT trading within this range or above 0.3487.
DOGE/USDT: Weekly Chart with Fibonacci Extensions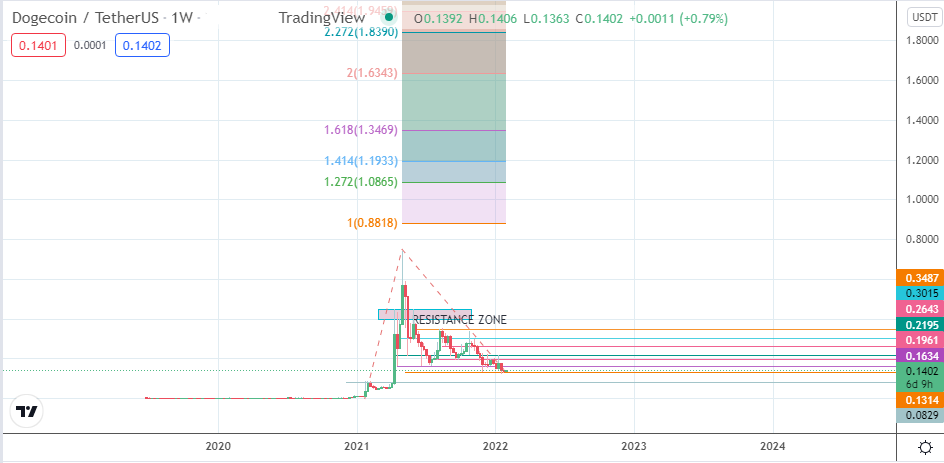 Dogecoin Price Predictions 2030
2030 is eight years away. Many people back in 2009 and 2010 that by 2020, Bitcoin would have faded away like a candle in the wind. This has not been the case. Eight years is a long time, and there are two possibilities. It is either Dogecoin cannot show a sustained increase in value as it did in 2020 and early 2021, or it grows gradually and delivers some superb gains.
The Fibonacci extension tool on the DOGE/USDT chart provides some potential price targets which can be used for bullish Dogecoin price prediction 2030 targets. The weekly chart paints the picture as follows:
This shows potential upside price targets for bullish Dogecoin price predictions as follows:
0.8818, 1.0865, 1.1933, 1.3469, 1.6343 and 1.8390
Summary
Bullish Dogecoin price predictions will be seen when sufficient utility and adoption drive demand. However, the unlimited supply of Dogecoin may pose a challenge to attempts at securing corresponding price increases. Perhaps, if the Dogecoin Foundation can work out a solution that restricts supply, then there may be a reason to believe that a substantial price increase over time will work.
Dogecoin is presently at price levels that are just above its 2020 lows. This makes the current prices attractive points for those wishing to add to their Dogecoin holdings. However, there is no guarantee that Dogecoin will trade off present lows immediately and start ticking upwards. It may take some time for prices to pick up. We may also see prices trading in a sideways range. The best approach is to trade what you see on the charts and let your investment goals guide you.
DOGE/USDT: Weekly Chart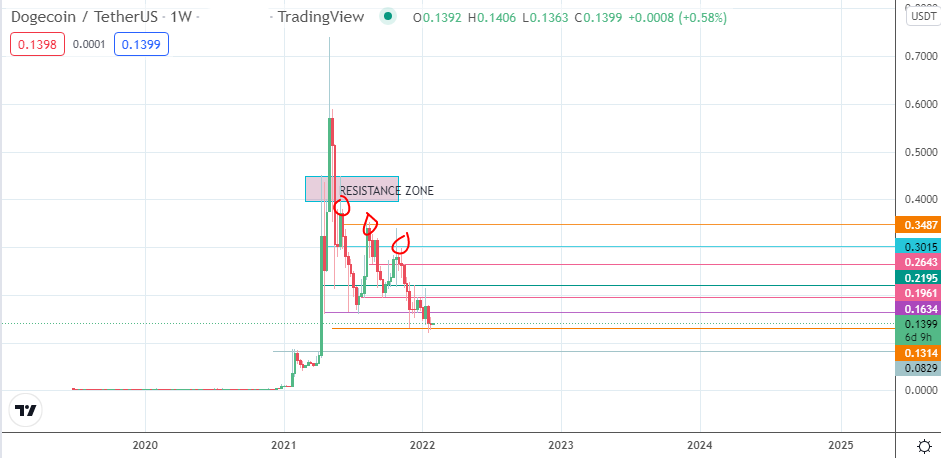 Follow Eno on Twitter.