The Royal Dutch Shell share price has struggled in the past few days as investors reflect on the company's future. The RDSB share price ended the week at 1,685p, which was about 7% below the highest level this year.
What next for Shell?
Shell moved into the spotlight last week after renowned activist Dan Loeb announced that he had a stake in the company. His other portfolio companies are Prudential, Entain, Dell, and Upstart.
In a letter, he suggested that Shell should break itself up into two separate companies. One firm will be involved in the "dirty" oil and gas industries while the other arm will be involved in relatively clean energy businesses.
Shell and Abrdn Investments, one of the company's biggest shareholders rejected the proposals. In a statement, Abrdn lamented that breaking down the company would be a relatively tough job. In its statement, Shell said that the "dirty" business was providing liquidity to fund the relatively clean energy division. It is still relatively early to predict what will happen next. As a large shareholder, Dan Loeb could decide to push the matter to a full shareholder vote. Alternatively, he could shift to become a relatively passive investor in the company.
Still, what is clear is that the Shell share price is relatively cheap compared to its peers. It trades at about 35% discount compared to its peer countries. Also, it is trading at about 8 times earnings while it is benefiting substantially from the sharp increase in LNG prices. This is important since Shell is the biggest LNG producer in the world.
Royal Dutch Shell share price forecast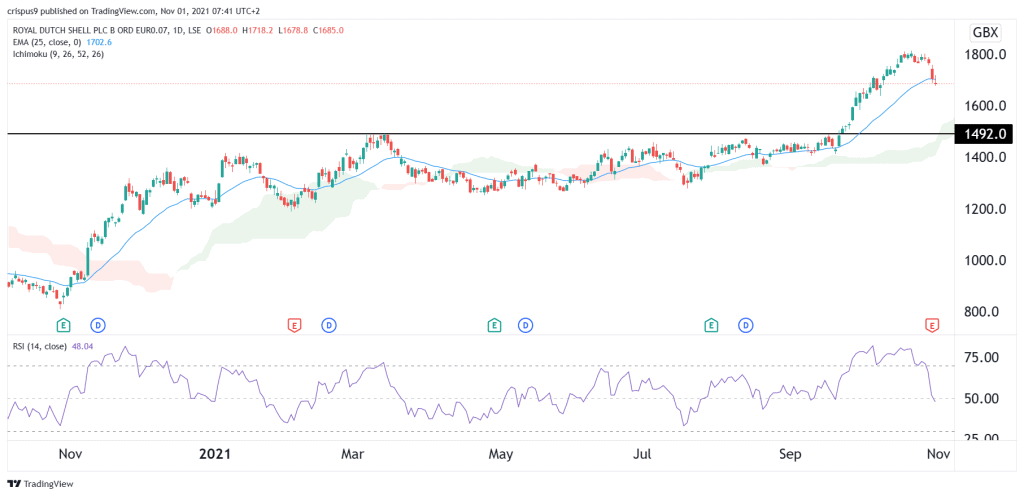 The daily chart shows that the Shell share price has been in a sell-off in the past few days. The decline happened after the letter by Dan Loeb and the company's weak earnings.
The stock has moved below the 25-day moving average and it has formed a top at around 1,800p level. The Relative Strength Index (RSI) has moved sharply from its overbought level.
Therefore, the shares will likely keep dropping as bears target the next key support at 1,500p, which was the highest level in March. In the longer term, however, the stock will likely see a rebound.