Royal Dutch Shell share price had a strong bounce on Wednesday as global oil prices rebounded. However, the shares of the petroleum company are still down 5.5% from their yearly peak as it is set to release its earnings for the fiscal quarter ending in September 2023 on Thursday. At press time, the shares of the British oil and gas company are trading at 2676p which is 29 points above its previous close.
The oil and gas sector has been under pressure after JP Morgan downgraded BP to "underweight". The bank cited the low cash returns as the main reason for the downgrade. Additionally, the housing shares also suffered correction as the UK reported weak housing data. This negative news led to the FTSE100 index losing 4.4 points till press time.
Shell has decided to sell a majority stake in its Pakistan division to Saudi Arabian fuel retailer Wafi Energy. The British oil and gas company is expected to divest around 77.42% majority interest in Shell Pakistan while the brand itself will continue operating in Pakistan through brand licensing agreements.
On Tuesday, Shell reported it has 6,604,222,922 ordinary shares in total which are priced at €0.07. The company also said that investors will use the ordinary shares to "determine if they are required to notify their interest in, or a change to their interest in, Shell plc".
LON: SHEL Daily Chart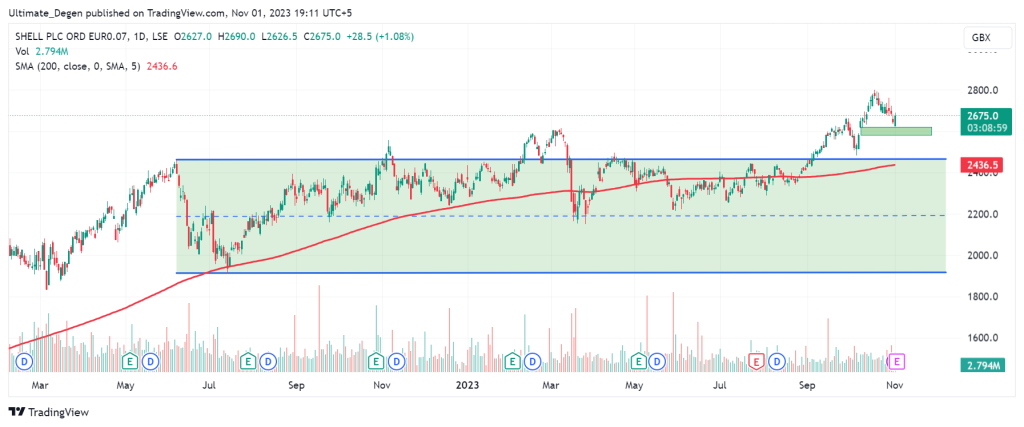 Royal Dutch Shell Share Price Outlook
Shell share price chart reveals a price gap that lies between 2581p-2621p. This gap was left after last month's surge in price. The shares of the British oil and gas company also made a new yearly high of £28 in October, which was aided by the rise in oil prices amid conflict in the Middle East.
The Royal Dutch Shell share price forecast will only flip bearish if the price gains acceptance below the previous range high of £24.8p. Nevertheless, the shares may still fill the £25.8-26.21 price gap which was left in October.
On the higher timeframe, the price has been in an uptrend suggesting the bulls are still in control.