Rolls-Royce and BAE Systems share prices have diverged in 2022. While the Rolls-Royce share price collapsed by ~28%, BAE surged by almost 50%. The latter has become one of the best-performing companies in the FTSE 100 index. In this Rolls-Royce vs BAE Systems comparison, we will assess the best one to invest in.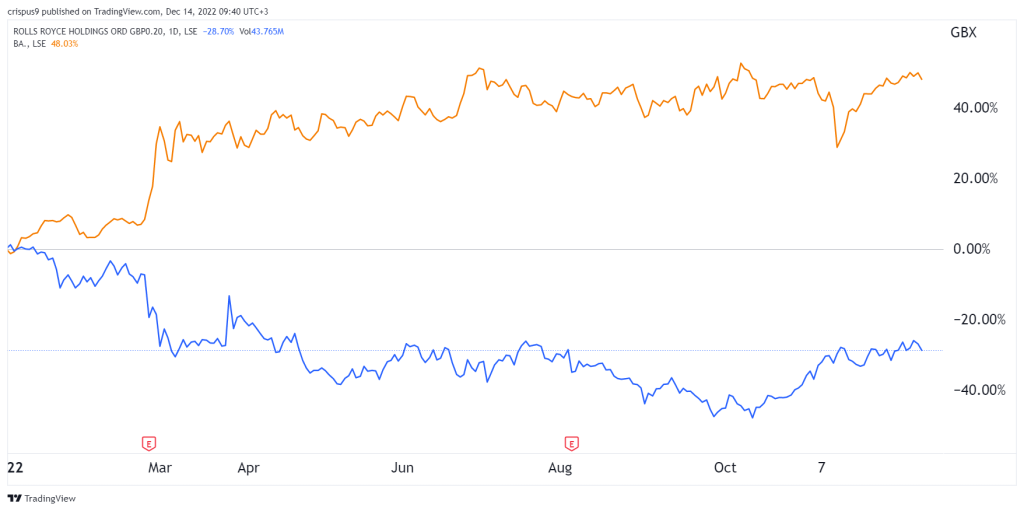 The case for BAE Systems
BAE Systems stock price surged in 2022 as the war in Ukraine led to robust demand for its products. In the past few months, countries in Europe and the United States have committed to boost their defence spending to counter rising threats from Russia and China.
The company order book grew to £18 billion in the first half of the year from £10 billion in the same period in 2021. In the same period, the company's sales jumped to £10.6 billion while the underlying EBIT rose to £1.1 billion.
BAE stock main catalyst is that defence spending will continue rising even as the cost of doing business eases. Inflation data published this week showed that consumer and producer prices have been falling in the past few months.
The company will benefit because of its strong market share in electronic warfare and maritime categories that are set to do well. Consider the statement below from the head of its digital intellifence business.
"Space in simple terms is sensors and communication systems. No one can challenge BAE about its ability to put sensors on warships, on fighter jet aircraft and other land-based platforms, integrate them and turn them into a solution."
The case for Rolls-Royce
Like BAE Systems, Rolls-Royce Holdings is a key player in the defence industry, where it manufactures several products. Its engines power some of the most powerful defence aircraft in the industry.
However, Rolls-Royce makes most of its money in the civil aviation industry. It both manufactures engines for private jets and wide-body planes. Most importantly, the company provides long-term services to these engines. As such, it makes more money the more its planes fly.
There are several reasons why Rolls-Royce share price could rebound. First, the company has become severely undervalued because of its slow recovery. Second, the aviation industry, particularly in China, will likely stage a comeback in 2023. Further, like BAE, the company is a major player in defence and energy businesses.
Rolls-Royce vs BAE Systems
To a large extent, BAE Systems seems like the better investment because of its strong and safe dividend. Rolls-Royce has none. However, I feel like Rolls Royce is the better buy as its business is set to recover. The firm has also reduced its costs, sold the underperforming businesses, and it will benefit s China recovers. Also, I believe that BAE business potential gains have already been priced in the stock price.