The Rolls Royce share price may experience a brief correction before a rebound in prices. Price action is presently in a corrective decline after some heavy appreciation in the last three months. This decline is expected to be transitory as Rolls Royce continues to ramp up new product development and to deepen existing partnerships. 
Reuters reports that Silk Way Airlines has entered into a deal with Rolls Royce to replace and provide support to their RB211 engines until 2026. Under the terms of this deal, 20,000 cycles of flying time will be provided by Rolls Royce's engines in the cargo airline's aircraft.
The payment structure for Rolls Royce engines is tied to the number of hours that aircraft bearing them are in the air. This deal could provide much-needed pandemic recovery revenue to the company's aerospace division.
Rolls Royce Share Price Outlook
The price action is currently challenging the resistance posed by the 145.60 price barrier. A breach of this resistance makes 148.96 the new resistance target in the near term. The 13 March 2020 high at 154.74 is another potential price target to the north that comes into view if the 148.96 barrier is uncapped.
Conversely, a pullback following the rejection of the candle at 145.60 allows for a push to the 140.52 and 137.00 support zone. Only when this support zone is breached can 134.94 become a new target. 131.16 and 128.64 are additional targets to the south. This move would complete the corrective phase of the Elliot wave pattern. 
Rolls Royce: 4-Hour Chart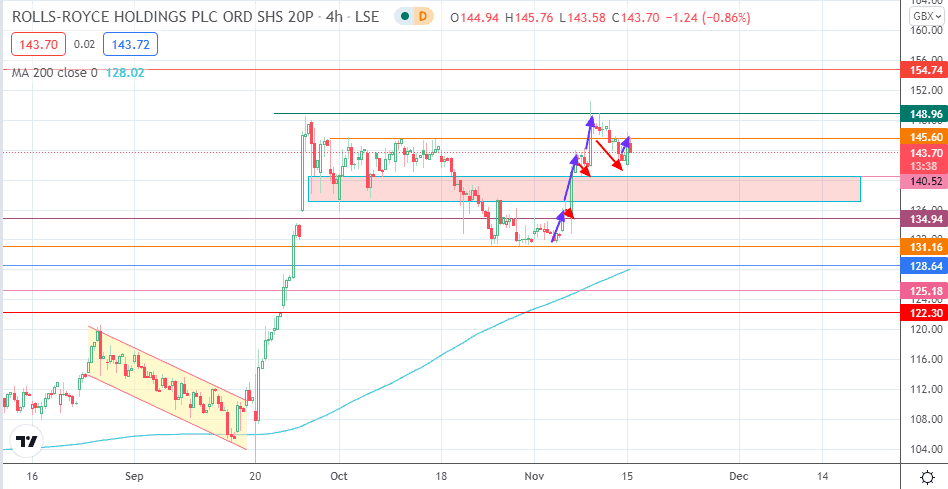 Follow Eno on Twitter.