This Tuesday, bearish Rolls Royce's share price predictions are all over the market. Yet another day of sour sentiment around the stock sends it into red territory. Selling on the stock accelerated in the last one hour after a relatively muted negative start to the day. This has sent the Rolls Royce share price lower by more than 2%.
The Rolls Royce share price has had an underwhelming start to the year. It is down more than 32% in the last six months, truncating whatever recovery the stock tried to make after the worst of the pandemic. The stock is currently at price lows last seen when the pandemic ravaged the world and the aviation sector.
The Rolls Royce share price slump is partly due to AirAsia's cancelling the orders for 63 Airbus A330-900s. This, in turn, has cut orders for Rolls Royce's engines by more than half. Rolls Royce's aviation revenues are tied to the number of hours its engines are in the sky. This metric was down 50% in 2020 and has not fully recovered.
With a reduction in the orders of its Trent 7000 engines as a fallout from the Airbus order cancellation, the aviation business of Rolls Royce looks set to suffer for a more extended period than expected. The company has begun an enormous diversification effort to wean it off its principal source of income and into other emerging businesses of the future. But these will not deliver short term returns. 
The Rolls Royce share price is now at comparatively cheap levels. Five institutional analysts have provided a HOLD recommendation for Rolls Royce, with a 12-month consensus price target of 130.80p. This gives the stock a 53.2% upside potential, which could improve the Rolls Royce share price predictions going forward.
Rolls Royce Share Price Prediction
The intraday decline below the 86.40 support has put this price pivot in a position of vulnerability. A breakdown of this price level puts the price activity on course to target the 80.96 price support (14 May 2020 low). Additional targets to the south reside at the 27 August 2020 low (78.20) and the 9 November 2020 low at 72.25.
Conversely, 90.98 becomes the immediate upside target if the bulls save the 86.40 support level. If the advance continues, 94.61 and 97.26 become the additional upside targets above this area. Finally, an advance to 100.95 sends the price activity to the 1 March/6 April highs before 104.00 (31 March high) becomes another northbound target.
RR.: 4-hour Chart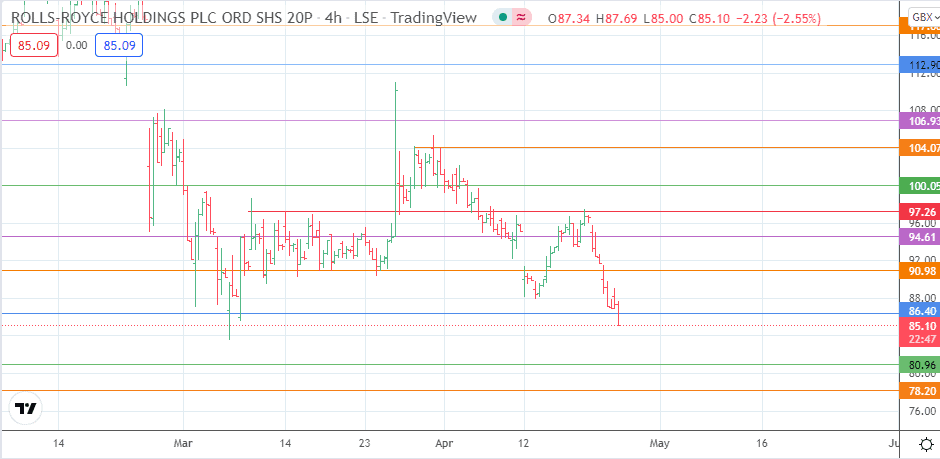 Follow Eno on Twitter.