Rolls-Royce Holdings has underperformed the market this year as the firm battles on multiple fronts. The firm's stock has declined to 83.31p, which is about 44% below the highest point in 2022. It is also hovering near its lowest point in November 2020 and has underperformed the FTSE 100. So, is the Rolls-Royce share price a bargain or a value trap?
Is Rolls Royce cheap?
Rolls-Royce Holdings has been a chronic underperformer for more than a decade. For example, in the past five years, the stock has retreated by over 80% while the S&P 500 index has risen by about 60%. This underperformance has happened as the company has battled many fights such as the challenges with its Trent engines.
It was also hit hard by the Covid-19 pandemic, which affected its most lucrative demand. The company emerged from the pandemic as a leaner firm after it sold its businesses and raised cash through debt and stock sale. Looking ahead, the company is expected to see more demand as the aviation industry recovers in the coming months. Similarly, the war in Ukraine will help bolster its military business.
Rolls-Royce is one of the cheapest industrial stocks in the FTSE 100. But, I have to admit that valuing the company is not an easy thing because of its long-term underperformance. A DCF valuation by Simply Wall St, estimates that the Rolls-Royce share price is slightly overvalued. This model, however, fails because of the uneven nature of the company's business.
The same challenges emerge when you try to use multiples like PE and PS to establish whether the company is undervalued. These approaches simply don't include important intrinsic data about the company. The chart below shows the quant stats from SeekingAlpha.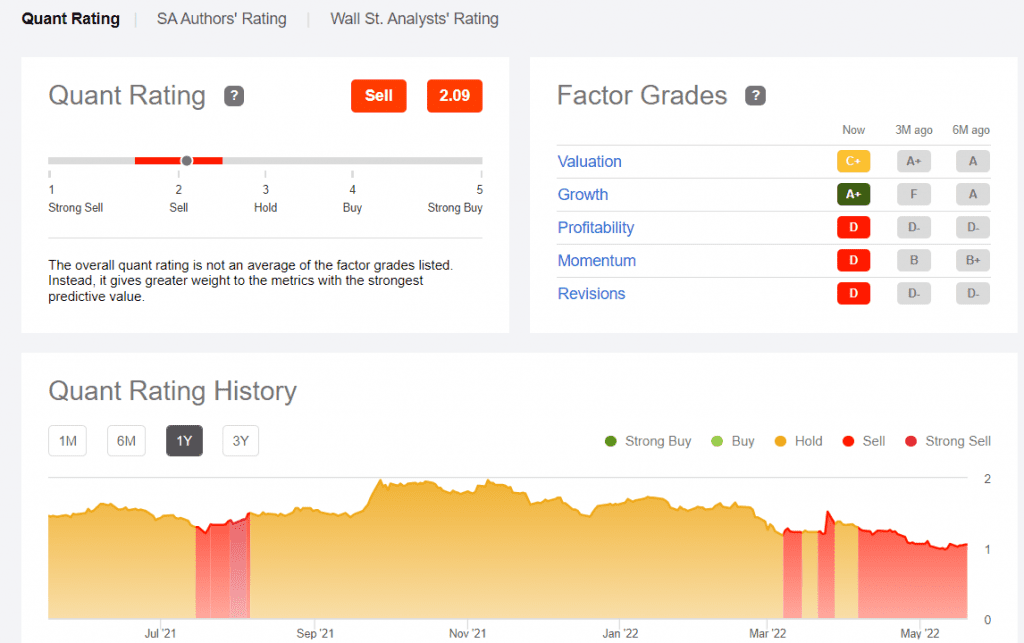 Rolls-Royce share price forecast
RR stock price has been an important under-performer in the past few months. The shares have already crashed by about 44% from its highest point this year. As a result, technicals are showing that the stock is a sell in the daily, weekly, and monthly charts.
At the same time, the Know Sure Thing indicator has moved below the neutral level. Therefore, the outlook for the Rolls Roye share price is now bearish, with the next key support being at 75p. On the flip side, a move above the resistance at 90p will invalidate the bearish view. The bearish view is in line with my previous forecasts.