The Ripple price is following the crypto market lower this morning as a broad-based risk-off sends shockwaves across global markets. Ripple (XRP) is sliding again in early Asian trading, extending yesterday's 12% decline. However, for now, the 200-day moving average at $0.8804 is doing an excellent job of averting a more profound decline.
In the last 48 hours, the breakdown in cryptocurrencies comes on the back of the crash in Chinese equities as Evergrande, the country's second-largest property, faces collapse. The contagion spread to US indices which suffered their worst day since October. Furthermore, China's sovereign debt is starting to blow out to levels not seen since the early days of the covid pandemic. As a result, investors are running from risk assets, including cryptocurrencies. In the last few hours, Bitcoin (BTC/USD) dropped below the 200-day moving average at $41,823, which soured sentiment even more. Following this, the Ripple price briefly penetrated the 200 DMA at $0.8841. However, BTC has bounced $2,500 from the $40,255 low and subsequently reclaimed the average, helping XRP achieve the same. Although we are still early into the day, this may prove to be a deciding factor for the Ripple price.
XRP Price Forecast
The daily chart shows that XRP has been under pressure since a failed breakout earlier this month. After breaking out to the upside on the 6th, XRP succumbed to heavy selling on the 7th, which forced Ripple back into a downtrend. Now at $0.8943, the Ripple price is 38% below the 6th of August high and in a bear market. Furthermore, the price decline has taken it below the 50-day moving average at $1.0506 and the 100-day at $98.25. However, the 200-day at $0.8843 remains intact on a closing basis. If Ripple closes below the indicator in today's session, it will mark a deterioration in the technical outlook and likely lead to further liquidation. Targets on the downside include the 5th of August low around $0.6600, and a more considerable decline could see $0.5000 come into play.
However, if buyers emerge in Bitcoin, the Ripple price should find a bid. If XRP closes above the 200-day moving average, it could signal the start of a reversal. However, I remain sceptical until XRP clears the 100 DMA at $98.24 and trend resistance at $1.2000. In saying that, if XRP climbs above $1.2000, the bearish view becomes invalid and flips to bullish.
Ripple Price Chart (Daily)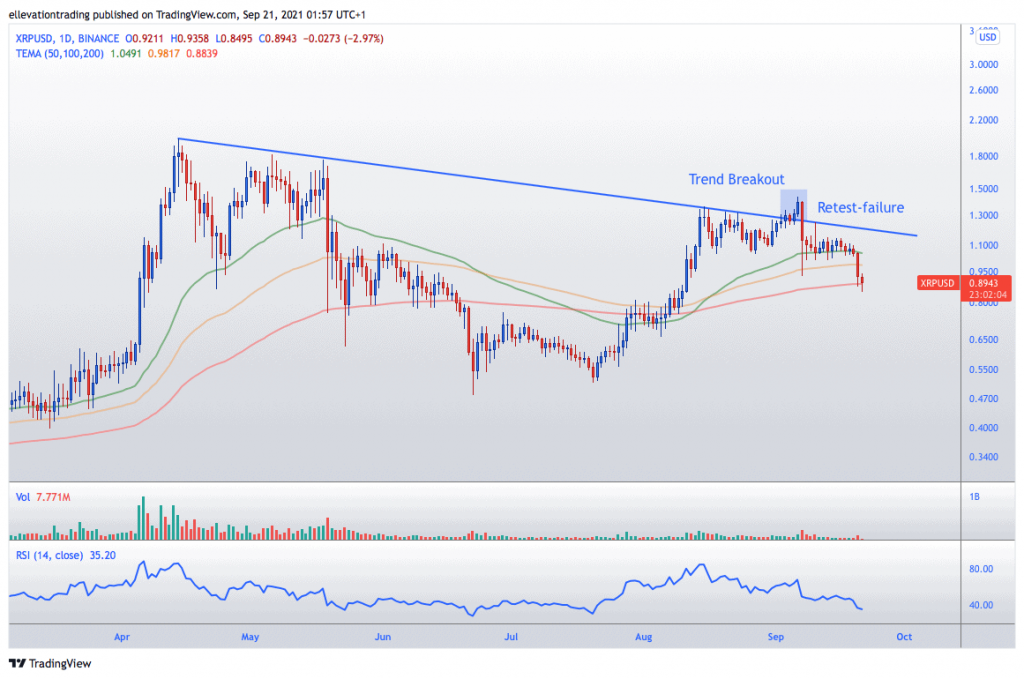 For more market insights, follow Elliott on Twitter.