Following last week's correction, the Ripple price has been glued to the spot, spending seven days grinding sideways above $1.000. However, the crypto market will soon decide if the sudden slide was a buying opportunity or an omen of what's to follow. Therefore, Ripple (XRP/USD) is likely to break out soon.
Ripple started last week brightly. On Monday, XRP was trading at a four-month high of $1.4357, a price last seen during the collapse on May 19th. However, on Tuesday, the Ripple price slid to its worst intraday loss since that same fateful day in May. At one stage on Tuesday, XRP was down almost 35% from the previous day's high and ominously below $1.000. However, like much of the market, a wave of dip-buying late in the day helped the price recover into the close, paring the one-day loss to -19%. But this didn't mark the start of sustained recovery, and XRP closed lower on each of the next three days. Although, the bulls will be encouraged that despite several attempts to break down this week, so far, $1.0000 is holding. The question is, will that continue to be the case, and if not, what happens to the Ripple price?
XRP Price Forecast
Currently, the daily chart is not giving off any clear signals. For the last three months, the trading volume has been extremely light and doesn't allude to any large transaction in either direction. Furthermore, the Relative Strength Index is in no-mans-land and has a neutral reading of 46.20.
However, the latest Ripple price of $1.0700 is above the major moving averages. The 50-day at $1.0424 is the first level of support, closely followed by the important 200-day at $0.9252. This should be considered the key level to watch.
Above the market, the first resistance level is not seen until last Monday's high of $1.4357. Furthermore, above that, there is an argument to be made for the Ripple price heading back towards the May highs around $1.8000.
Bitcoin leads the way
As long as Bitcoin (BTC/USD) struggles for direction, it's safe to assume that XRP will do the same. At the moment, neither the bulls nor the bears have the upper hand, meaning the path of least resistance is sideways. But there are signs that BTC is starting to roll over. And for that reason, I suspect that XRP will test the support of the 200-day moving average at some stage. If this proves to be true, the 200 DMA must hold. The bears will be back in control if it doesn't, and XRP could suffer a steep drop.
Ripple Price Chart (Daily)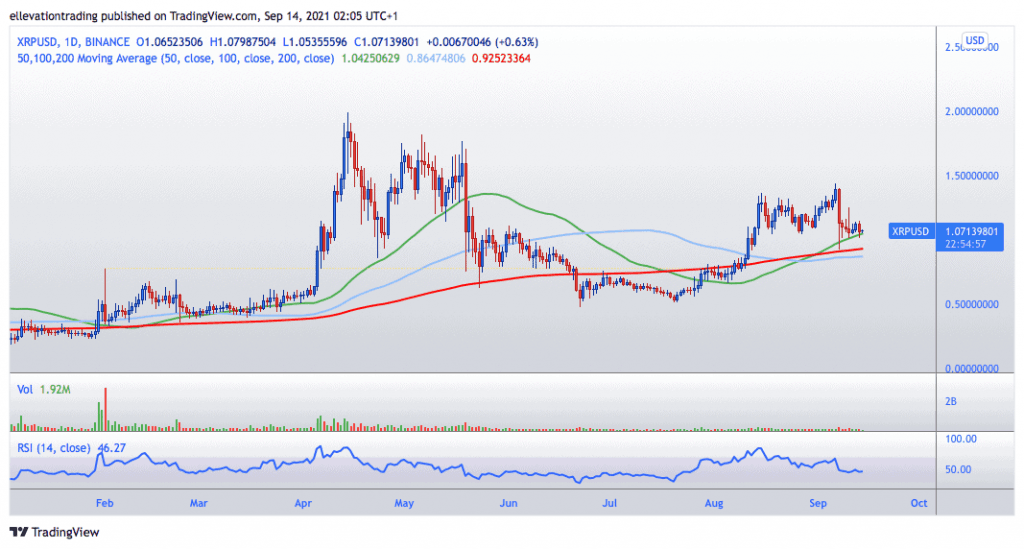 For more market insights, follow Elliott on Twitter.