Royal Mail share price ticked up slightly this Tuesday, paring some of Monday's losses as a new plea by the company's chief executive points towards a busy Christmas season for the company.
CEO Simon Thompson has appealed for vans, which the company intends to lease to handle an increasingly large number of parcels flowing through its logistics network. The company's fleet of nearly 40,000 vans appears stretched to breaking point, as a combination of increased parcel deliveries during the festive shopping season and reduced-contact shopping from the surge in COVID-10 Omicron variants has led to a busier-than-expected delivery season.
The Royal Mail share price had had a stellar performance in the last four weeks, adding nearly 100p to its stock before a slight correction as traders took profits. It is up 2.08% on the day.
Royal Mail Share Price Outlook
The intraday advance has taken the price action above the 490.7 price mark. If this higher close above this level is maintained, the bulls would have a pivot to attempt a move towards the 509.6 resistance barrier. Above this level, the 520.3 resistance (16-20 April highs) serves as an additional barrier to the north before the bulls attempt to scale 5-month highs at 538.0.
On the flip side, failure to defend the 490.7 support results in an increased potential for a corrective decline towards 471.3. 452.6 (4/16 November highs) and 442.9 appear as additional targets to the south if the decline continues before 431.2 turns up as an extra pivot down south if the bears remain in control.
Royal Mail: Daily Chart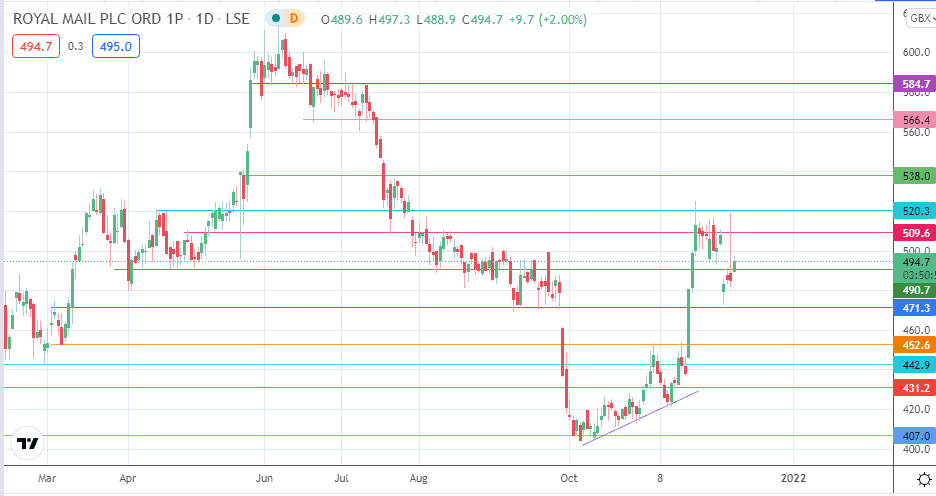 Follow Eno on Twitter.