The Reliance Industries share price has done relatively well this year as it has risen by over 12%. It has outperformed the Nifty 50 index, which has fallen by 5.90% year-to-date. The stock has lagged that of Adani Enterprise, which has risen by more than 20% and helped boost Gautam Adani's net worth by $19.2 billion to $95.7 billion. Mukesh Ambani's net worth has risen to $96.1 billion.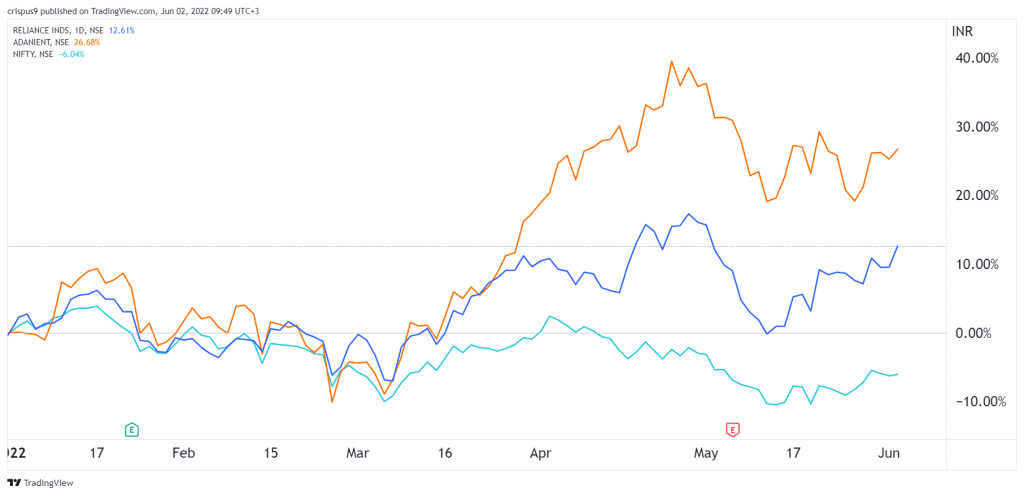 Reliance vs Adani Enterprises
Reliance Industries and Adani Enterprises are two of the biggest Indian conglomerates. Together, they employ more than 250k people in the country. Reliance business segments are exploration and production, petroleum refining and marketing, new energy, textiles, retail, and Jio. These companies, especially Jio have leading market shares in the industry. For example, Reliance Retail has over 12,700 stores in the country.
Adani Enterprises, on the other hand, has a hand in most sectors of the Indian economy. It owns airports, data centers, defense contracting, mining, ports, railways, solar panel manufacturing, and sewage treatment. Adani has grown rapidly through acquisitions. According to Bloomberg, the company has spent over $17 billion in acquiring about 32 companies. As a result, the firm's net debt has jumped to over $20 billion or about 4x EBITDA. That is a substantially high amount of leverage.
Reliance Industries, in contrast, has a net debt of about $13 billion, bringing its debt to EBITDA to about 0.7. This makes it one of the least leveraged Indian conglomerates. It has also been helped by the strong performance of its key industries like oil and natural gas.
In terms of valuation multiple, Reliance is better valued than Adani. It has a forward PE multiple of about 21 while Adani has a multiple of 124. The figure for Adani is a bit difficult to calculate because of the vast number of acquisitions. Even so, the multiple is significantly higher considering that Apple has a forward PE of 24 and Tesla 69. As such, in my view. I believe that Reliance is a better buy than Adani.
Reliance Industries share price forecast
The daily chart shows that the Reliance share price has made a strong recovery lately. It has managed to move above the important resistance level at 2,564 INR, which was the highest level in January this year. The stock has moved above the 50-day moving average while the Relative Strength Index (RSI) has moved above the neutral point at 50.
This means that it has momentum. Therefore, there is a likelihood that the Reliance stock price will keep rising as bulls target the key resistance level at INR 2,800. A drop below the support at 2,565 will invalidate the bullish view.