The Ravencoin price has been punched lately as investors worry about American monetary policy. As a result, RVN is trading at $0.060, about 80% below its all-time high. As a result, its total market capitalization has retreated to about $618 million, making it the 112th biggest cryptocurrency globally. 
What is Ravencoin and what does it do?
What is Ravencoin? Ravencoin is a unique cryptocurrency that was started in January 2018. It is unique because its goal is to solve the challenges that exist in Bitcoin's ecosystem. It achieves this by the fact that it was developed by cloning the software that built Bitcoin and made enhancements.
For example, one challenge that Bitcoin has is that it has a supply limit of 21 million coins. Already more than 18 million coins have been mined. Therefore, as the mined Bitcoin approaches the supply limit, the cost of mining the coins will keep rising. As a result, it boosted the supply to 21 billion coins.
Ravencoin made other changes to the code. For example, it reduced the block time to 1 minute to make Bitcoin's network faster. Further, it changed the issuance schedule and brought the block reward to 5,000 RVN. Finally, Ravencoin changed the mining algorithm to KAWPOW.
These changes mean that Ravencoin is a more advanced and affordable version of Bitcoin. Some blockchain watchers call it a mini-Bitcoin.
Who owns Ravencoin?
Ravencoin was developed by Bruce Fenton, a well-known businessman who serves as a board member of Medici Ventures. Medici, on the other hand, is owned by Overstock. Overstock is a $2.2 billion e-commerce company that was among the first company to embrace blockchain technology.
However, since Ravencoin is a wholly decentralized platform, it is not owned by a single individual. Instead, anyone can buy the coin. According to Ravencoin's explorer, the richest Ravencoin wallet has more than 4.9 billion coins currently valued at over $343 million. This means that they own about 50% of all coins in circulation.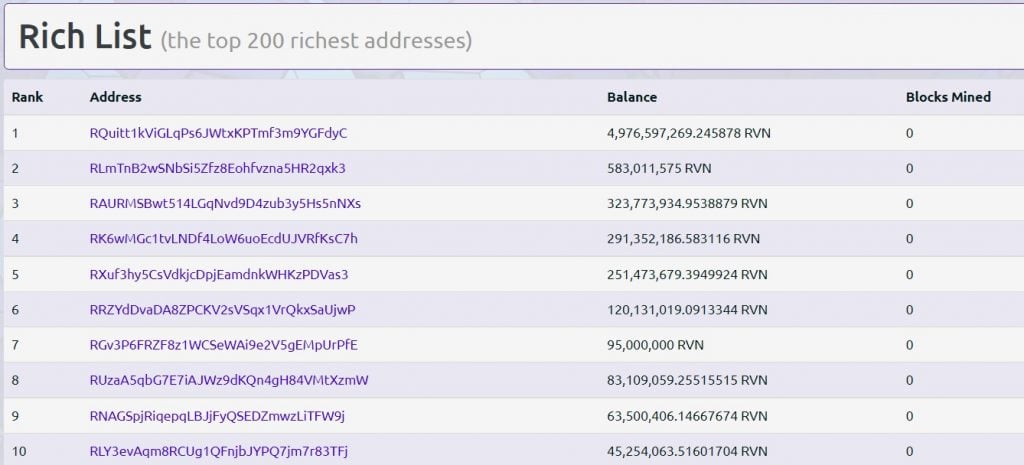 Ravecoin price history
The RVN price has had a mixed performance in the past few years. The coin started trading at about $0.03 in 2018 and then it crashed to an all-time low of $0.0080 in March 2020 when the WHO declared coronavirus a global pandemic.
Since then, the coin jumped to an all-time high of $0.3055 in February 2021. That was a 3,500% jump from its lowest level. Recently, however, the coin is trading at $0.074, which is about 75% below its all-time high.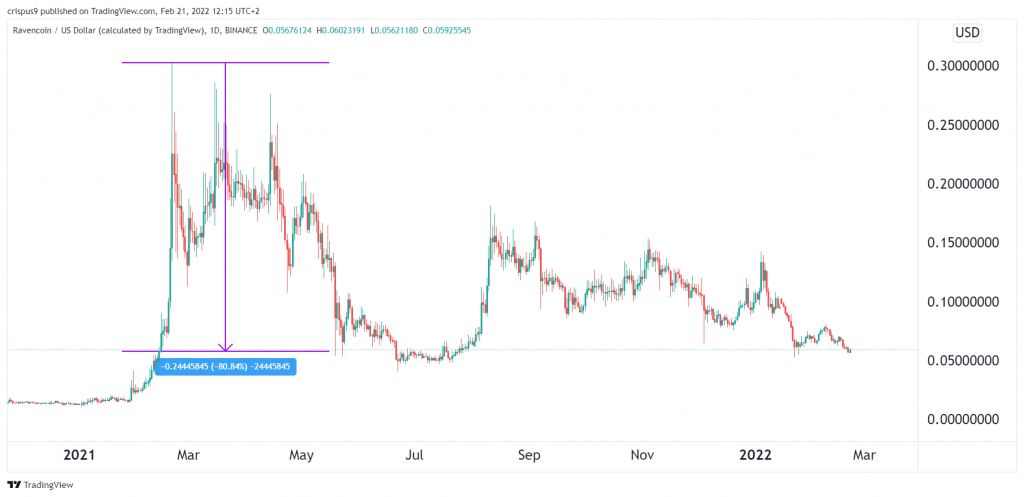 What moves the RVN price?
A common question among investors is what moves the Ravencoin price. There are several catalysts that drives its price. First, there is the concept of fear of missing out (FOMO). It is a situation where investors rush to buy a coin simply because its price is rising.
Second, the coin tends to track the performance of Bitcoin. For example, in May, when BTC soared to its then all-time high of $60,000, RVN jumped to its ATH. However, in the past few weeks, the close correlation between the two has eased.
Third, like all cryptocurrencies, Ravencoin reacts to the decisions by central banks like the Federal Reserve. In most cases, the coin does well when the Fed embraces a dovish tone and vice versa. Indeed, the RVN price has dropped by about 50% since November, when the Fed started tapering its asset purchases.
Is Ravenoin a POS or POW network?
Another popular question about Ravencoin is whether it is a proof-of-work (POW) or proof-of-stake (POS) network. The answer is that RVN is a POW network because it works just like Bitcoin. All RVN coins are mined by using computers with a high graphical interface. The best platforms to use to mine Ravecoin are KawPoWminer and Gminer.
Is Ravencoin a good investment?
Historically, Ravencoin has been a moderately successful cryptocurrency to invest in. People who bought it in 2018 have seen the value of their coins jump by more than 137%. Those who bought the dip in 2020 have had gains of over 800%.
Proponents believe that Ravencoin is a good investment because they see it as a Bitcoin for the masses. For one, while a single Bitcoin is trading at $42,000, one RVN is selling at $0.074. Therefore, they argue that many people will buy Ravencoin when Bitcoin gets extremely expensive.
However, the same argument can be made for other cheap cryptocurrencies with additional utility value like XRP and ADA.
Therefore, it is too early to determine whether Ravencoin is a good investment. Most analysts often recommend buying big coins like ETH and Solana.
Ravencoin price prediction 2022
We will use the weekly chart to conduct a forecast for where the Ravencoin price will end the year in 2022. The chart below shows that the RVN coin jumped to an all-time high of $0.3054 in March 2021. However, since then, the coin has found strong resistance when it attempted to retest its all-time high.
A closer look shows that the coin has formed a descending channel that is shown in purple. In addition, the Relative Strength Index (RSI) has formed a bearish divergence pattern, while the 25-day and 50-day moving averages have formed a bearish crossover pattern.
Therefore, since we expect that the prices of most currencies will rebound this year, a conservative estimate is that the RVN price will retest its all-time high, which was about 300% above the current level. On the flip side, a drop below the support at $0.0395 will invalidate the bullish view.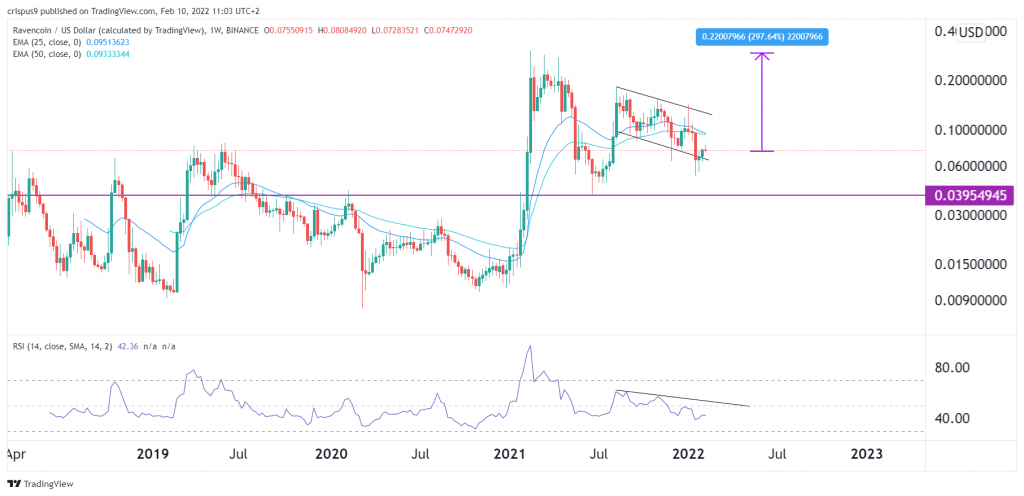 Ravencoin price prediction 2025
Several readers have asked about our views on where the RVN price will be trading at in 2025. There are several ways of doing this kind of analysis.
One of the best is to use Bitcoin as a baseline. The stock-to-flow model, which is one of the best in the industry, estimates that Bitcoin will be about $125,000 by 2025. To achieve that, Bitcoin needs to rise by more than 3.2 times considering that it is now trading at about $39,000.
So, assuming that the Ravencoin price will track the performance of Bitcoin, it means that it will be trading at about $1.92. We can round up that to $2.
RVN/BTC Chart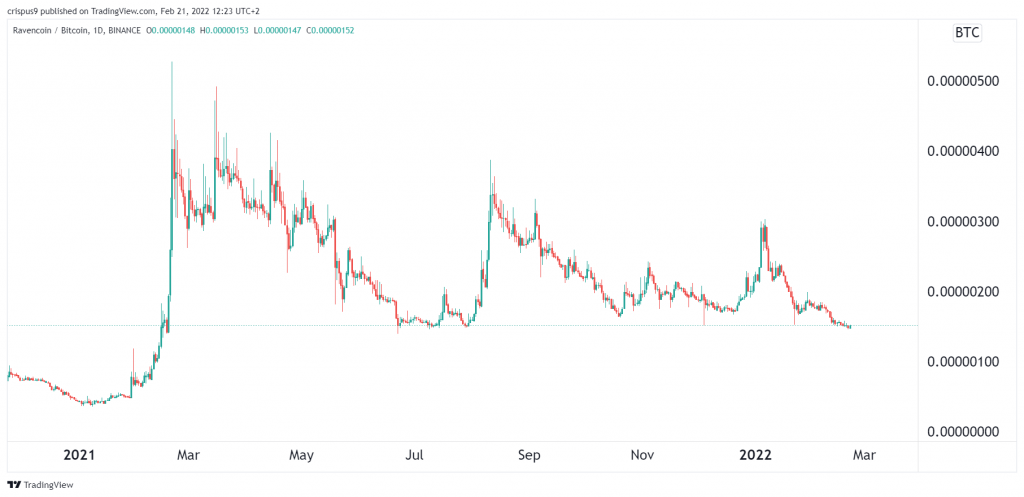 What is Ravencoin at today and will it go up?
Ravencoin is trading at $0.0060, and there is a possibility that the price will go up this year, as I have described above. But you should be careful since cryptocurrencies are highly volatile assets.