Bullish Ravencoin price predictions are entering the fray after the token's pairing with Tether notched gains of 5.51% as of writing this Tuesday. This adds to Monday's 2.51% uptick and could make it the 4th day of gains in five as the token seeks to revive its fortunes which took a nosedive from $0.14 at the start of the year.
There are no specific fundamental triggers to explain the recent bullishness (no matter how small) on Ravencoin. However, the crypto market has had a general uptick this Tuesday, and
the RAV/USDT pair probably followed suit as a consequence. Perhaps, the recent announcement of new NFT games to hit the platform has stirred up some new interest in the token and the project. In the words of the Ravencoin team, Ravencoin was launched for NFTs, tokens and securities.
Ravencoin Price Prediction
The breakout from the falling wedge pattern on the daily chart is complete. However, the
push towards attaining the measured move's completion at 0.07997 has met stiff resistance at 0.06220 (19 February/2 March highs). This resistance must be overcome for the measured move to continue on its way, targeting 0.06999 and finally arriving at 0.07997. 0.09000 is the additional barrier to the north that becomes viable if there is a price advance beyond the measured move's completion point.
Conversely, if there is rejection at 0.06220 and a pullback, the stage will be set for a retest of 0.05503. If this pivot is degraded, the 16 March 2022 low at 0.04817 becomes the next target for the bears. Further price deterioration leads to a decline that will meet a stiff test at multi-month lows, formed by the 22 June 2021 dip at 0.04068.
Ravencoin: Daily Chart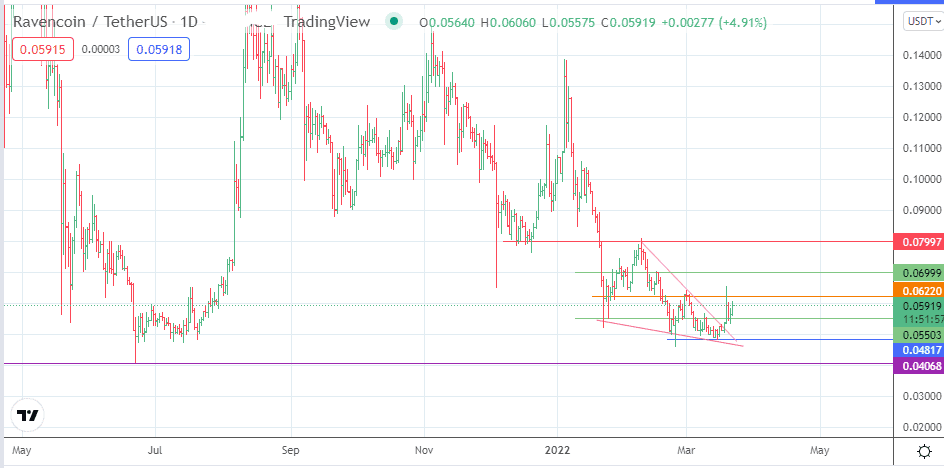 Follow Eno on Twitter.