Dash has been trading below the critical level of $200 for three months now. Notably, both coin-specific and broader market drivers are at play. With this in mind, this article will focus on Dash price prediction for the short, medium, and long-term.
What is Dash?
Dash, which was launched in 2014, is a blockchain protocol that focuses on peer-to-peer payment transfers. It appeared in the scene as Bitcoin's hard fork as a secure means of conducting fast digital payments. One of its popular features is InstantSend, which facilitates speedy confirmation of transactions through the use of masternodes. Besides, the CoinJoin feature enables one to pay individuals or commercial entities via its self-funding model.
Dash price history
Evaluating a financial asset's past price movements is helpful in forecasting its path for the short and long-term. The earliest available data shows that Dash price rose by over 7,000% within a span of three years. As at 15th February 2014, it was trading at $0.31. It then had its value surge to $22.12 as at 22nd February 2017.
Notably, 2017 has been the best year for Dash price so far. In less than a year, it has skyrocketed to its all-time high of $1,642.22. With the subsequent downward pressure, it ended 2017 at $1,051.68. By mid-December 2018, it was at $59.69. It remained in the bear market for over two years; trading below the psychological level of 200 for the period between September 2018 and February 2021.
It gained bullish momentum in the subsequent months; rising past $400 for the first time since May 2018 to a three-year high of $477.13 as at 3rd May 2021. The resultant pullback had bulls defend the support at $200 over a period of 6 months. The bears have since taken control of the market; maintaining Dash price below the crucial level of $200. As at 18th February, it was trading at $110.43.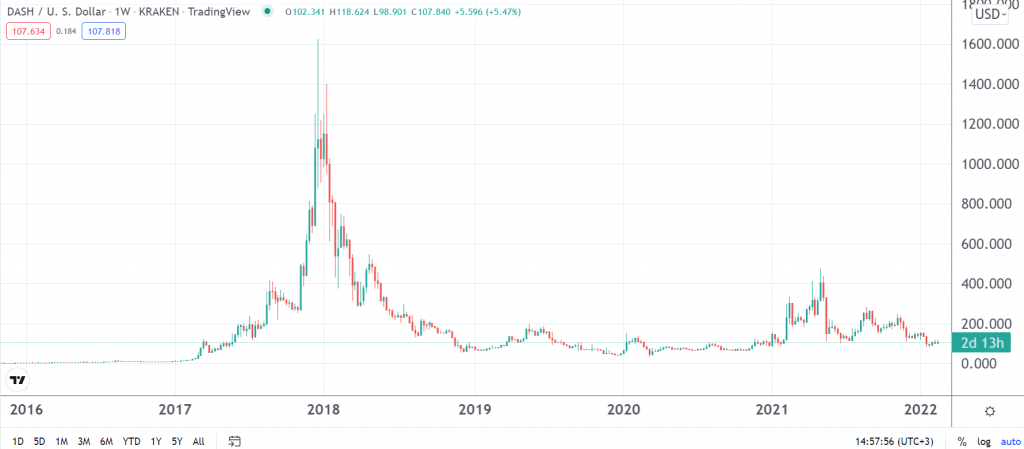 Dash latest news
Recent developments on the project are crucial for the short, medium, and long-term Dash price prediction. This includes:
Liquid Quick Exchange
About five months ago, Dash included Liquid's Quick Exchange in the Dash mobile wallet. The move aimed at facilitating the quick and efficient purchasing and swapping of cryptos. For as long as an investor has an Android device, they are able to purchase the altcoin via a VISA credit card. Besides, the feature supports over 50 fiat currencies.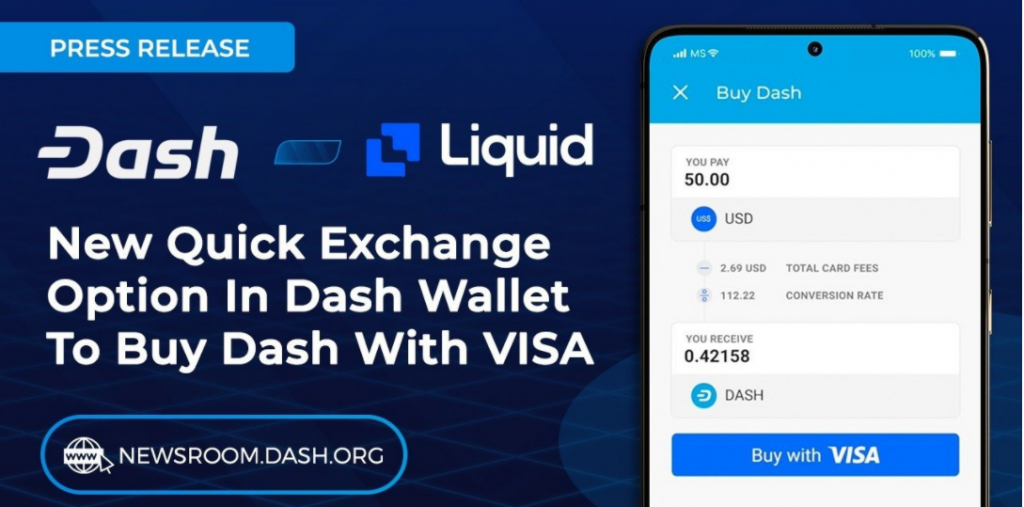 Kinesis trading ecosystem
In September 2021, Dash coin was launched on the Kinesis platform. As such, Kinesis users are able to conduct various transactions, including trading, with the cryptocurrency. Notably, Kinesis is a popular platform that enables peer-to-peer transactions of precious metals like gold and silver, major currencies like GBP, EUR, and USD, as well as cryptos like BTC and ETH.
Valkyrie Dash Trust
About six months ago, the Valkyrie Dash Trust was launched. By investing in Dash; which the native project for the Dash network, investors gained further exposure to the crypto and entire network.
Inflation and rate hikes
In addition to the altcoin's internal factors, narrative surrounding the Fed's efforts to tighten its monetary policy and deal with inflation will continue to impact Dash price in coming months. Investors have priced in the first rate hike since December 2018 in March 2022. The subsequent sell-off observed in the crypto market and among other risk-on assets will likely continue to weigh on Dash price.
Is Dash coin a good investment?
Dash has been subject to several developments in the recent past; an aspect that will likely increase its adoption rate in coming years. While the high volatility associated with the crypto market will likely equate to price swings for Dash, it will probably avail various opportunities for long-term investors.
Dash price prediction 2022
The market sentiment remains bearish amid the ongoing sell-off. The crypto fear & greed index is at a fear level of 30, which is a decline from a neutral of 52 in the previous session. While it is an improvement from last month's extreme fear of 24, risk aversion continues to weigh on cryptocurrencies. As such, Dash price prediction for the short term is for curbed gains.
Weekly Dash price outlook
As shown on a four-hour chart, Dash price is trading along the 25-day EMA and slightly above the 50-day EMA. Nonetheless, it remains below the long-term 200-day EMA. While it will likely record some gains in the ensuing sessions, I expect Dash price to be range-bound in the short term. From that perspective, the lower and upper borders of the aforementioned horizontal channel will probably be at $103.29 and $113.15 respectively.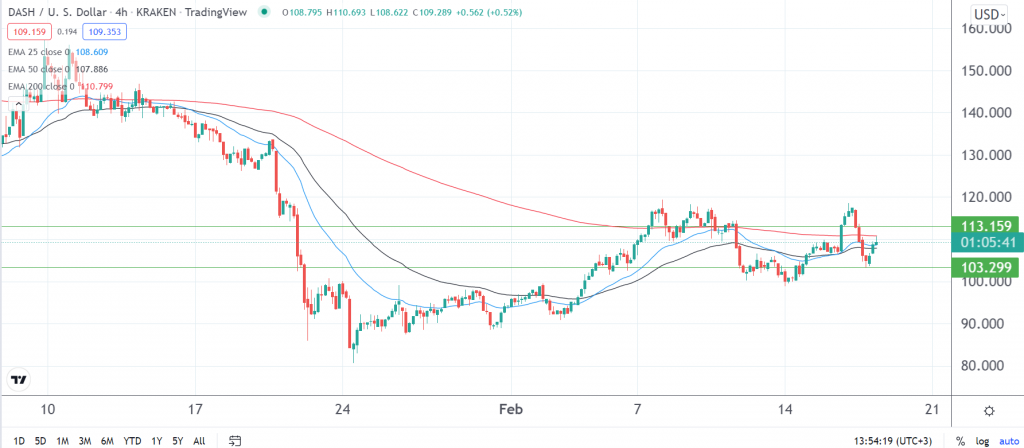 Monthly Dash price outlook
A shift to the daily chart shows Dash price trading along the 25-day EMA and below the 50-day EMA. It is also below the long-term 200-day EMA. Based on these technical indicators, I expect the altcoin to continue find support along the psychological zone of 100. Below that level, the bears will have a chance to retest the year's low at $81.17.
On the upside, Dash price may remain below the 200-day EMA at $153.91. Its rallying will likely be curbed at $140.80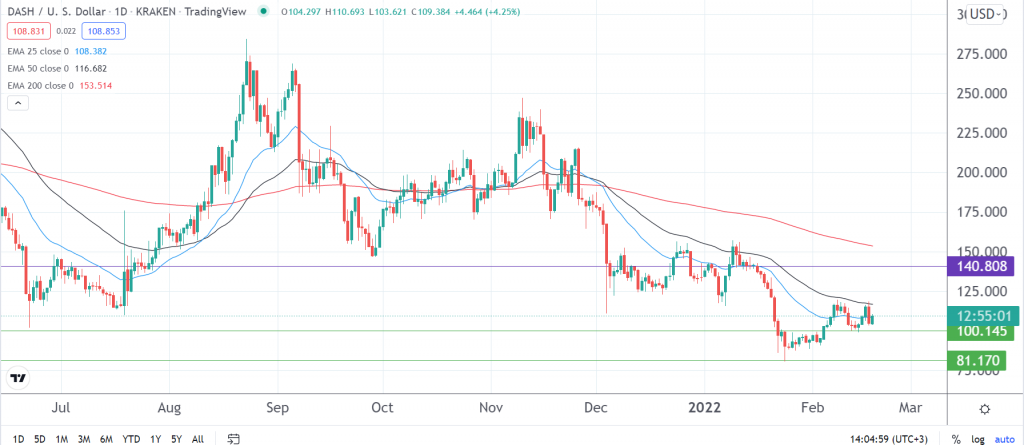 Dash price prediction 2025
Bitcoin, which is the leading cryptocurrency by market capitalization, tends to set the pace for altcoins. Based on this perspective, it is possible to formulate a feasible Dash price prediction for 2025 based on analysts' forecast for BTC price.
According to Long Forecast, Bitcoin price may reach $76,922 by January 2025. However, it will likely pull back to $58,955 in June and further down to $48,570 by the end of the year. Based on the current BTC and Dash prices, the ratio is at 366.50. As such, Dash price prediction 2025 is for the crypto to begin the year at $209.88 before pulling back to $160.85 by mid-year and $132.52 by year-end.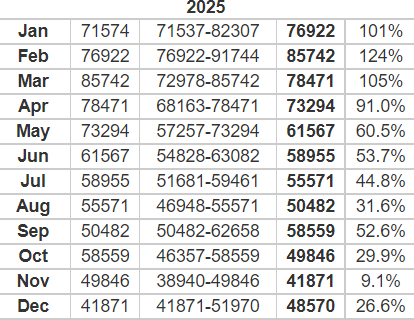 Dash price prediction 2030
In general, cryptocurrencies are characterized by heightened volatility. A slight catalyst may result in the reversal of the market trend. As such, it is rather difficult to make an accurate Dash price prediction for 2030. As such, it is helpful to conduct individual research, evaluate the market trends, and use trading strategies that are in line with your risk appetite.
With that in mind, one can use the current BTC/DASH ratio to formulate a viable Dash price prediction 2030. As aforementioned, the ratio is currently at 366.50. Coin Price Forecast expects BTC price to reach $151,833 by mid-2030 and rise further to $159,425 by the end of the year as indicated in the table below. Assuming that the current ratio will remain in the coming years, Dash price prediction 2030 is for the altcoin to surge to $414.27 by June 2030 and rally further to $434.99 by year-end.