The EasyJet share price has started the new year on a solid footing, as the stock pushes into profit territory for the second day in a row. This follows a positive response by investors to the 2022 outlook provided by the EasyJet chief, Johan Lundgren.
In an article written for The Times newspaper on Tuesday, 4 January, Lundgren reasserted the company's position on a bounce-back in 2022, despite "bumps along the road" to recovery. Lundgren said the company was excited about its plans for the next summer season, which he believes would see the airline return to its 2019 passenger capacity. 
Recall that EasyJet announced new holiday routes for the summer of 2022, which will see the budget airline fly to destinations such as Greece, Mallorca (in Spain), Italy, Bulgaria and Morocco.
On a day that the UK has eased its travel restrictions, the EasyJet share price is up 2.11% as of writing.
EasyJet Share Price Outlook
The measured move from the double bottom pattern on the daily chart has led to a violation of the 607.0 resistance. This move is well on its way to completion at 655.8. An advance above this level targets 684.8, with 739.4 serving as an additional target if the bulls surmount a pitstop at 720.00.
On the other hand, 573.6 and 548.8 become the immediate downside targets if the bears force price action below the 620.4 price barrier. 508.8 serves as a distant downside target that only appears on extensive price deterioration.
EasyJet: Daily Chart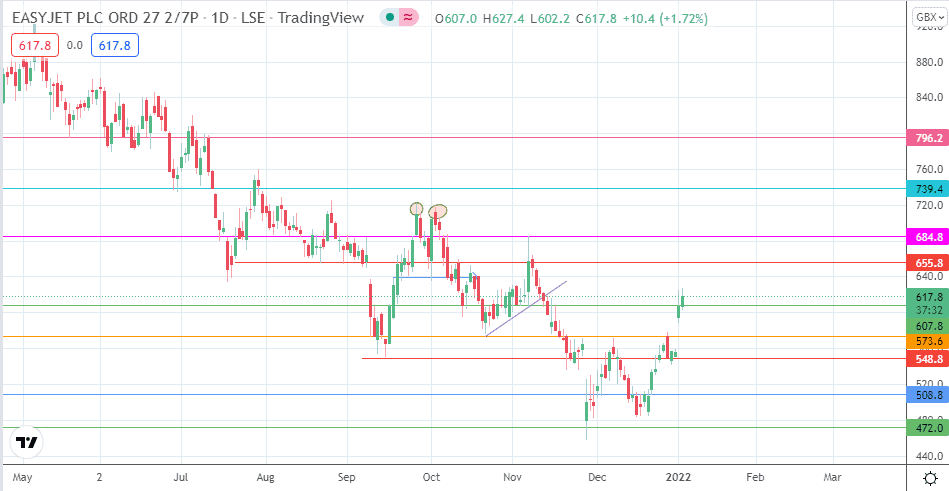 Follow Eno on Twitter.