The Polkadot price has fought to hold above $24.00 for the last two weeks, indicating robust support. So is DOT close to a bottom?
Polkadot (DOT) is trading at $24.45 (-1.3%), close to a three month low and around 55% below last months high. During the recent downturn, DOT has been one of the worst-performing blue-chip cryptos, losing over $30 billion in market cap and is no longer a top ten ranked crypto. The recent weakness is due to myriad factors. Undoubtedly the most significant headwind facing cryptocurrencies is the FOMC's decision to accelerate the taper timeline. However, more recently, the surge in Omicron cases and Senator Joe Manchin's 'hard no' on President Bidens Build Back Better stimulus plan are to blame.
While many observers will question the above's relevance with crypto markets, They should be reminded that the correlation between Bitcoin and the equity market has been rising for some time. As a result, weaker equity markets will pressure BTC, which will weigh down altcoins. But considering how far the Polkadot price has already fallen, how much worse can it get?
DOT Price Forecast
The daily chart shows DOT is trading below the 200-DMA at $28.83. I consider this extremely bearish and likely to trigger a steep decline. Notably, DOT holds above $24.00, indicating buyers are present.
Due to a lack of credible support, it's difficult to say precisely how far DOT may fall. However, considering the overall lack of risk appetite, I expect Polkadot will soon break down. In theory, the first notable technical support level is the July lows, around $10.50, some 60% below the current price.
Whilst the Polkadot price is unlikely to drop 60%, it remains a slight possibility. However, I am encouraged by DOT's resilience, suggesting a solid rebound is likely if the market as a whole turns higher. In that event, a close above the 200-DMA at $28.83 improves the overall outlook, targeting the $35-$40.00 range.
Polkadot Price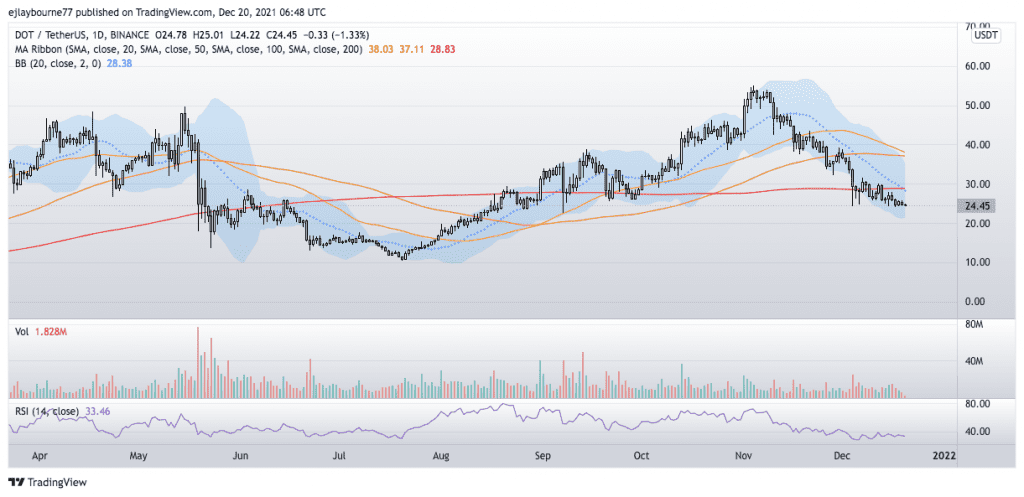 For more market insights, follow Elliott on Twitter.