Our Polkadot price prediction suggests that the Dot price could correct to $17.8 before making aiming another higher move. Polkadot crypto bounced off the lows of $14 in February 2022 and has been in an uptrend since then. However, after the rejection from the $23.88 level, the price failed to make a higher high. Consequently, bears are gaining momentum again, and Polkadot price has broken the trendline.
What Is Polkadot?
Polkadot is a smart contract platform that would ultimately host 100 parachains. In conventional smart contract blockchains, all network activity happens on a single chain, resulting in network congestion. Examples of such platforms are Ethereum, Binance Smart Chain, etc. Furthermore, the Polkadot coin is the native token of the Polkadot ecosystem. Therefore, any Polkadot price prediction mainly depends on the adoption of its parachains.
Polkadot aims to solve this problem by dividing the network load across different parachains with specific purposes. Projects like Moonbeam, Acala, Parallel Finance, etc., have already secured their parachains slots. Moreover, auctions for parachains slots 12-18 are already live.
Latest Polkadot News
According to the latest Polkadot news, there is $4 million locked on the mainchain. However, this TVL doesn't include TVL on the Dot parachains, where most funds are locked. Moonbeam is one of the biggest parachains on the network boasting $141 million in TVL. Parachain auctions affect Polkadot price prediction as the voters need to lock DOT.
Polkadot Price Prediction
Technical analysis of DOT USD price Chart shows that DOT price has already broken trend on the four h charts. Polkadot price has also confirmed this breakout after a retest. As a result, bears are in business, and the price might hit $17.8 before another leg up. The $17.87-$17.56 region could be critical for DOT as it is a 0.618-0.65 Fib golden region. This region comes into play by connection February 2022 low of $14 and the April 2022 high of $23.87.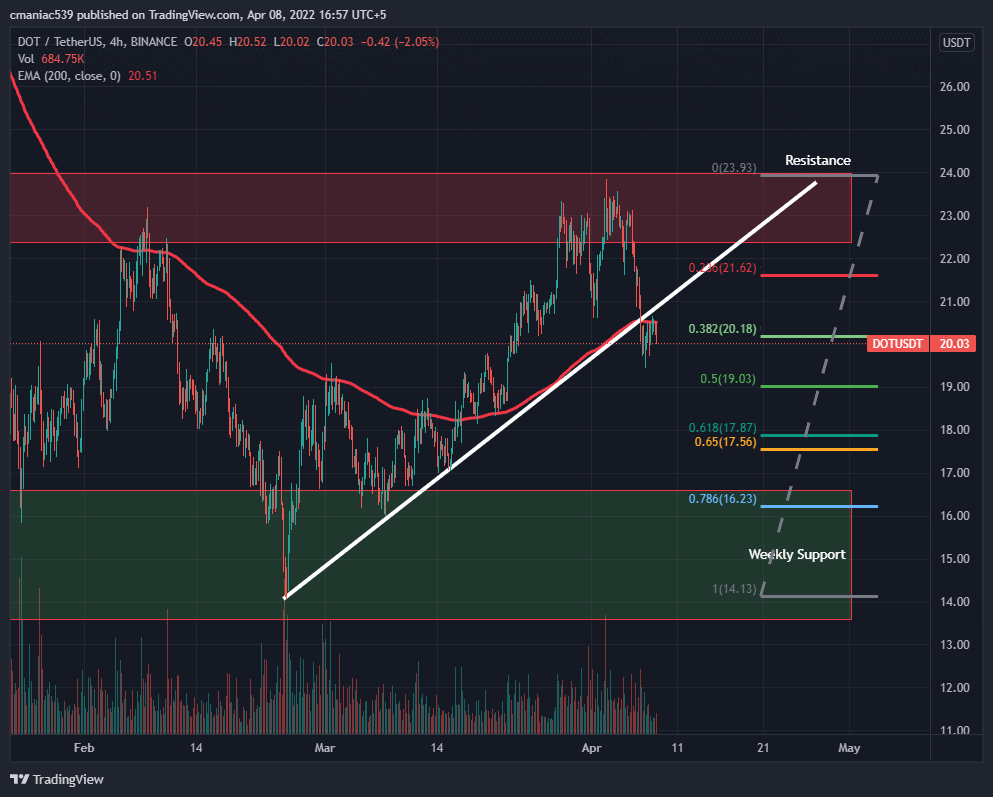 Nevertheless, if the Bitcoin price stays above 40k, Polkadot bulls could expect higher price targets. If Polkadot doesn't go below $14, a $29.6 Dot seems to be a valid Polkadot price prediction. However, any daily close below $14 would invalidate this price prediction.