This article will look at the Plug Power stock forecast for 2022, 2025, and 2030. we will also look at the company's financial standing, latest fundamentals and how the company is preparing for the future.
Plug Power Overview
Plug Power was founded in 1997 and was a joint venture between DTE Energy and Mechanical Technology Inc. In 1997, the company had its initial public offering at $15 per share. The company is headquartered in Latham, New York, and has facilities in Spokane, Washington and Rochester, New York.
At its core, the company is engaged in developing hydrogen fuel cell systems that replace conventional batteries in equipment and vehicles powered by electricity. Although the company has a history worth a quarter of a century, its solutions have gained traction in the past few years, with many companies starting to develop electric vehicles. However, since its founding, the company has also struggled to profit. As a result, the company has relied on its shareholders' funds for its operations. However, investors continue to wait for the company's breakthrough moment.
The past few years have also seen the company make significant milestones in establishing itself as a hydrogen fuel cell distributor leader. In 2017, the company shipped its first ProGen Fuel cell engines designed for electric vehicles. This was followed by introducing 125 KW ProGen fuel cell engines designed for electric delivery vehicles in 2020 for class 6,7, and 8 trucks and heavy-duty offroad equipment.
Plug Power Financial Reports
Since its founding, Plug power has struggled to turn a profit. However, the last few years offer a glimmer of hope about the changing tides of the company's financial situation. In 2021, the company recorded a net income of -$459 million. Although this loss was almost half a billion, it was a huge improvement to the 2020 financial year, where the company recorded a loss of $596 million.
The financial records also show that the company had revenue of $502 million. This was a significant improvement from 2020. when they recorded a revenue of $306 million. The 2021 financial report also showed that the company had assets worth $5.95 billion and liabilities of $1.34 billion. The company also had a debt to asset ratio of 22.59 per cent, which is not bad for a big company like Plug Power.
Latest Plug Power News
Plug Power is poised to be among the companies gained during the current political turmoil involving Russia and Ukraine. The Russian invasion of Ukraine is already disrupting the oil and gas industry, leading to a surge in prices. This is predicted to impact the electric vehicle industry as people run away from high gas prices. In addition, the transition is likely to cause high demand for hydrogen fuel cells that Plug Power manufactures.
The clean energy movement meant to address the current energy crisis, greenhouse gases, and the overall impact of non-renewable energy on the environment have also become a central issue in the development of electric cars. The movement is also likely to push for a higher demand for Plug Power products in the coming years. This will likely lead to a rise in the Plug Power stock prices.
Plug Power Stock Forecast 2022
Plug Power currently trades at $26. Today's trading session also marks the second consecutive day that Plug Power is gaining in the markets. Although the current upward trend may be a retracement, and the prices are likely to continue with the long-term downward move, my Plug Power stock forecast for 2022 is bullish.
Today's prices are also 50 per cent higher than the yearly price lows that were hit on January 28. The recovery is an indication that the prices may have reversed, and Plug Power has entered a long-term bullish trend. Looking at the daily chart below, I expect the prices to trade within the blue shaded area between now and the end of the year. I also expect that by the end of the year, the Plug Power stock price will be trading at slightly above $46. This is by using the recent support and resistance levels, where the $46 price level is a long-term support level that was the last hit on November 22, 2021.
This analysis means that I expect the price of Plug Power stock to rise by 75 per cent between now and year's end. Although this number may sound too bullish, Plug Power stock has shown in the past that it is capable of hitting high price milestones within a year. For instance, the stocks gained 92 per cent in value between October 6, 2021, and November 21, 2021. This increase is a clear price history analysis that shows the volatile nature of Plug Power stocks.
Plug Power Daily Chart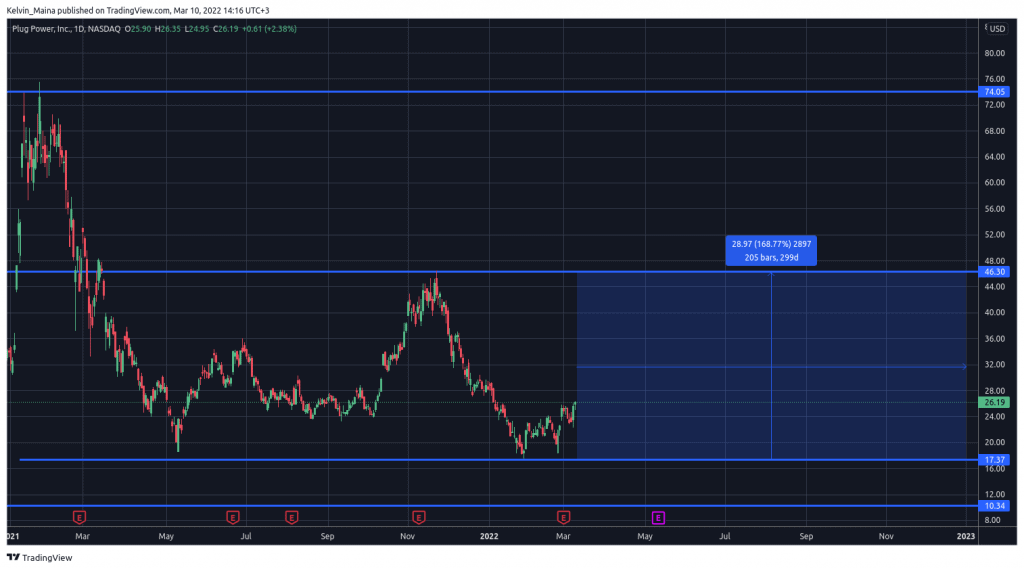 Plug Power Stock Forecast 2025
My Plug Power stock forecast for 2025 expects the prices to be trading at around the $74 resistance level. This will be a 26 per cent annual growth rate in 2023 and 2024. However, the $74 forecast is a conservative number, and there is a likelihood that the stock prices will be higher. This is because the world is slowly adopting electric vehicles, and by 2025, there is a high likelihood that most car manufacturers will be producing electric vehicles.
Plug Power Weekly Chart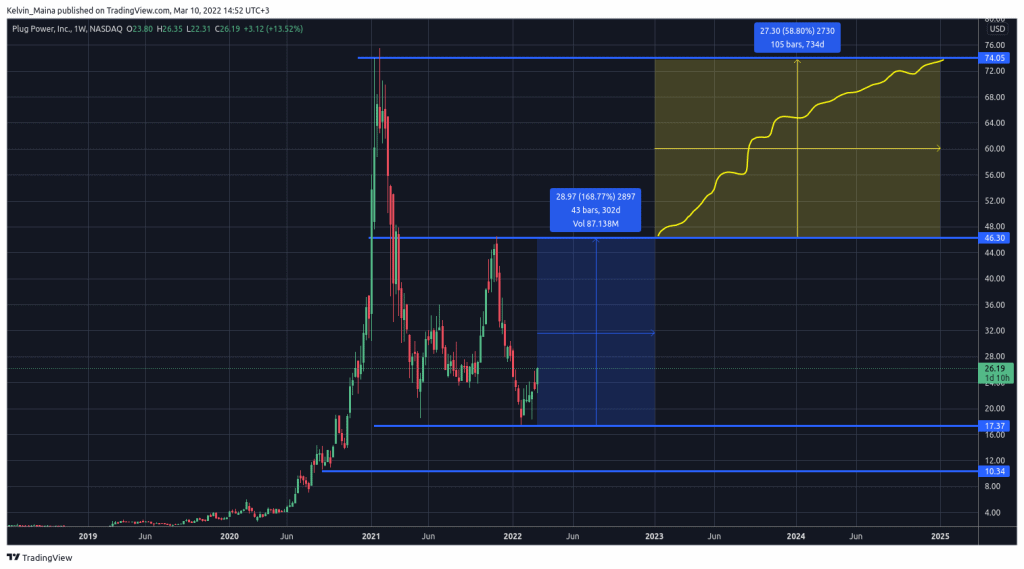 Plug Power Stock Forecast 2030
There is a high likelihood that by 2030, Plug Power will be trading above $200. This is a price that the stock has not reached since 2001. Fortunately, the adoption of electric vehicles has made it easy for the company to thrive. This has been shown in the last few years where the company has continued increasing its revenue and cutting down on its losses. As a result, by 2030, the company is also likely to be profitable.
Is Plug Power a Good Investment?
Based on my analysis, the Plug Power stock price will grow by 75 per cent in 2022 and 26 per cent in 2023 and 2024. This growth is higher than most traditional investment firms offer to their clients. Therefore, Plug Power looks like a perfect investment for long-term traders.