The Paytm share price has been in a steady freefall since it went public in 2021. The One 97 stock plunged to an all-time low of 441 INR, meaning it has crashed by over 70% since going public. This makes it the worst first-year performer of a large company in more than a decade. Its market cap has crashed to 293 billion INR, which is equivalent to $3.4 billion.
What went wrong with Paytm?
Paytm is the biggest payment company in India, one of the best-performing economies in the world. The firm has more than 350 million users in the country. It provides most payment solutions like airtime recharging, bill payments, money transfer, and online and in-store payments. It is a money super-app, where people can do their banking and insurance services. 
Paytm also provides payment solutions for businesses. It has features that make it possible for them to receive payments and handle their finances. Paytm has partnered with HDFC and SBI Bank to offer credit cards.
Before its IPO, Paytm was one of the best-performing Indian companies. At the time, the firm raised $4.64 billion in 17 rounds. Some of its investors included Softbank, BlackRock, Alibaba, and T.Rowe Price among others.
The most recent results showed that Paytm's revenue rose by 76% YoY to $234 million. Its contribution profit rose by 224% to $104 million while its EBITDA improved by 32% to a loss of $20 million. Most of its income was from its Payment services followed by financial services and commerce & cloud.
So, is Paytm stock a bargain? The recent results show that Paytm business is doing well. As shown below, the average monthly transacting users rose by 39% YoY to 79.7 million. Its gross merchandise volume rose by 63% to $38.9 billion while merchant subscriptions rose by 3.5 million devices to 4.8 million. Therefore, there is a likelihood that the company will break even soon.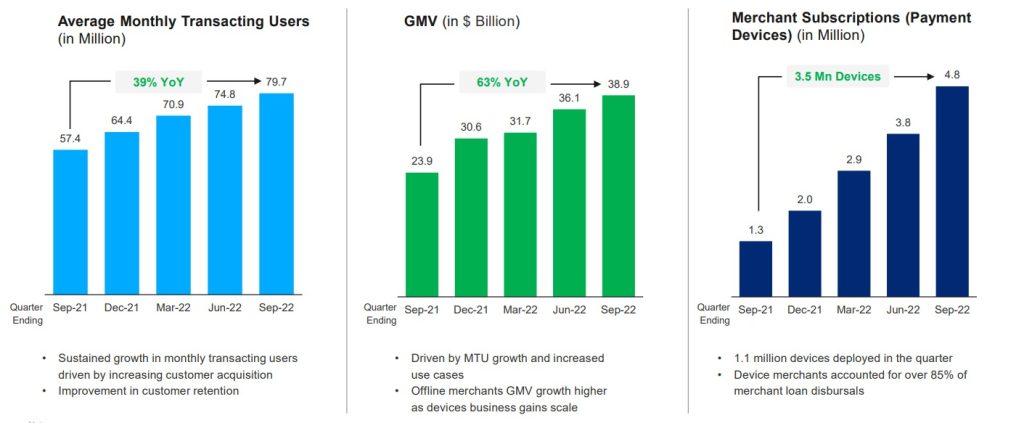 Paytm share price forecast
The daily chart shows that the Paytm stock price has been in a strong bearish trend in the past few months. It managed to move below the important support at 512, the lowest level on May 12 and March 24. The shares moved below all moving averages while the MACD moved below the neutral point. The Relative Strength Index (RSI) moved to the oversold level.
Therefore, the stock remains highly oversold, meaning that it could be a good buy but only for the brave. If this happens, the stock will likely rise to about 550 INR. A drop below the support at 400 INR will invalidate the bullish view.