The PancakeSwap price has kicked off September in the red and heading for its fifth consecutive losing day, but CAKE sees solid support below the market. It's hardly surprising that at some stage, the PancakeSwap rally would run into trouble. The decentralised market maker had been trending uniformly higher for more than a month, resulting in a 160% gain. Although since the 28th of August, sentiment has flipped decidedly bearish, and CAKE has dropped 20%,reducing the gains to 107%.
Despite the impressive price performance in August, PancakeSwap (CAKE/USD) has lost ground to rivals and is currently ranked the 32nd-largest cryptocurrency, behind EOS (EOS/USD). Furthermore, CAKE which acts an exchange for BEP20 tokens in the Binance Smart Chain (BSC) continues to trade at huge discount to Ethereum-based Uniswap (UNI/SWAP), which is the 11th-largest crypto. Furthermore, there are signs the recent weakness may continue, sending CAKE further down the rankings. However, the bulls will be encouraged by a strong band of support sitting just below the PancakSwap price.
CAKE Technical Analysis
Turning to the daily chart, we see that Monday's decline forced CAKE below a supportive trend line at $24.00. As a result, the selling continued yesterday, and the price has run into the horizontal support offered by June's $21.60 high.
Below $21.60, additional support is seen at the 50-day moving average at $20.21, and the 100-day at $18.86. Beneath that, the 200 DMA at $15.97, lines up with a series of highs around $16.00, to form a significant level of support.
The Relative Strength Indicator (RSI) and the Moving Average Convergence Divergence Indicator(MACD) are both trending lower. This could indicate, the first level of support at $21.60 may soon give way. However, unless the crypto market as a whole turns sharpley lower, the PancakeSwap price should remain above the 200 DMA.
On the flip side, if CAKE recovers former trend support at $24.00, the outlook turns positive. In this event, trend resistance at $28.90 becomes the first target. Following that, the 13th of May high of $33.90 becomes an achievable target for the bulls.
PancakeSwap Price Chart (Daily)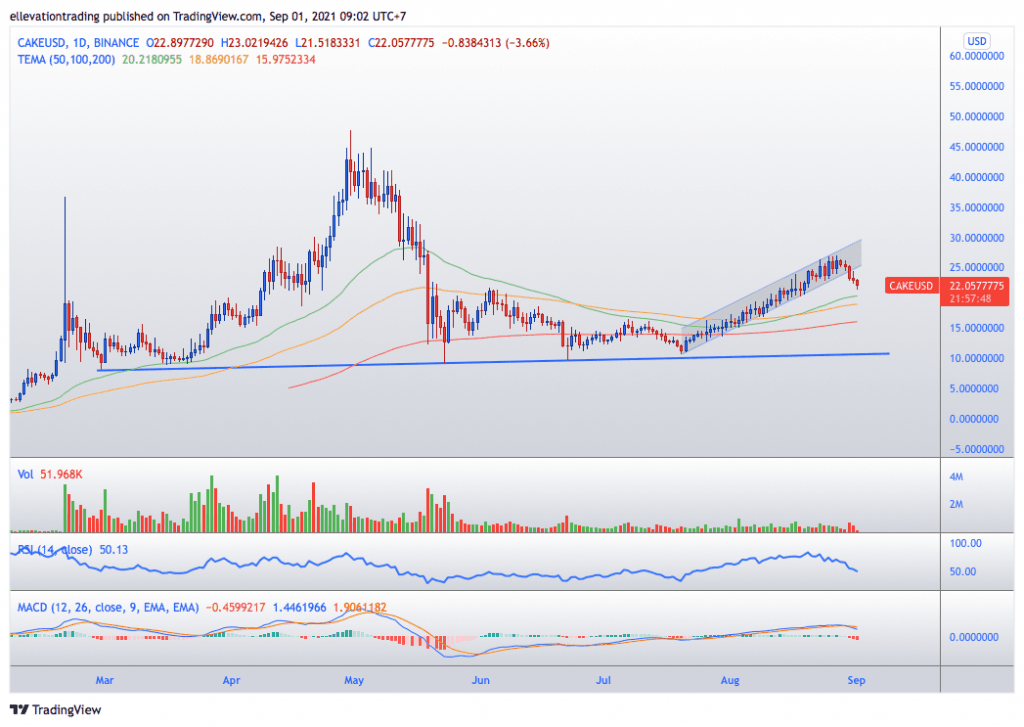 For more market insights, follow Elliott on Twitter.