The Palantir share price is down today after Deutsche Bank downgraded the stock and cut its price target from $25 to $18. This has triggered additional selling, sending PLTR into a 4th straight day of losses.
$18 marked the key support level which supported prices in December 2021, before selling pressure pushed the stock down towards 14-month lows at $13.54. At $18, there is some room for the Palantir share price to acquire some upside traction. However, there is still negative sentiment around the stock, and it could worsen before it gets better.
Palantir is down 4.24% as of writing.
Palantir Share Price Outlook
The intraday decline has seen some pushback from buyers, but the 14.39 resistance remains the primary barrier to any further upside moves. The intraday bounce faltered before hitting this point, preserving it as a resistance. If more selling occurs at this area, the next viable target would be the 13.17 support. 11.09 comes into the picture if price deterioration below this support level occurs.
On the flip side, a break of 14.39 allows for a potential price recovery towards 17.16. Only when this barrier is broken can 18.14 come into the mix. This is close to the target price set by Deutsche Bank. 19.38 and 20.79 remain ambitious targets to the north and only become viable if there is a violation of the 18.14 resistance.
PLTR: Daily Chart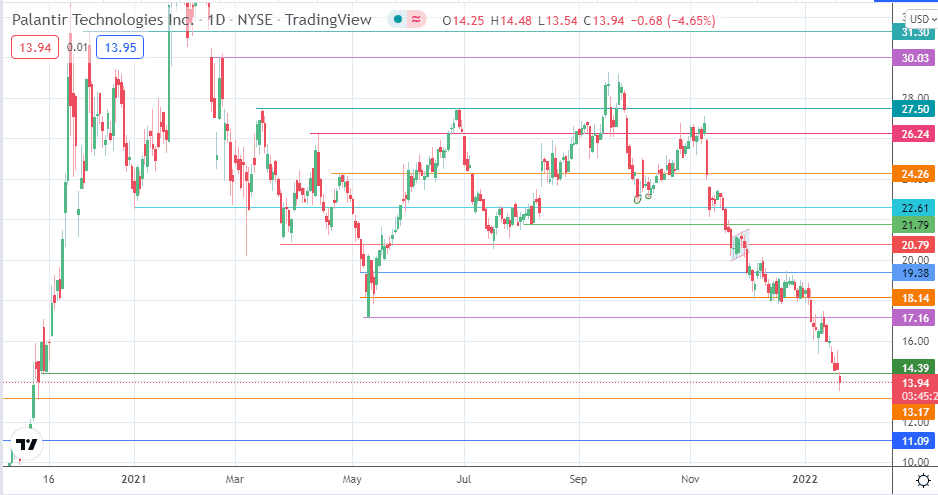 Follow Eno on Twitter.