The latest Ocugen stock news is a major one. On Friday 19 February, it was announced that the Food and Drug Administration (FDA) had lifted the clinical hold on the Phase 3 trials of Ocugen's COVID-19 vaccine candidate known as Covaxin. This represents a significant victory for
the company, which had been fighting to get this approval for several months.
This opens the door for the company to move to the final phase of investigation for the effectiveness of Covaxin, which according to company data has shown promising results in an extensive testing cohort. CEO Dr Shankar Musunuri, who made an insider sale of shares on 14 February, said the company was glad to move forward with its clinical program for its alternative Covid-19 vaccine. Its development partner, Bharat Biotech, produced Covaxin. Ocugen seeks to market the vaccine in the US and Canada. The Ocugen stock price shot up to $5.18 per share in after hours trading on Friday 18 February.
The company released information in January 2022 concerning its COVID-19 vaccine candidate Covaxin, saying that a booster shot of Covaxin raised antibody titers by more than 10-fold when tested across a wide array of COVID-19 variants in its Phase 2 trial.
Bharat Biotech had provided data which it said showed that people aged 12-64 years who received the booster shot six months after the 2nd jab showed higher antibody levels than those who only received the initial two-dose shots.
Neutralization of the delta variant was seen in 100% of the test samples, the Ocugen reported. It also said that 90% of samples showed that the Omicron variant was neutralized.
Ocugen developed Covaxin in partnership with Bharat Biotech, and it is being used in 17 countries on an emergency use basis. However, it is yet to receive approval from the US Food and Drug Administration (FDA). This appears to be the key factor that continues to cap any surges in the Ocugen share price as of today.
On 14 February, there was an insider sell by the CEO of Ocugen, Shankar Musunuri. He sold 90,000 Ocugen shares for a total value of $336,000. Musunuri still holds a vast amount of Ocugen shares, with his total holding in the region of $7.09m. Information about this sale was obtained from an SEC filing to this effect.
Insider sales of such a small scale shares are not usually counted as significant as far as the market is concerned. This is not likely to affect the overall sentiment of the stock even though retail traders tend to get spooked by such events. On the day in question, Ocugen stock price fell by 4.21%.
Will OCGN Stock Go Up?
Will OCGN Stock Go Up? This is the question many have been asking, especially as the stock's price started to drop after the release of its information on Covaxin. Conversely, other pharmaceutical companies such as Pfizer, AstraZeneca and Johnson & Johnson saw some demand for their stocks when they had positive news about their vaccine candidates.
The key issue with OCGN is that the US FDA has not approved its vaccine, either for the initial shots or the booster jab. This factor appears to be the critical element holding back OCGN. Attempts by OCGN to get Covaxin approved for paediatric use has so far not yielded any fruit.
The FDA placed a clinical hold on the application by Ocugen to start Phase 3 testing of Covaxin, which the company says was produced using Vero cell technology. Ocugen said in a 2 February tweet that it had addressed all concerns raised by the FDA and submitted data from 36 million children to prove its efficacy against paediatric transmission of the COVID-19 virus.
With the FDA lifting the clinical hold on the Phase 3 trial, Ocugen's stock price is already on the ascendancy. It looks set to gain further in the coming days. There is already evidence of institutional accumulation of this stock, which could be an advance signal.
OCGN Stock Forecast 2022
The OCGN stock forecast 2022 outlook suggests that Ocugen's stock may struggle in the short term. Indeed, the price broke below the 24 December 2018 low at 4.81 and is currently attempting a return move. If there is a rejection and a pullback at that level, then OCGN may be on its way towards the 0.14 support seen last between 18 November 2019 and 14 December 2020. However, this former support is expected to resist this return move as it acts as a resistance barrier.
As long as the FDA withholds its approval, OCGN will be deprived of a critical fundamental influence to force the OCGN stock forecast for 2022 to the north.
The best-case scenario will see prices breaking 4.81 but capped at 10.95. This could promote a sideways trend that keeps the price activity between 4.81 below and 10.95 as a best-case scenario.
OCGN stock forecast 2025
The OCGN stock forecast 2025 may depend on the progress of the application that OCGN has made with the US FDA and the latter's response. In addition, the scheduling of the latest VRBPAC committee meeting scheduled for 15 February will be made public on 13 February. Will Ocugen be included in this schedule and future schedules?
These are the questions that investors will be seeking answers to in determining their 3-year investment focus. If OCGN gets approval from the US FDA, there is no telling whether it will replicate the astounding success of Moderna Inc. Moderna was trading at $13.87 at its lowest point in Q4 2019, before the pandemic. It exploded to a pandemic-high of $497.49 on 9 August 2021, a 38-fold increase in share price.
Considering the relatively low cost of OCGN compared with Pfizer, Moderna, and other COVID-19 vaccine producers, any news of approval could send OCGN sharply higher. What is even more interesting is that a New York Times article says that Bharat Biotech is working on a revolutionary nasal spray vaccine formulation, which could be an absolute game-changer.
Those leaning towards a bullish OCGN stock forecast 2025 outlook should watch out for news from the FDA about Covaxin. The approval gives the Ocugen stock a shot in the arm.
Is OCGN a Good Stock to Buy?
Given what is already out there about Ocugen's Covaxin and that it has already received approval from the World Health Organization (WHO), it could only be a matter of time before this stock takes significant strides to the north. OCGN looks to be a good stock to buy, given the relative cheapness. Consider that those who failed to buy Moderna at $14 had to gnash their teeth when Moderna hit $497.
According to a Tweet from Stockwits, Schroder Investment Management Group has disclosed its ownership of 358,908 shares of OCGN. This brings this institutional entity's total OCGN holdings to a value of $1,633,000.
Even as the FDA hold on Phase 3 evaluation of Covaxin continues, there is a growing outcry among medical experts in vaccine-underserved countries as to why the FDA excludes Covaxin from its list of approved vaccines. The company continues to lobby to get a date with the FDA to review its recent data that it says addresses the FDA's concerns.
Summary
Ocugen is a late entrant into the market for COVID-19 vaccines. However, two things stand out, which could ultimately influence price action to the north. Firstly, its reported efficacy in preventing Omicron in 90% of test subjects, and secondly, the exploration of a new route of administration to tackle the virus.
Ultimately, the fate of all Ocugen stock forecasts lies in the hands of the US Food and Drug Administration (FDA).
Three aspects of the fundamentals have to do with the FDA in predicting the OCGN stock price in 2022. Firstly, if the FDA's vaccine review committee schedules the long-sought meeting with the OCGN team, this could produce a short-term, knee-jerk bullish response that could see price taking out the barriers at 9.18 and potentially 10.95. Secondly, if OCGN gets approval for its Phase 3 evaluations, we could see 13.75 give way, with 17.62 being the near-term target. The third leg has to do with Covaxin's approval. If the FDA gives the nod for the vaccine's rollout, this could take OCGN stock well above the $20 mark.
There is a lot to look forward to, and we could see enhanced price volatility in 2022 and 2025. The recent letter of intent to purchase Luminal BioScience's vaccine plant in Ontario would boost OCGN's ability to not just deepen its research and development for treatments for other diseases but could boost the production of Covaxin. The company is preparing to take its drive to take Covaxin to market as far as it can.
OCGN: Weekly Chart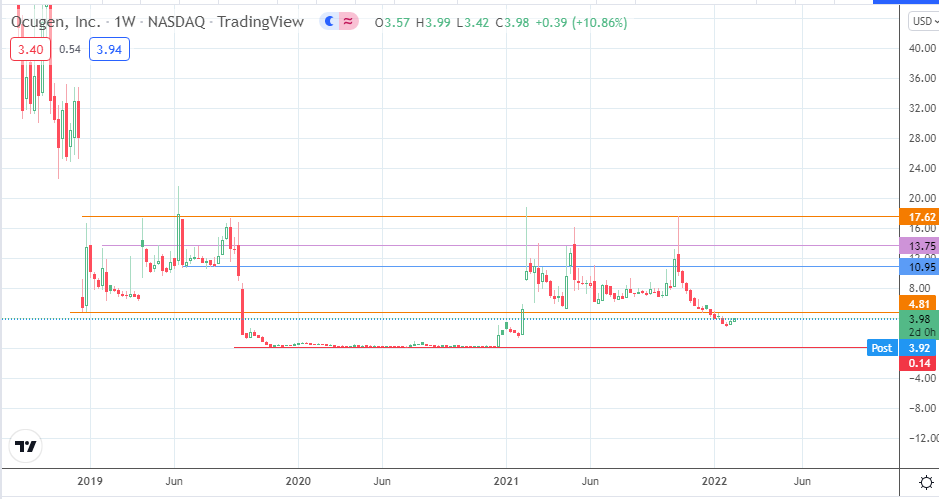 Follow Eno on Twitter.