The Ocado share price kicked off the new trading week on a muted note, gaining marginally before dropping to its open price as the company said its joint venture with Mark and Spencer's (M&S) was meeting performance targets. The announcement to confirm this is scheduled to be made by M&S next month, which will trigger a payment clause that will see Ocado receive a £200million payout.
The partnership between Ocado and M&S was formed at the height of the pandemic in 2020 to maximize the opportunity in the online grocery ordering business as locked-down shoppers were forced to use online ordering platforms to get their groceries. The payment to Ocado will be due in November 2023, when the performance evaluation period ends.
The Ocado share price has significantly declined since hitting pandemic-era highs at 2902.0. The decline can be attributed to a drop-off in online shopping with the lifting of lockdowns and the rise in consumer inflation to 30-year highs, which Kantar and NielsenQ have said is pinching customers of UK retailers.
Higher energy costs are also squeezing operating margins. Three weeks ago, Ocado was forced to lower its 2022 outlook amid a 6% drop in its revenues for the 13 weeks preceding 27 February. As a result, the company said its full-year revenue would drop from the previous outlook of a "mid-teens" growth to something "closer to 10%". The Ocado share price is unchanged from Friday's close as of writing.
Ocado Share Price Outlook
The muted start to the week leaves the Ocado share price challenging resistance at 1205.0 (7/21 March highs). A break of this barrier opens the gateway for the bulls to attempt a push towards 1306.5 (9 February/14 March highs). Beyond this price point, additional resistance targets are seen at 1369.0 and 1486.5. The 13/28 January highs at 1558.0 only become viable if the price advances beyond 1486.5.
Conversely, rejection of the upside move at the 1205.0 resistance could favour a pullback. Such a pullback move would target 1074.0 initially. Only if the bears break down this support can the price activity shift to multi-year lows at 997.0 (9 March 2020 low). Below this level, additional support is seen at 886.0 (25 February 2019 low).
Ocado: Daily Price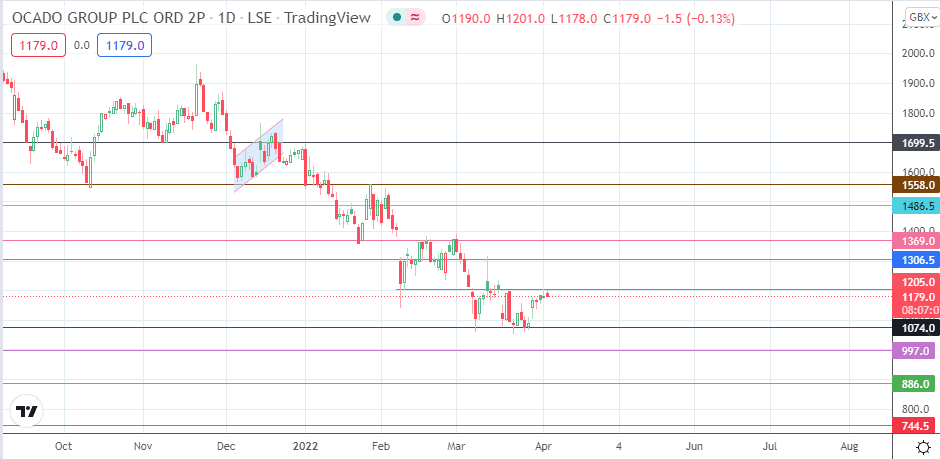 Follow Eno on Twitter.