The Ocado share price has recovered from Tuesday's drop, which had been triggered by a negative outlook on the stock by Credit Suisse. However, the stock will need more upside momentum to override the headwinds generated by this event.
On Tuesday, Credit Suisse reaffirmed its "underperform" outlook on the stock, saying there was little room for "new optimism". The investment bank cut its Ocado share price from 1550p to 1500.
The outlook stemmed from the bank's analysis of the proposed partnership between US company Kroger and the UK online grocery chain to enable expansion into the Northeast. Credit Suisse said it did not see immediate upside value for Ocado from this deal. The bank also cited slower-than-expected recovery of the company's warehouse at Erith, Kent, which was severely damaged by fire some time ago.
However, investor sentiment around Ocado recovered on Wednesday after the company said it was looking to use automatons to boost its grocery supply business as UK retail companies struggle to overcome staff shortages and rising wage bills. The company's technology arm says it will automate its entire supply chain process using the new robots from the farm to the factory gate. This is according to statements by the CEO of Ocado Solutions, Luke Jensen, with Reuters. Ocado is up 0.58% on the news.
Ocado Share Price Outlook
The price is challenging the resistance at 1825.5. However, the outlook from Credit Suisse shows that there is room for a steep decline from current levels. A rejection of upside movement at this resistance, followed by a pullback, heightens the decline potential. The 1741.5, 1660,0 and 1558.0 price marks are sequential support levels that must be overcome for this to happen.
On the flip side, a break above 1825.5 allows for an extension towards 1898.0. This move leaves 1995.0 and 2077.5 as additional targets to the north. A break of the latter could invalidate the bank's position, as clearing the 200-day moving average at 2077.5 opens the door towards 2135.0.  
Ocado: Daily Chart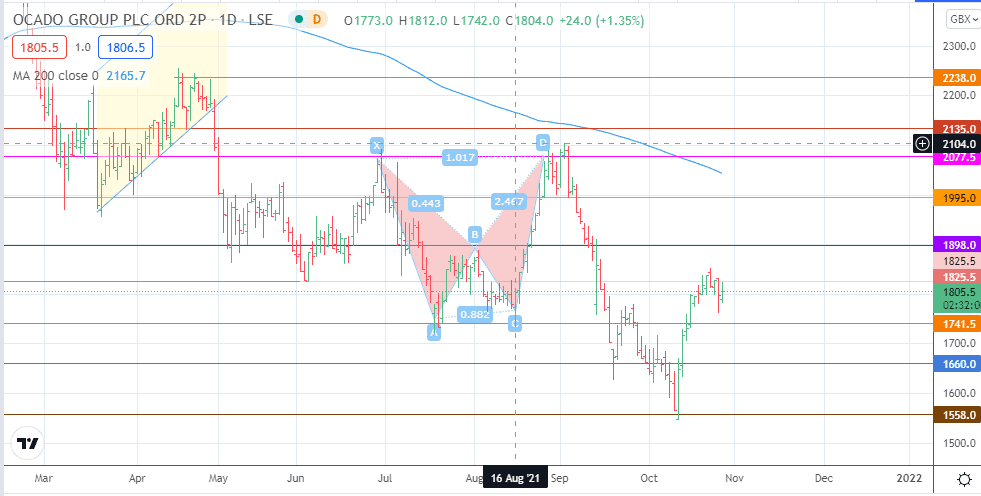 Follow Eno on Twitter.