The Ocado share price is up by 2.59% on the day as bargain hunters attempt to cash in from the steep slide of the stock in the previous three trading days. The price gain has sent Ocado to the number 12 spot on the gainers' chart of the FTSE 100 index. However, it is on course for a third straight weekly loss, trading 10.31% lower for the week.
The Ocado share price is suffering from last month's slump in its earnings numbers. The company's joint venture with Marks & Spencer saw a 5.7% revenue drop in the 13 weeks that ended 27 February, as the UK retail grocery market saw a 4% slide. The slide in the retail market is blamed on reduced consumer spending due to 30-year high inflation figures. 
Ocado Retail also saw a retail revenue slump from 599.1 million pounds a year earlier to 564.7 million pounds in the first quarter, despite an overall year-on-year increase in its active customer base and average orders per week by 31% and 11.6%, respectively.
Contributing to the negative sentiment is the case of a former employee who alleged he was forced out for raising fire safety concerns. Ocado has been ordered to pay 20,000 pounds in compensation by an employment tribunal. Several UK retailers have been called out in the past year for issues relating to staff welfare and workplace safety, which is why sentiment on Ocado soured on the news.
Ocado Share Price Outlook
The active daily candle is yet to surpass the highs of the previous days of the week. Therefore, any recovery needs support from a bullish outside day candle to take the price activity towards the 997.0 resistance (25 April low). Above this level, resistance comes in at 1074.0 (28 March and 21 April lows).
An advance beyond this point takes the price activity towards the 1250.0 psychological resistance (24 February low and 8 April high) before 1306.4 (9 February and 11 March highs), and 1369.0 (16 February high) enter the picture as additional northbound targets. 
On the other hand, the 886.2 support (22 February 2019 low) will be the next target for the bears if the bulls fail to generate sufficient momentum to take out the 997.0 resistance. A continuation of the decline below 886.2 will open the door for a march to the 744.4 price mark, where the double bottom of 20 November/28 December 2018 are found.
Ocado: Daily Chart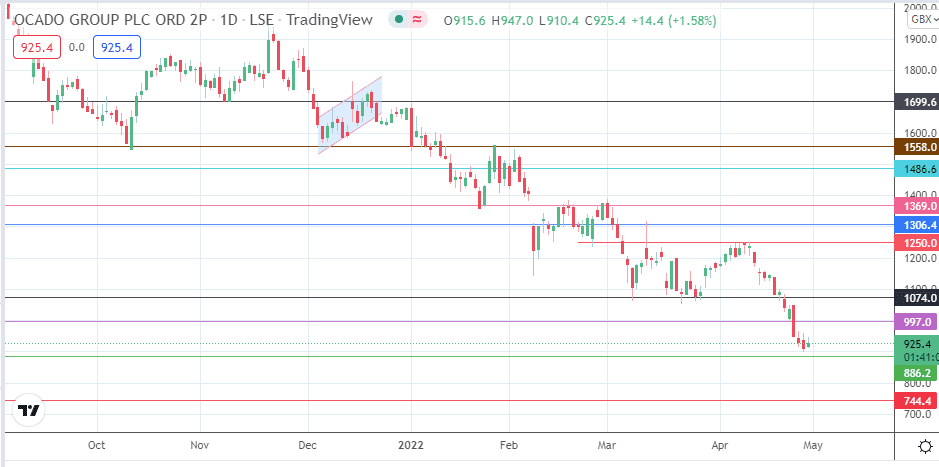 Follow Eno on Twitter.