The Ocado share price is up this Wednesday, as traders snap up the shares at bargain prices after a sustained period on the downtrend.
Boosting sentiment on Ocado this afternoon was the Trading Places report of the OC&C Strategy Consultants, which said that online marketplaces would surpass a majority of e-commerce outlets in retail and travel by 2025. The report also predicted that online marketplaces would experience a 15% annualized growth in the West by 2025 and would account for about half of all online spending.
The report's forecasts would please investors in online retail marketplaces like Ocado, which saw a boom during the pandemic lockdowns, but suffered as customers started to return to brick & mortar groceries and supermarkets. The report, therefore, predicts that some of those responsible for the shift in consumer behaviour during the are expected to stick to their new shopping habits, and others would also join the fray in the coming years.
The Ocado share price is up 0.48% as of writing.
Ocado Share Price Outlook
The bounce off the 1415.0 support level signals the end of the bearish flag's measured move on the daily chart. An extension of the bounce could carry the stock to the 1486.5 resistance. If the price recovers beyond this barrier, 1558.0 and 1630.5 become the new targets to the north. 
However, the bullish outlook is negated if the bears see the recent rally as an opportunity to sell at better prices. This outlook would seek a rejection of upside moves at any of the mentioned resistance barriers, ultimately targeting lower lows at the 17 January 2020 low (1369.0) and possibly at 1307.5 (7 April 2020 low).
Ocado: Daily Chart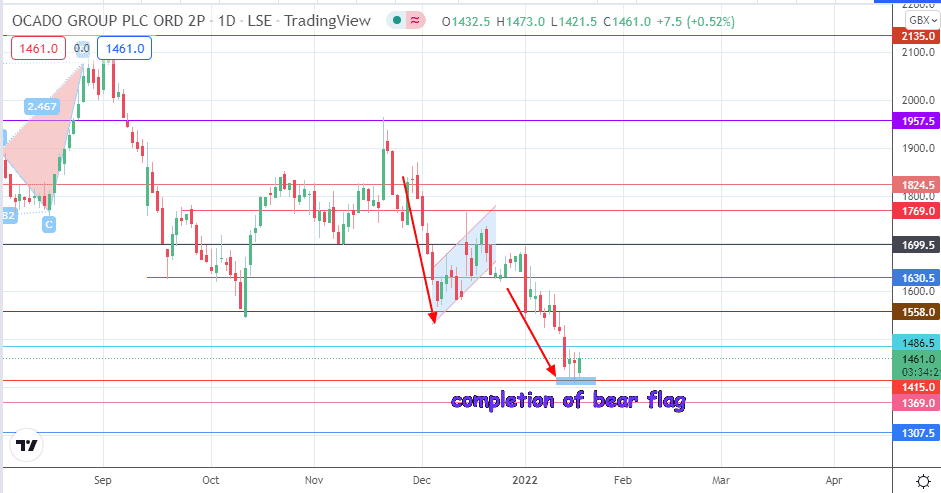 Follow Eno on Twitter.