The Ocado share price is up this Wednesday, extending gains into the second day as the company continues its bid to transform elements of its business into carbon-free operations. To this end, the company has signed an agreement with Zeelo, a smart bus platform to transport Ocado's employees to and from work in electric buses. The service will kick off in selected locations and will link these locations with the company's head offices.
The partnership is expected to deliver savings of 16 tonnes of carbon dioxide from the atmosphere per year while relieving transport difficulties of staff living in areas of public transport deficit.
The company has only recently added a new range of products from Jack & Bry, with the partnership expected to provide jackfruit meat alternatives to customers. Ocado could yet benefit from expanded Christmas shopping as winter storms hit the UK amid the spread of the Omicron variant of the coronavirus. The Ocado share price is up 1.67% as of writing.
Ocado Share Price Outlook
The violation of the 1629.5 resistance endangers this level, with the bulls needing a time/price confirmation filter to achieve a break of this level. If the filters are met, 1699.5 becomes the next target in line. A further recovery allows for a push towards 1741.5, with 1825.5 and 1898.0 serving as additional upside targets.
On the flip side, a closing penetration below the 1629.5 price mark allows this area to continue functioning as resistance. This increases the potential for price action to decline towards 1558.0, with multi-year lows at 1486.5 (15 April 2020 low) and 1415.0 (6 April 2020 low) lining up as additional downside targets.
Ocado: Daily Chart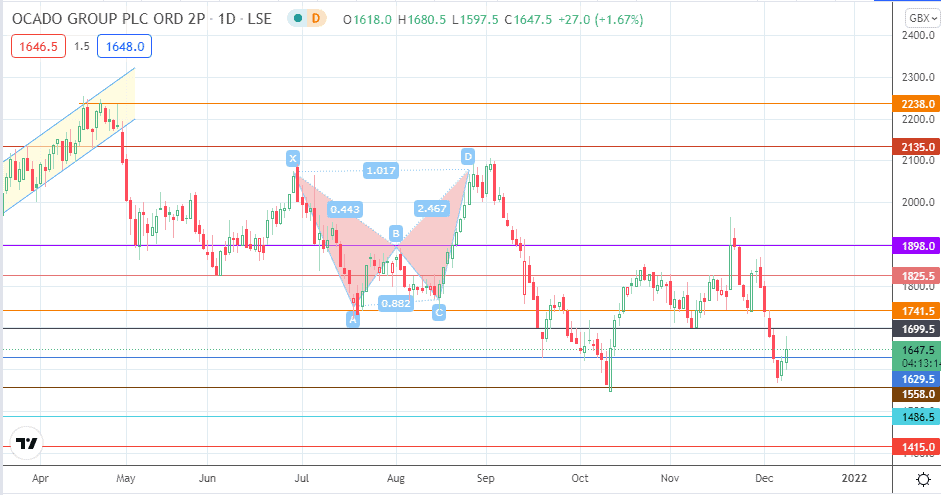 Follow Eno on Twitter.