The Ocado share price rose 3.57% on the day after German bank Berenberg upgraded the stock to a BUY, with an attractive price entry point. In Wednesday's trading session, Ocado shares had risen as high as 5.27% before pulling back slightly.
Berenberg cited the company's victory in a legal dispute over a patent, which it won against AutoStore, a robotics company based in Norway. Despite a pending appeal by AutoStore against the decision, Berenberg believes the momentum has swung in Ocado's favour, with the company set to receive more in damages if AutoStore loses an anti-trust lawsuit filed against it.
Berenberg also believes Ocado is in a position to expand its partnerships and believes that its e-commerce offering has more room for growth. Berenberg cut its price target from 2065p to 1990p. At the current price of 1610p, this leaves room for the Ocado share price to grow by 23.6%.
Ocado Share Price Outlook
The intraday rejection by the bears at the 1630.5 resistance has stalled the upside move of the day. This opens the door for a correction towards the 1558.0 support. If this level fails, further price deterioration to 1486.5 cannot be excluded. This move also keeps 1415.0 within reach, with the viability of this price level as a new target increasing if the price decline is more extensive.
On the flip side, a break above 1630.5 is necessary to make 1699.5 a viable upside target in the near term. A further advance beyond this barrier allows the bulls to have clear skies before 1824.5 becomes a new target to the north. There is the potential for a pitstop at 1769.0 (26 October 2021 and 14 December 2021 high). 1957.5 is a distant upside target which only becomes viable if the bulls drive the advance beyond 1824.5 and the 1900.00 psychological resistance.
Ocado: Daily Price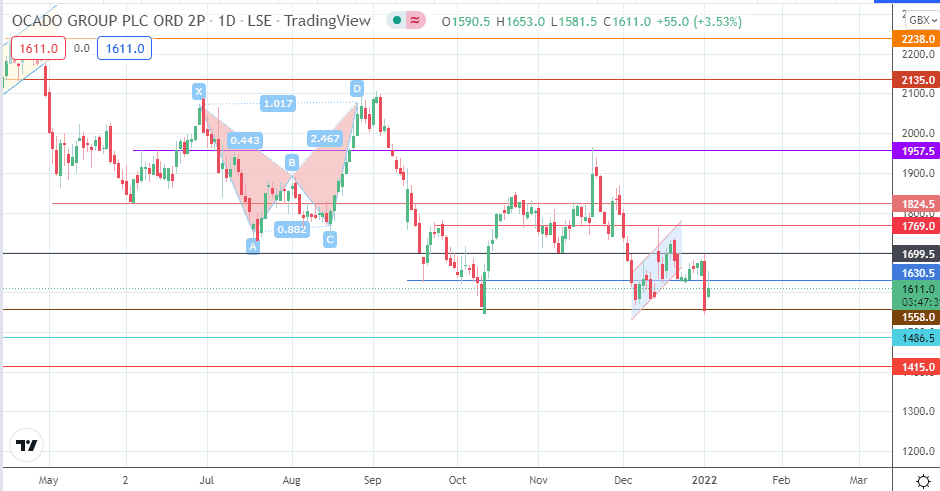 Follow Eno on Twitter.