The Ocado share price is up this Wednesday after the company's retail division announced that it was launching its own brand of household products.
Ocado retail says it will launch a range of household products covering 70 household essentials. Included in the range include items such as cleaners, surface wipes, laundry materials and refuse sacks. Some of the items are designed to match environmentally-friendly standards, using recyclable and compostable materials. 
This announcement comes as a new lease of life for the company, after a 10.6% revenue drop in the latest quarter. The reopening of the UK economy and return to old shopping habits by Britons are responsible for the fall in revenue from 2020's pandemic-driven highs. The Ocado share price has dropped 40% year-to-date (YTD), but is up 1.3% as of writing.
Ocado Share Price Outlook
The recovery in the share price is challenging the 1741.5 resistance level. A break of this area allows for a price advance towards the 1825.5 resistance. 1898.0 and 1995.0 are additional upside targets that become available if the 1825.5 barrier is uncapped.
On the other hand, a failure to break beyond 1741.5 could create a pathway for the bears to drive down prices towards 1660.0. Below this level, 1558.0 and 1423.0 form new 18-month lows that become available if the decline is more extensive. 
Ocado Share Price (Daily)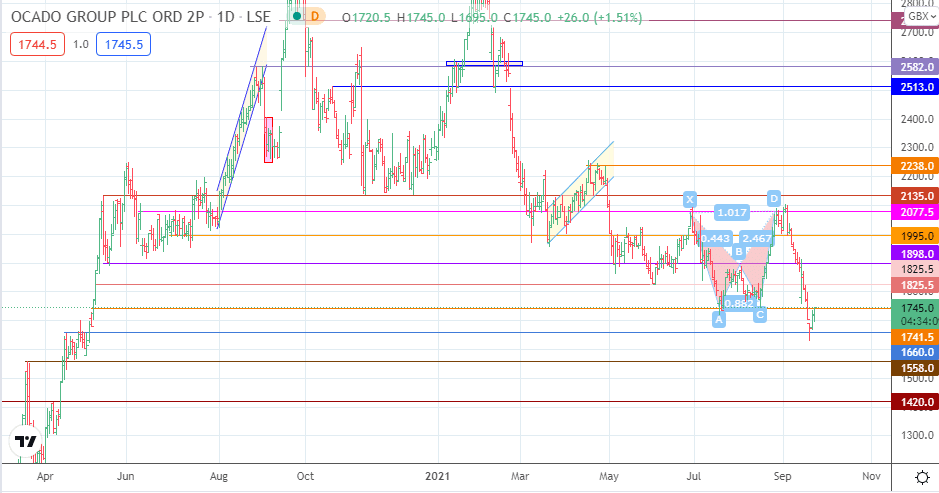 Follow Eno on Twitter.